Consumers Underestimate How Quickly Home Values Rise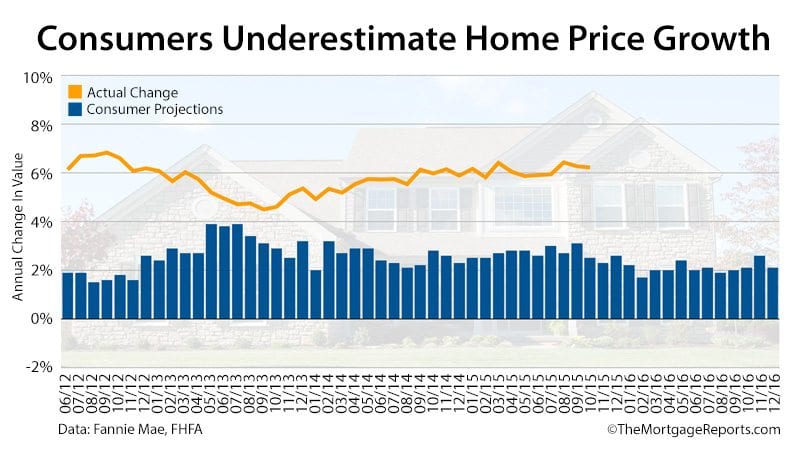 Fannie Mae Surveys 1,000 U.S. Consumers
With today's mortgage rates low, millions of U.S. homeowners are potentially eligible to refinance.
Few are actually doing it, however -- and a Fannie Mae survey may explain why.
According to Fannie Mae's monthly National Housing Survey, 41% of surveyed consumers think it would be "difficult" to get a mortgage approved today with some believing that their credit is too poor; and others thinking they lack sufficient home equity.
Both concerns may be unfounded.
Mortgage lenders are approving loans for borrowers with lower average credit scores as compared to recent years and home values have climbed sharply since 2012 so that, in many U.S. markets, current home values now eclipse the peak values set last decade.
Hundreds of thousands of homeowners have been identified by the government as being eligible for the Home Affordable Refinance Program (HARP), a mortgage refinance program for homeowners whose homes have lost equity since purchase.
The HARP program, however, expires September 2017. Any homeowner interested in refinancing their "underwater mortgage" should check their eligibility soon.
Click to see today's rates (Mar 24th, 2017)
Home Values Climbing More Than Consumers Expected
Each month, Fannie Mae conducts a survey of 1,000 U.S. households, measuring how consumer opinion has changed on housing, mortgages, and the economy; and, which asks consumers to predict what market will look like in one year's time.
Not surprisingly, consumer expectations are rarely in line with reality. What may be surprising, though, is how "wrong" consumers can be.
As an example, one year ago, consumers told Fannie Mae that home prices would rise 2.6% over the next twelve months. Values gained more than twice that, as it happened.
Similarly, last year, 95% of surveyed consumers said mortgage rates were at "a bottom". But rates fell steadily in 2016.
Predicting the future is difficult.
And, according to Fannie Mae's December 2016 National Housing Survey, U.S. consumers now expect home values to rise just 2.1% between this year and next.
It's a highly unlikely scenario.
Consider: U.S. home supply is tight and demand for homes is growing, led by the availability of low-down payment loans including the¬†HomeReady'ĄĘ mortgage from Fannie Mae, and the 100% financed USDA loan.
Plus, mortgage rates remain suppressed at just above four percent.
Today's market gives the opportunity to buy homes on the cheap and everyone knows it -- first-time home buyers, move-up buyers, and real estate investors, too. It's created a supply-demand imbalance which results in rising prices.
We don't know exactly how far home values will rise this year. What we do know, though, is that consumers have under-guessed the future of home values every month for the last 5 years, at least.
Home values are likely to rise much more than 2.1% this year.
Click to see today's rates (Mar 24th, 2017)
Mortgage Rates Will Rise In 2017, Consumers Say
In addition to asking about future home prices, Fannie Mae's survey also asks consumers to forecast the future of U.S. mortgage rates.
Just 5% of those surveyed expect mortgage rates to be lower this year. Not surprisingly, this is similar to what consumers have said since 2011.
In most years, they've been wrong.
Aside from a spike from May-September 2013, and a recent run-up following the 2016 election, mortgage rates have been on a slow, steady decline going back five years.
Current 30-year mortgage rates are still near four percent for buyers paying discount points; and zero-closing cost mortgage rates are only slightly higher.
There are a host of refinance opportunities, too. With mortgage rates low:
HARP refinance homeowners now save up to 35% annually
FHA homeowners meet Net Tangible Savings for the FHA Streamline Refinance
The VA Streamline Refinance is more accessible because payments have dropped
Conventional refinances now offer easier qualification
If you've been exploring the idea of a refinance, get competing quotes -- especially if your loan is backed by the FHA.
FHA recently cut lending fees and there is money you can save.
What Are Today's Mortgage Rates?
The Fannie Mae Housing Market Survey shows consumers expecting modest home price growth in the next 12 months, along with an increase in today's mortgage interest rates.
Get today's live mortgage rates now. Your social security number is not required to get started, and all quotes come with access to your live mortgage credit scores.
Click to see today's rates (Mar 24th, 2017)
The information contained on The Mortgage Reports website is for informational purposes only and is not an advertisement for products offered by Full Beaker. The views and opinions expressed herein are those of the author and do not reflect the policy or position of Full Beaker, its officers, parent, or affiliates.
Try the Mortgage Calculator