Will Rising Rates Make Home Buying Easier In 2017?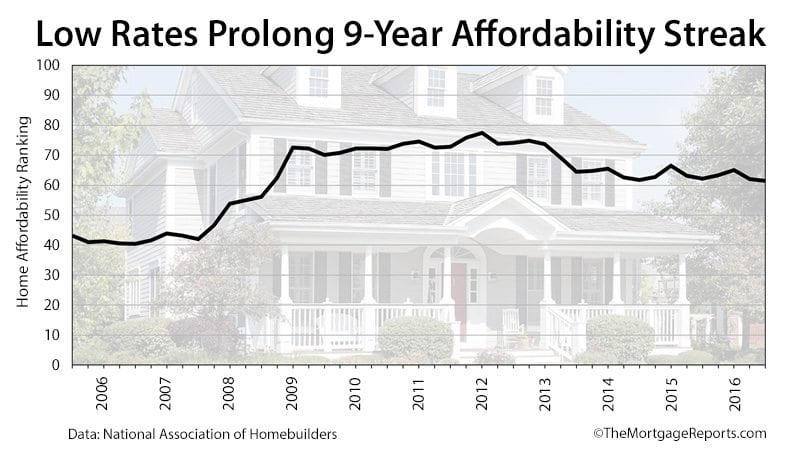 Report: Affordability Suffers Under Decade-Best Home Values
Home prices climbed last quarter, to levels not seen since late 2006.
Rising prices dragged down affordability only slightly, though, thanks to lower mortgage rates.
Last quarter, more than six in 10 U.S. homes were "affordable" to households earning the national median income, assuming that household used a 30-year conventional mortgage to finance the home, made a modest downpayment on the property, and carried good credit scores.
The third quarter of 2016 was defined by low mortgage rates. Three-year lows persisted. Mortgage rates in the 2s and 3s were available through the duration of the quarter.
This kept affordability in check.
But rates are rising to new 7-month highs after a surprising election result. The good news is, though, that home price increases could finally slow.
Home shoppers may once again find "deals" in the 2017 market.
Click to see today's rates (Feb 20th, 2017)
61.4% Of U.S. Homes "Affordable" For Typical Buyer
The National Association of Home Builders (NAHB) has released its Housing Opportunity Index (HOI) for this year's third quarter.
The Housing Opportunity Index is a quarterly gauge of home affordability which tracks the typical U.S. household's ability to purchase the typical U.S. home.
Data is collected across more than 225 metropolitan areas.
The index shows that, in general, homes are about as affordable today as compared to the last three quarters, despite a sharp rise in home prices.
In the third quarter of 2015, the national median home price was $231,000, but rose seven percent to $247,000 in the same quarter of 2016. That marks the highest median home price in ten years.
Fortunately, mortgage rates maintained their lowest levels since three years ago during the same quarter. The result: affordability only decreased slightly. Last quarter, 62% of homes were affordable to the typical family.
This quarter, that inched down to 61.4%.
That marks the 35th quarter in a row (a span of nearly 9 years) in which the index has come in above 50, the mark at which the housing market is considered affordable.
To determine whether a home is "affordable", the NAHB gathers the median home sale price for an area, then identifies the average 30-year fixed rate mortgage rate during the period, and, finally, projects what a typical housing payment would be.
An "affordable" home is one for which the front-end debt-to-income ratio is 28% or less of the area's median household monthly income. The front-end debt-to-income ratio is calculated as (total housing payment) divided by (total monthly income).
The index also assumes conventional financing via Fannie Mae or Freddie Mac, plus a ten percent home downpayment.
The trend in home affordability is stable for today's buyers, despite significant home price increases. Low mortgage rates have offset the gains in pricing.
Q1 2016 : 65.0% of homes were affordable to median income earners
Q2 2016 : 62.0% of homes were affordable to median income earners
Q3 2016: 61.4% of homes were affordable to median income earners
But, just for a point of comparison, in 2012, home affordability averaged 75% nationwide.
Still, affordability remains at a healthy level, almost exactly matching the average affordability "score" since NAHB started gathering data in 1991. What's more, homes are much more affordable than the last time home prices were this high in 2007: the Home Opportunity Index rang in at a discouraging 43.1% that year.
If you're planning to buy a home this year or next, consider moving up your time frame. Low rates -- and increased affordability -- may not last.
Click to see today's rates (Feb 20th, 2017)
Buying A Home To Become Easier In 2017?
The NAHB Housing Opportunity Index shows that home prices have risen year-over-year since 2012.
Home prices are now up 40% since hitting bottom in 2011.
That's great for homeowners. Not so great for home buyers.
Chasing ever-rising prices is hard to do on a budget. As soon as a buyer has a downpayment saved -- say 5% -- the price on which that percentage was based has risen.
(The solution, though, is to find loan programs with low-downpayment guidelines. FHA loans require just 3.5% down, while there are now a multitude of programs offering 100% financing.)
Home prices may be tempered by rising rates in 2017.
The historic election threw markets into a state of upheaval. The stock market raced upward, and mortgage rates followed suit.
That will put pressure on affordability in the fourth quarter. Maybe shockingly so.
But, there is an upside. Rising rates might pull the brakes on seemingly unstoppable home prices. Home values have been catapulted upward by almost-free borrowing. Home buyers were getting 30-year fixed rates in the low 3s, and fifteen year rates solidly in the 2s.
That's lower than the rate of inflation is likely to be in coming years.
Cheap money makes monthly payments lower. Homes are affordable, even at very high prices.
In 2017, though, that trend could reverse. Rising payments could mean fewer bidding wars and over-market-price offers.
The everyday home buyer might have a better chance at securing a home at a reasonable price. Affordability may continue its winning streak, despite rising rates..
2017 should remain a stellar year to be a home shopper.
What Are Today's Mortgage Rates?
For now, mortgage rates are still low. Consider getting a pre-approval before rates rise, hurting your buying power.
Get today's live mortgage rates now. Your social security number is not required to get started, and all quotes come with access to your live mortgage credit scores.
Click to see today's rates (Feb 20th, 2017)
The information contained on The Mortgage Reports website is for informational purposes only and is not an advertisement for products offered by Full Beaker. The views and opinions expressed herein are those of the author and do not reflect the policy or position of Full Beaker, its officers, parent, or affiliates.

Try the Mortgage Calculator