Refinance Mortgage Rates Hit By Huge Demand For Mortgage Loans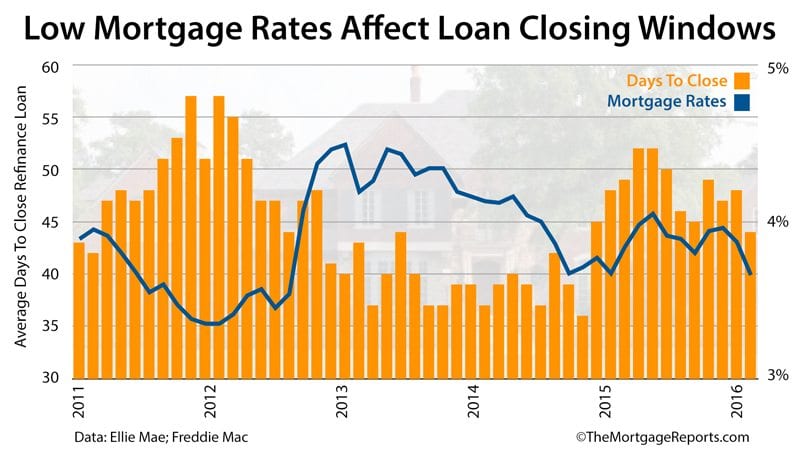 Refinance Mortgage Rates: Victim Of Their Own Success?
There's a mini refinance boom underway.
Since the New Year, mortgage rates have been on a slow, steady decline, falling to their lowest levels since last April.
30-year mortgage rates have shed close to 40 basis points (0.40%) since the New Year; and, rates for 15-year fixed-rate loans have made similar gains.
There are now estimated 7 million U.S. homeowners eligible to refinance to lower mortgage rates, including home buyers who have purchased within the last 12 months; and homeowners who are underwater on their homes.
Many are taking advantage.
Refinance volume is near its highest in three years. This year's refinancing households will save an estimated $5 billion in mortgage interest in just the next 12 months.
However, today's high refinance volume is coming at a cost. As demand for refinance loans climbs, lenders are finding themselves unable to close loans as quickly as they used to.
According to Ellie Mae, it now takes 44 days, on average, for a lender to move a refinance applicant from loan application to loan closing. This is eight days slower as compared to one year ago.
The slow-down is having a negative effect on mortgage rates.
Click to see today's rates (Feb 24th, 2017)
What Is A Mortgage Refinance?
A mortgage refinance is a financial transaction in which an existing mortgage is fully "paid off" using funds from a new mortgage. The old refinance is "satisfied" and it's replaced with a new one.
Refinances come in three varieties.
The first type of refinance is the cash-out refinance.
With a cash-out refinance, the homeowner's new mortgage size is increased, and exceeds the former mortgage's size by five percent or more.
Cash-out refinances are most often used to fund home improvement projects, to reduce credit card debt, and to payoff student loans.
The second type of refinance is a cash-in refinance.
With a cash-in refinance, the homeowner brings cash to its closing in order to "pay down" the existing loan. A loan is considered to be cash-in if the homeowner's mortgage principal balance is reduced by five percent or more.
Cash-in refinances are most common among homeowners wanting to lower their mortgage's loan-to-value (LTV) to get the bank's "the best rates"; and by FHA homeowners who want to cancel FHA MIP.
The third type of refinance is the most common one. It's called the rate-and-term refinance.
With a rate-and-term refinance, a homeowner lowers its mortgage rate, changes its loan's term, or does both at the same time
Examples of rate-and-term refinances include:
Refinancing from a 5% mortgage rate to a 4% mortgage rate, with no "cash out"
Refinancing from a 30-year fixed rate mortgage to a 15-year fixed-rate mortgage
Refinancing to consolidate multiple mortgages on a home (in some cases)
There are even certain loan programs which are designed to be "rate-and-term" mortgages only. These include the FHA Streamline Refinance, the VA Streamline Refinance, and the USDA Streamline Refinance.
The HARP 2.0 mortgage is also a rate-and-term refinance.
Click to see today's rates (Feb 24th, 2017)
"Days To Refinance" Hits 44 Days
It's taking longer for lenders to close on a refinance.
According to mortgage software provider Ellie Mae, the typical refinance needed 44 days to close in February, a drop from the month prior but an 8-day leap from the year propr.
For households looking to refinance, this is bad news.
But, first, let's look at why it's taking longer for lenders to close on loans.
The first reason why it's taking longer to close on a refinance is because of today's mortgage rates, which are handily beating Wall Street expectations.
Low mortgage rates are enticing to homeowners who prefer to make as small of a mortgage payment as possible; and, low rates are attracting the interest of homeowners with 30-year mortgages who would prefer to pay off their homes in 15.
At today's rates, homeowners using a 15-year fixed-rate mortgage spend close to 65% less to pay off their mortgage as compared to homeowners using 30-year loans.
There are lots of reasons for homeowners to refinance.
Another reason why it's taking banks longer to close on refinance loans is that lender pipelines are currently jammed with purchase loans.
In addition to low rates, rising rents have changed the Buy vs. Rent math for a large number of first-time home buyers nationwide.
Plus, with a multitude of low- and no-down payment mortgage loans available, it's easier for buyers to get approved.
Lenders are ill-equipped for the volume.
Based on data from the Bureau of Labor Statistics, the mortgage industry pared 40% of its staff between 2006-2015.
Today's mortgage lenders employ far fewer people. Yet, they process far more applications. And each of those applications are subject to compliance and monitoring processes  -- steps which weren't required even ten years ago.
Today's lenders are attempting to do more with less. When mortgage rates drop, the system can strain.
Click to see today's rates (Feb 24th, 2017)
Refi Boom Has Raised Rates 12.5 Basis Points (0.125%)
Lenders now require 44 days, on average, to close a refinance.
For consumers, this is bad news and here's why: mortgage rates are often quoted in 15-day "windows", and with each additional 15-day window, the quoted rate increases.
Consider the weekly Freddie Mac mortgage rate survey, which lists average mortgage rates for the 30-year fixed, 15-year fixed, and 5-year ARM. Freddie Mac's rates are based on a survey of more than 100 banks nationwide, each of which quotes rates for  30-day delivery.
30 days, however, is too few to close a refinance in today's Refi Boom. Instead, lenders recommend 45-day or 60-day locks for their customers which, unfortunately for borrowers, results in higher loan costs.
Mortgage rates move approximately 12.5 basis points (0.125%) with each 15-day change :
15-day rate lock : -0.125 percentage points from the 30-day rate lock
30-day rate lock : The rate lock standard
45-day rate lock : +0.125 percentage points from the 30-day rate lock
60-day rate lock : +0.250 percentage points from the 30-day rate lock
With the average refinance now requiring 44 days, today's refinancing homeowners aren't getting the lowest available 30-day mortgage rate. Often, they're not even getting the 45-day lock.
To lock a mortgage rate today, you may need to get a 60-day rate lock -- and that's going to raise your mortgage rate quote by 25 basis points (0.250%).
The Refinance Boom has banks too busy to close quickly. Therefore, when you're comparing mortgage rates between lenders, make sure to ask how long it will take to close your refinance.
The faster you can close, the lower your rate can be.
What Are Today's Mortgage Rates?
At today's mortgage rates, there are refinance opportunities for millions of U.S. homeowners. The typical refinancing household saves more than 30% annually. You may save even more.
Get today's live mortgage rates now. Your social security number is not required to get started, and all quotes come with access to your live mortgage credit scores.
Click to see today's rates (Feb 24th, 2017)
The information contained on The Mortgage Reports website is for informational purposes only and is not an advertisement for products offered by Full Beaker. The views and opinions expressed herein are those of the author and do not reflect the policy or position of Full Beaker, its officers, parent, or affiliates.

Try the Mortgage Calculator