USDA Streamline Refinance Program: No Credit Scores, No Appraisals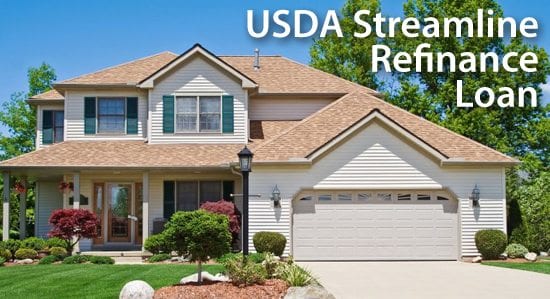 USDA Mortgage Rates Lower Than Most
Mortgage rates are low.
Since the start of 2014, rates have been on steady decline and, today, the average 30-year fixed rate mortgage rate is more to 70 basis points (0.70%) lower than what it was last January.
USDA mortgage rates, meanwhile, are even lower.
USDA mortgage rates often beat their conventional counterparts (i.e. Fannie Mae and Freddie Mac) by one-quarter percentage point or more.
The savings from doing a USDA refinance are growing.
Furthermore, because the popular USDA Streamline Refinance Program now includes 34 states, thousands of U.S. homeowners have access to an appraisal-less, unlimited-LTV refinance.
Approximately one-half million homeowners remain eligible for the USDA's streamlined refinance program. Homeowners using the USDA Streamline Refinance stand to save as much as 35% annually on their mortgage.
Click to see today's rates (Feb 20th, 2017)
About The USDA Streamline Refinance Program
The USDA Streamline Refinance is a pilot refinance program for homeowners with a USDA home loan. The program was made public in 2012.
The streamlined USDA program meant to mirror other successful streamlined programs such as the FHA Streamline Refinance from the FHA, the VA Streamline Refinance (IRRRL) from the Department of Veterans Affairs, and the aforementioned HARP program from Fannie Mae and Freddie Mac.
With the USDA Streamline Refinance, loan qualifying hurdles are low, underwriting is fast, and closings are typically scheduled within 3 weeks of initial application.
USDA loans close quickly because the agency enforces minimal eligibility standards :
The home you're refinancing must be your primary residence
The home you're refinancing must be mortgaged via a USDA Direct Home Loan or a USDA Guaranteed Home Loan
Prior to applying, you must have made 12 consecutive on-time payments
And, that's it. With the USDA Streamline Refinance, there are no credit report requirements, no home appraisal requirements, and no property inspection requirements.
All credit scores are accepted into the USDA Streamline Refinance program, and a home's loan-to-value is not a consideration. Underwater homeowners can use the program as easily as a homeowner with 20% equity can.
Click to see today's rates (Feb 20th, 2017)
USDA Streamline Refinance Eligible States
When the USDA Streamline Refinance program was first introduced, the government limited its geographic range to a sub-set of states.
The agency did this because the program a new one and the USDA wanted to roll-out the program in "beta", so to speak. With limited distribution, it would be easier to identify problems with the program; and to make operational changes with limited impact on U.S. homeowners.
The USDA chose to make its fledgling streamlined refinance program available in 19 states which it identified as the "hardest hit" by last decade's economic downturn. The USDA reasoned that homeowners in these 19 states would benefit most.
The initial 19 states selected by the USDA for its USDA Streamline Refinance pilot program were Alabama, Arizona, California, Florida, Georgia, Illinois, Indiana, Kentucky, Michigan, Mississippi, Nevada, New Jersey, New Mexico, North Carolina, Ohio, Oregon, Rhode Island, South Carolina and Tennessee.
The program worked.
The USDA Streamline Refinance helped U.S. homeowners get access to low mortgage rates and provided bona fide payment relief to USDA-backed households.
Because the program was successful, the U.S. Department of Agriculture opted to extend its national footprint by an additional 15 states, plus the Commonwealth of Puerto Rico.
Each of the 15 states were selected because of their high percentage of poor counties throughout.
The 15 additional states are Alaska, Arkansas, Colorado, Idaho, Kansas, Missouri, Montana, North Dakota, Oklahoma, South Dakota, Texas, Utah, Washington, West Virginia, and Wisconsin.
Homeowners in these states can apply for the USDA Streamline Refinance today.
Click to see today's rates (Feb 20th, 2017)
Other USDA Streamline Refinance Notes
The USDA has removed most qualification standards for its USDA Streamline Refinance program, but there remains a few program guidelines of which USDA homeowners should be aware.
For example, as with all USDA home loans, streamlined refinances will require the standard up-front loan fees, plus the annual guarantee fees to the USDA. Many USDA homeowners pay these fees already, but it's worth noting nonetheless.
In addition, USDA homeowners should be aware that :
Flood insurance is required for homes in a flood zone
The pilot program requires that your mortgage rate drop by 1 percentage point or more
Loans are available for 30-year or 15-year terms only -- no 20-year loan terms are allowed
And, lastly, the USDA Streamline Refinance program is a rate-and-term refinance program only.
Cash-out mortgages are not allowed via the pilot program, nor are loan consolidations of a first and second lien (e.g. HELOC). This is similar to how the respective streamlined refinance programs of the FHA and VA, and HARP are structured.
What Are Today's Mortgage Rates?
Today's mortgage rates are near all-time lows. There are opportunities to refinance and save good money. Plus, with the USDA Streamline Refinance, it's simple to check your eligibility and get closed on your new, lower-rate mortgage.
Take a look at today's real mortgage rates now. Your social security number is not required to get started, and all quotes come with instant access to your live credit scores.
Click to see today's rates (Feb 20th, 2017)
The information contained on The Mortgage Reports website is for informational purposes only and is not an advertisement for products offered by Full Beaker. The views and opinions expressed herein are those of the author and do not reflect the policy or position of Full Beaker, its officers, parent, or affiliates.

Try the Mortgage Calculator