All Signs Point To Record-Fast Home Sales In Summer 2017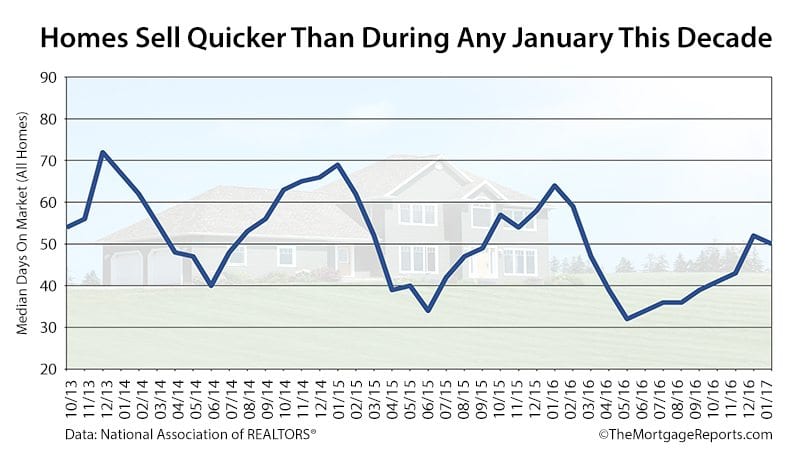 Buy That House Before It's Gone
The housing market is its strongest in a decade.
According to the National Association of REALTORS¬ģ, more than 5.5 million previously-owned homes changed hands last year,¬†marking the¬†first time that's happened since 2006.
The rise in home sales can be attributed to many factors. However, three reasons stand out:
Rising U.S. rents, which has changed the math of "Buy vs Rent"
Loosening mortgage guidelines
Historically low mortgage rates
Today's mortgage rates are in the low-4s, if you didn't know. ARMs are now in the 3s.
Plus, there's an abundance of available¬†low- and no-down payment mortgage programs, including the new 3% down¬†HomeReady'ĄĘ loan which has widened the pool of potential home buyers nationwide.
Homes are selling quickly and they're selling at higher prices.
Click to see today's rates (Mar 26th, 2017)
Existing Home Sales: 5.69 Million Homes Sold Annually
Each month, the National Association of REALTORS¬ģ publishes its Existing Home Sales report, a tally of sold homes which have been previously occupied, or are otherwise not considered as "new construction".
The trade group's January 2017 report shows 5.69 million homes sold on a seasonally-adjusted annualized basis, a three percent increase from the month prior.
Strength in housing has been attributed to low mortgage rates, rising rents, and a simpler approach toward mortgage approvals for many U.S. banks.
Demand for homes has been high -- so much so that supply can't keep up. There are now just over 1.6 million homes for sale nationwide.
At the current pace of sales, the entire stock of homes for sale would "sell out" by May.
In January, Median Days on Market for an MLS-listed home was 50 days. This is the fewest number of days for any December this decade.
January 2012: 99 days
January 2013: 71 days
January 2014: 67 days
January 2015: 69 days
January 2016: 50 days
The number of days on the market tends to creep up during winter as home buyers and sellers pause until spring.
Typically, Median Days On Market bottoms out in June, then rises. Each year, though, homes are selling faster -- even in the cold months.
"Off months" are starting to look more like summer as far as the speed of sales is concerned.
The wise home shopper, then, will start their home search in earnests before the spring buying season. There could be fewer homes available, compared to demand, than any time in history in coming months.
Click to see today's rates (Mar 26th, 2017)
Home Inventory Hits Multi-Year Low
The January Existing Home Sales report showed homes selling quickly. Homes typically sold in 50 days last month -- a 14% decrease over the year prior.
It's no wonder homes are selling quickly. The NAR reports just 1.69 million homes for sale in the U.S. in January.
There are nearly 1 million fewer available homes compared to 2012.
Tight inventory is contributing to short days-on-market numbers: homes are selling faster than during most of history.
But, while Median Days On Market remains an imperfect measure of the housing market's strength, the data sometimes highlights the relative ease with which a seller can sell a home, and the relative difficulty a buyer may face in buying one.
Three main factors affect Median Days On Market -- the economy, median rent prices, and national sentiment toward housing.
When the economy is performing well, for example, consumers may be more likely to take risks, including the risk of buying a new home.
More risk-taking helps homes to sell faster, and moved Days on Market lower.
Rising rents can also cause Days on Market to drop.
When U.S. rents are rising, it puts a strain on the budget of the nation's renters. It also affects the answer to the question "Should I buy or should I rent?"
Median rent is up more than five percent in many metros nationwide. Certain housing markets like Seattle, Portland, and Denver are experiencing rents that are rising even more quickly than that.
A number of U.S. households have had enough.
Rather than signing new leases, they're choosing to buy new homes instead. And, because many are buying "starter homes", they've found the 5-year ARM to be an excellent budgetary fit.
However, there's a third, less obvious reason why Days on Market can change, and it's linked to home seller sentiment.
Sometimes, regardless of the market's strength, home sellers just feel "less confident" in the market. Now is one of those times.
Is It Really "A Good Time To Sell"?
According to a Fannie Mae consumer attitudes survey, more half of all consumers now think it's "a good time to sell" a home.
When sellers think "it's a good time to sell", it's typically because they believe housing has dropped from a peak and prices are on the way down.
These perceptions often favor buyers.
When sellers are concerned about falling prices, it can result in homes being listed for cheaper prices; and, in homes being sold at "the first reasonable offer". Strangely, though, sellers may have it all wrong.
According to the data, the housing market's going quite strong.
The January Existing Home Sales report shows a national home supply of 3.6 months. Home supply is at its lowest level in history.
Today's housing market is one of the strongest in a decade, in other words, but sellers are behaving like the market's in a downturn. For buyers, this creates opportunity.
Sellers may be currently undervaluing their home. Demand outweighs supply, and values are expected to rise. You may pay less for a home today than you'll pay in six months.
The market looks ripe for a deal.
What Are Today's Mortgage Rates?
With mortgage rates still low, sales of homes are soaring. The best deals you find in housing may be the ones you get today.
Get today's live mortgage rates now. Rates are available with no social security number required to get started and all quotes come with access to your live mortgage credit scores.
Click to see today's rates (Mar 26th, 2017)
The information contained on The Mortgage Reports website is for informational purposes only and is not an advertisement for products offered by Full Beaker. The views and opinions expressed herein are those of the author and do not reflect the policy or position of Full Beaker, its officers, parent, or affiliates.
Try the Mortgage Calculator