My Home Didn't Appraise For Its Purchase Price. Now What?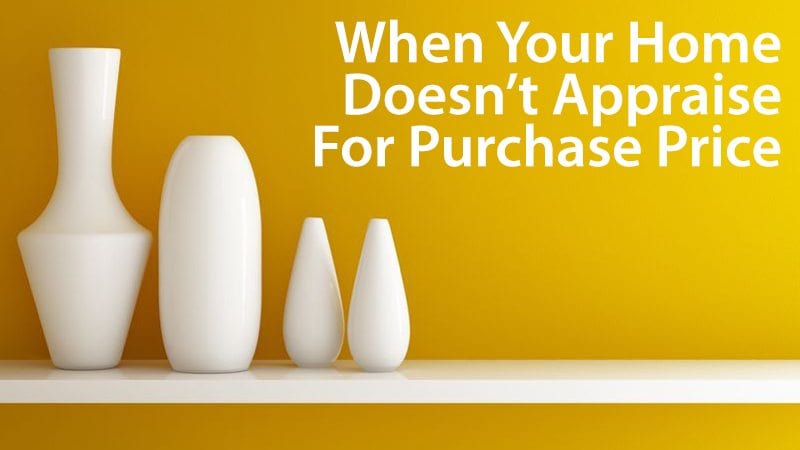 What Is A Home Appraisal?
A home appraisal is the process by which a licensed person assigns a "fair market value" to a property.
Appraisals are performed by professionals known as appraisers and, with photos, research, and analysis, home appraisal reports can sometimes stretch to 30 pages of more.
The home appraisal process helps to determine whether a home buyer is over-paying for a home relative to similar for-sale homes. This protects the buyer and the mortgage lender providing financing on the home.
Home appraisals are used for refinance loans, too.
Depending on a home's appraised value, a borrower will get access to different mortgage rates and options; and, may even get to submit less documentation as part of the mortgage approval process.
However, home appraisals don't always come in "at-value", which is to say that -- sometimes -- home appraisals assign a home value that is less than for what you hoped or planned.
What do you do then?
Click to see today's rates (Feb 24th, 2017)
How Appraisers Determine A Home's Value
With the exception of no-appraisal, streamlined refinance loans, nearly every mortgage application requires a home appraisal to get approved.
Appraisals are performed by licensed home appraisers and there are several appraisals methods an appraiser can use to value a home.
For home buyers and existing homeowner who plan to live in the home getting financed, the "Sales Comparison" method for appraising a home is the most common.
When using the Sales Comparison appraisal method, a home appraiser compares the subject property (i.e. your home) to other, similar homes with similar physical attributes which are in the immediate vicinity.
"Immediate vicinity" varies by region.
In a dense city such as Seattle, Washington; Chicago, Illinois; or, San Francisco, the immediate vicinity for a home will be within 0.25 miles -- usually not more than a few city blocks.
In less-dense areas, the immediate vicinity of the subject property could range to several miles.
Appraisers are most interested in similar homes within these areas. They look at such traits as: number of bedrooms; number of bathrooms; age of home; quality of home finishes; and square footage.
They also consider the "appeal" of a home based on its school districts, and proximity to traffic and shopping, as examples.
Then, for each comparable home, appraisers search public records for home descriptions, sales data, and other available information about a property. This data is used to formulate the value of the subject property.
If the home across the street recently sold for $600,000, does not contain a finished basement, but is identical to the subject home in every other way, the subject property may be valued at $620,000.
Comparable homes sold in the most recent 90 days are hugely important in the Sales Comparison approach. Homes sold over 6 months are mostly irrelevant.
Click to see today's rates (Feb 24th, 2017)
What Happens When A Home Appraises For Less Than Its Purchase Price?
When your home appraises for less than its purchase price, it affects your mortgage, and can affect your contract, too.
Remember that mortgage lenders use the value determined by a home appraisal to find the "value" part of your mortgage's loan-to-value (LTV) calculation.
If the appraised value is less than the purchase price, lenders will use that value to determine your LTV. This will raise your down payment amount.
When your home appraises for less than its purchase price, there are three potential outcomes :
Buyer and seller renegotiate a new, lower home sale price
Buyer increases down payment to meet new LTV and down payment minimums
Buyer chooses neither option, and cancels home purchase contract
The possibility of a "bad appraisal" is among the reasons why home purchase contracts are often written with an appraisal contingency. Should the home fails to appraise for its contracted purchase price, the contingency clause allows buyers to re-evaluate and, potentially, walk away.
Appraisal contingencies are also sometimes used to renegotiate or exit contracts after an appraiser identifies required repairs, such as chipped paint or cracked windows.
As a home buyer, it's risky to waive your appraisal contingency. You may lose your negotiation leverage in the event that the home appraises for less than its purchase price.
What Are Today's Mortgage Rates?
Homes don't often appraise for less than their purchase price -- especially in a rising home value environment. However, it can happen so it's best to know your options.
Get today's live mortgage rates now. Your social security number is not required to get started, and all quotes come with access to your live mortgage credit scores.
Click to see today's rates (Feb 24th, 2017)
The information contained on The Mortgage Reports website is for informational purposes only and is not an advertisement for products offered by Full Beaker. The views and opinions expressed herein are those of the author and do not reflect the policy or position of Full Beaker, its officers, parent, or affiliates.

Try the Mortgage Calculator