This Week In Mortgage Rates: Fed Meeting & More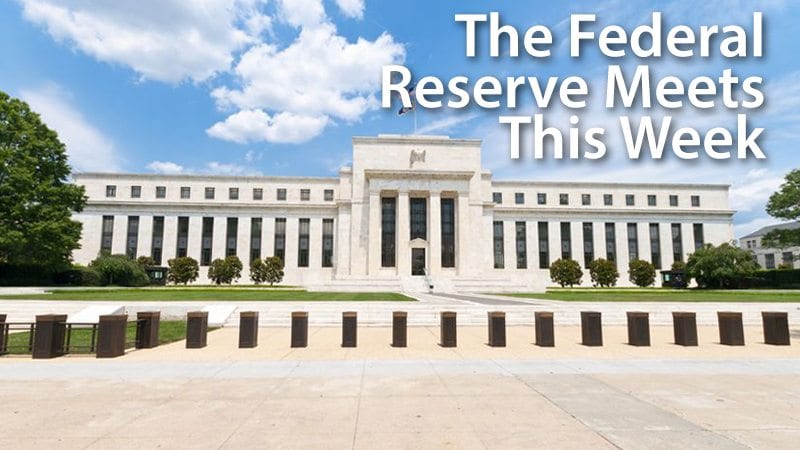 Will The Fed Raise Rates Again This Week?
With current mortgage rates below 4 percent, today's rates remain likable and lockable. But, the Federal Reserve's first scheduled meeting of the year could change all that in an instant.
Later this week, the nation's central banker meets for two days. Markets are wondering whether the group will raise the Fed Funds Rate from its target range near 0.25%.
The group raised the Fed Funds Rate in December 2015, marking the first increase a decade; and, promised three more increases over the next twelve months.
However, since the Fed's last meeting, the economy has shown signs of a possible recession, and the U.S. equities market continues to struggle.
Mortgage rates have been dropping on the turn-about. Conventional 30-year mortgage rates are their lowest in more than 3 months. FHA mortgage rates and VA mortgage rates are extra-low, too.
The sudden drop has millions of U.S. homeowners in the money to refinance, and home buyers are finding that their purchasing power has increased.
For buyers using the¬†HomeReady'ĄĘ mortgage program¬†and other low-downpayment loans,¬†buying a home has become less expensive.
Thinking of buying a home or refinancing one? This week may be a good week to get started.
Click to see today's rates (Feb 22nd, 2017)
Mortgage Rates Fall As Fed Decision Looms
According to Freddie Mac, the average 30-year conventional fixed-rate mortgage rate dropped 11 basis points (0.11%) last week, marking the largest one-week mortgage rate improvement in more than a year.
30-year rates now average 3.81 percent nationwide.
However, mortgage rates open this week lower than what Freddie Mac's reporting. This happened because Freddie Mac's rates are based on a survey concluded during the first half of last week; and, late in last week, mortgage rates went on a run.
Today's mortgage rate shoppers can expect interest rate quotes nearer to 3.75 for an accompanying 0.6 discount points paid at closing.
That said, the weekly Freddie Mac survey carries three big caveats.
First, it's aimed at "prime borrowers" only.
A prime borrower is one who is able to verify income, who can show credit scores of 740 or higher, and who has a downpayment of twenty percent or more for a purchase.
Second, the Freddie Mac survey reports average mortgage rates.
Because Freddie Mac reports average rates, some mortgage applicants will get quotes which are higher than the reported weekly average; and, others will get rates below the reported weekly average.
Rates vary by state and region, and from bank-to-bank. This is the most important reason to shop with multiple banks before making a mortgage rate decision -- you want to make sure you're getting a fair price.
And, third, you may not get a "Freddie Mac rate" from your bank because you're not applying for a "Freddie Mac mortgage".
Freddie Mac mortgages are commonly known as "conventional mortgages", and they're different from other loan types include FHA loans and VA loans, which are backed by the Federal Housing Administration and the Department of Veterans Affairs, respectively.
FHA loans and VA loans account for about one-third of home loans made.
Like conventional loans, though, mortgage rates for FHA and VA products dropped last week, too. It's an excellent time to consider a home loan refinance or purchase.
Click to see today's rates (Feb 22nd, 2017)
Mortgage Rates: What Will Happen This Week
This week, the U.S. economic calendar is stuffed with data releases which affect mortgage-backed securities which, in turn, U.S. mortgage rates.
However, the week's biggest event will not be data-related. It will be Fed-related.
Beginning Tuesday, the Federal Open Market Committee gets together for a scheduled, 2-day meeting -- its first of the year.
Any time that the Federal Reserve gets together, it has the power to move markets. This week's meeting, in particular, though, may make an outsized impact.
Between December 2008 and December 2015, the Federal Reserve held its benchmark Fed Funds Rate in a target range near zero percent in an effort to stimulate the economy.
Then, last month, the group raised the target range to 0.25%. The move was widely-anticipated, but the Fed Funds Rate is still about as low as it can be.
When the Fed Funds rate is low, the theory goes, business and consumer borrowing costs are low, which boosts spending, which expands the broader economy.
The Fed Funds Rate is also linked to Prime Rate, which is the rate against which consumer credit cards and home equity lines of credit are based.
Note: the Federal Reserve can't change mortgage rates, but it can influence them. What the Fed says at its meeting, and what it does (or does not) do, will send signals to Wall Street which, in turn, will affect the direction of consumer mortgage rates.
This is why the January 2016 FOMC meeting matters. Cautious rate shoppers should consider locking rates early in the week, before the Fed adjourns.
The complete economic calendar for the week follows :
Monday : None
Tuesday : FHFA Home Price Index; Case-Shiller Index
Wednesday : New Home Sales; FOMC Meeting adjourns
Thursday : Jobless Claims; Pending Home Sales Index
Friday : GDP; Consumer Sentiment; San Francisco Fed President John Williams speaks
Mortgage rate shoppers should pay special attention to Wednesday afternoon, when the FOMC adjourns.
Wall Street will dissect the group's post-meeting press release for clues about future Fed activity, which will affect the direction of mortgage rates.
In general, comments about low rates of inflation should be good for mortgage rates; as should  an indication that the Federal Reserve will continue to invest in mortgage-backed securities.
Mortgage rates may rise if the Fed raises the Fed Funds Rate or hints at future increases.
What Are Today's Mortgage Rates?
Mortgage rates look excellent -- for now. If you've been waiting to purchase a home or refinance one, consider moving up your time frame. Rates can change suddenly and without notice.
Get today's live mortgage rates now. Your social security number is not required to get started, and all quotes come with access to your live mortgage credit scores.
Click to see today's rates (Feb 22nd, 2017)
The information contained on The Mortgage Reports website is for informational purposes only and is not an advertisement for products offered by Full Beaker. The views and opinions expressed herein are those of the author and do not reflect the policy or position of Full Beaker, its officers, parent, or affiliates.

Try the Mortgage Calculator