3-In-5 Consumers Now Predict Higher Mortgage Rates In 2017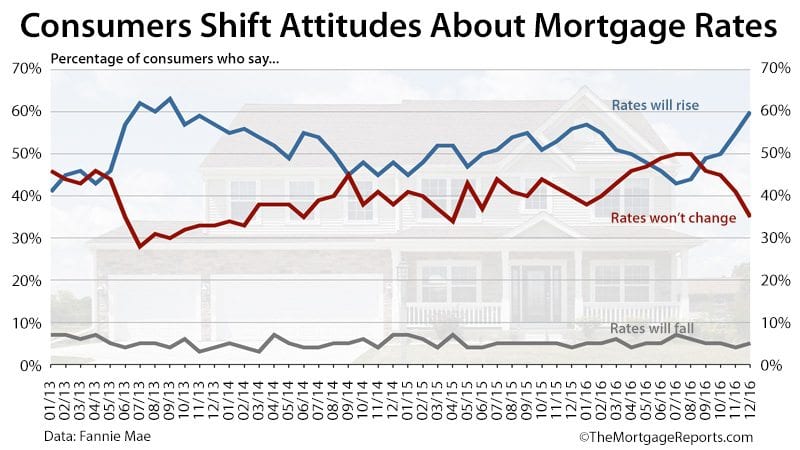 More U.S. Households Forecast The End Of Ultra-Low Rates
More U.S. consumers expect current mortgage rates to rise further in 2017.
According to Fannie Mae's most recent National Housing Survey, 60 percent of consumers think the era of rates in the 3s is firmly in the past.
The survey, which covers 1,000 households, measures changing consumer attitudes toward mortgages and housing nationwide.
Attitudes have shifted surprisingly since a few months ago.
In October 2016, "only" half of consumers predicted rising rates in the new year; just 1-in-20 predicted falling rates.
Then, early in November, mortgage rates had their worst day in 3 years following an unforeseen outcome to a turbulent election cycle.
But it's not all doom and gloom.
Thirty-year mortgage rates are still historically low.  The nationwide average 30-year mortgage rate still remains near 4% nationwide, on average, according to mortgage agency Freddie Mac.
That's half the historical average of 8.25%.
It's still a favorable time to be shopping for a mortgage.
Click to see today's rates (Mar 26th, 2017)
Consumers Expect Rent Hikes To Outstrip Home Prices
The average consumer is forecasting higher rates this year, but that's not keeping them from buying a home.
Rising rental prices -- and what it costs to move into a rental unit -- are making the relative cost of owning a home lower each day.
According to Fannie Mae, 89 percent of consumers think home prices will rise or hold steady this year.
But rising home prices are not distinguishing renters' desire to buy. Quite the opposite. Consumers expect home prices to rise at least 2% over the next twelve months. A $300,000 home will be worth six thousand dollars more one year from now, say survey respondents.
That's one incentive to buy now. The other is the amount consumers expect rent to increase: 3.8% over the next year.
Renters can either be on the winning or losing side of rising costs. According to Fannie Mae's survey, they are choosing to win.
Sixty-eight percent of consumers say they would buy instead of rent, if they had to move today.
That could be a wise choice. Home sales remain near their strongest levels in eight years and home supply is scarce. Mortgage rates are still at historical lows, and demand is expected to remain strong.
Click to see today's rates (Mar 26th, 2017)
Mortgage Programs Help Buyers Secure Affordable Housing
Home buyers are getting into homes for less money per month than they pay for rent. Low rates are increasing home affordability for first-time home buyers.
Maybe you've been thinking about buying a home, too. After all, the market looks ripe.
Mortgage rates are low, rents are rising nationwide, and mortgage lenders are approving more loans. Furthermore, there's an abundance of low- and no-down payment mortgage loans for first-time home buyers and repeat buyers alike.
Among the most common low-downpayment mortgage options is HomeReadyTM, which has a three percent downpayment requirement.
The program is perfect for multi-generational households and even prospective homeowners with roommates. Income from a household member who is not on the loan can help the applicant qualify.
Learn about the HomeReady'ĄĘ mortgage program here.
Mortgage rates for the HomeReadyTM are best for borrowers with strong credit. For buyers with lower credit scores, the FHA program is a low-cost and flexible option.
But FHA is not only for buyers with lower credit scores. Nearly 40 percent of all home buyers under the age of 37 -- within any credit tier -- select FHA.
The FHA home loan requires just 3.5 percent down, and that downpayment can come from a gift, or even an approved downpayment assistance program.
FHA allows homes with up to four units (e.g. a duplex, triplex, or four-plex) and the program allows a buyer to have its closing costs paid by the seller.
Today's home buyers have several no-money-down options, too.
The VA loan is one such loan, available to military borrowers and surviving spouses. The advantages of a VA loan are many, including the lack of mortgage insurance, and the fact that VA loans are assumable, which means that future home buyers may be eligible to "assume" your home's existing mortgage rate.
In a rising mortgage rate world, assumable loans can be a giant sales benefit.
Another zero down payment loan is the USDA loan.
Available in less-densely populated neighborhoods, the USDA loan allows for 100% financing and very low rates of mortgage insurance. USDA mortgages are available as 30-year, fixed-rate home loans only.
Lastly, via down payment assistance programs, home buyers can receive a cash grant to cover their traditional home downpayment. Such programs don't always require repayment, either. In many cases, you're only required to maintain your residence for a period of up to 5 years.
This flowchart can help you decide which mortgage is best for your needs.
What Are Today's Mortgage Rates?
At least half of consumers think mortgage rates will rise in 2017. No one can predict what will actually happen, but today's mortgage rate market is still ripe with deals.
Get today's live mortgage rates now. Your social security number is not required to get started, and all quotes come with access to your live mortgage credit scores.
Click to see today's rates (Mar 26th, 2017)
The information contained on The Mortgage Reports website is for informational purposes only and is not an advertisement for products offered by Full Beaker. The views and opinions expressed herein are those of the author and do not reflect the policy or position of Full Beaker, its officers, parent, or affiliates.
Try the Mortgage Calculator