Mortgage rates hit a 3-month low
After climbing 250 basis points (2.50%) between January and June, mortgage rates finally started trending back down. This week, the average 30-year rate fell below 5% for the first time since mid-April, according to Freddie Mac's records.
Lower rates are welcome news for buyers facing affordability challenges. And they could provide new opportunities for homeowners looking to refinance or cash out home equity.
However, mortgage interest rates are seriously volatile right now. They've already ticked back up since Freddie's survey results were collected. So borrowers in the position to lock a rate will want to move fast.
Find your lowest mortgage rate. Start here
Today's mortgage rates
On Thursday, August 4, Freddie Mac reported average 30-year fixed mortgage rates at 4.99 percent. The 15-year fixed rate also fell, to 4.26 percent. And 5/1 adjustable mortgage rates ticked down slightly to 4.25 percent.
This was the second week of meaningful declines for fixed mortgage rates, which have been on an overall downward trend since June 23.
Current mortgage interest rates: Jan. to Aug. 2022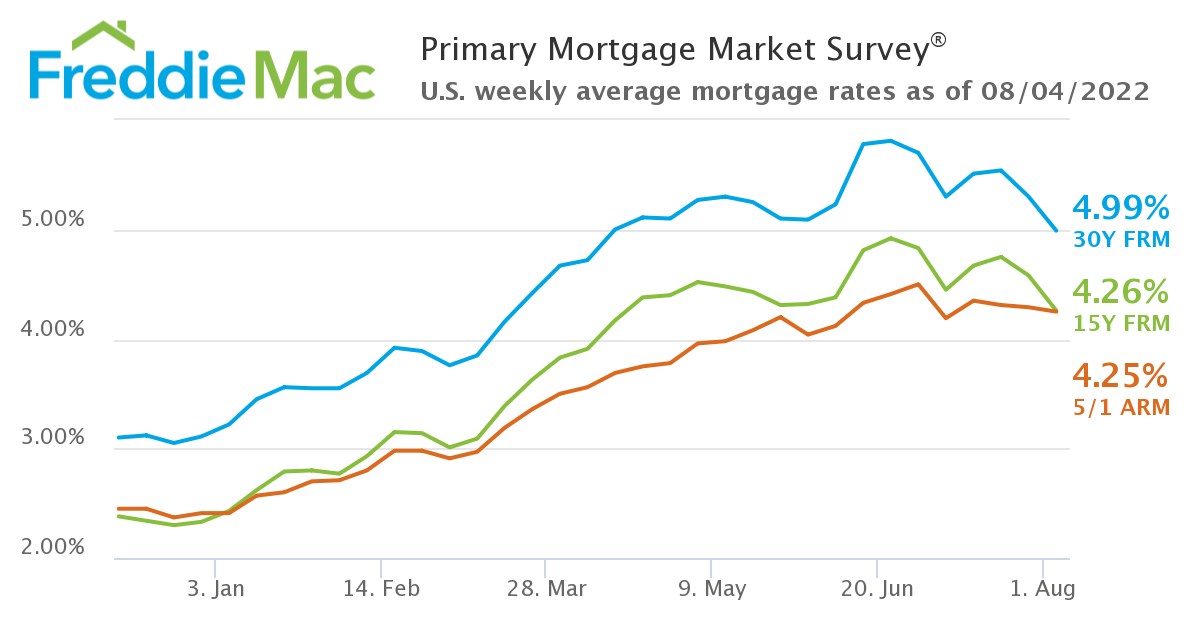 Are mortgage rates still falling?
The bad news is that mortgage rates have already moved back up. Freddie Mac collects its mortgage rate survey results on Monday and Tuesday each week. So by the time those average rates are published on Thursday, they could already be out of date.
That was the case this week. By Thursday, August 4, mortgage rates had already moved back up above 5% on average. According to The Mortgage Reports' daily rate survey, Thursday's average 30-year fixed interest rate was 5.408% (5.439% APR).
In Freddie Mac's own words, "Mortgage rates remained volatile due to the tug of war between inflationary pressures and a clear slowdown in economic growth. The high uncertainty surrounding inflation and other factors will likely cause rates to remain variable, especially as the Federal Reserve attempts to navigate the current economic environment."
Find your lowest mortgage rate. Start here
The silver lining for borrowers
The good news for home buyers and homeowners is that average mortgage rates are just that — averages. Some home buyers will always qualify for lower interset rates than those seen in broad surveys.
Typically, the best mortgage rates go to home buyers with 20% down and good credit scores of 740 or higher. But those "prime" borrowers aren't the only ones who can find deals.
Anyone can find a lower mortgage interest rate by shopping around between lenders. And with the market as volatile as it is, there's likely to be a wide spread between the rates lenders are offering. So comparing rates before you buy or refinance could be more valuable than ever.
Don't just look at direct lenders, either. It's also worth getting a quote from a mortgage broker — and then seeing if another broker can beat it.
"Brokers need the business right now, so it can be beneficial to borrowers. And the broker may even take a hit on their comp to get the business," explains Jonathan Meyer, licensed loan officer and The Mortgage Reports' lending expert.
Your next steps
Thirty-year mortgage rates finally fell below 5% this week. Average rates have since risen, but savvy borrowers can typically find a better deal by comparing rates from multiple lenders. If you're ready to lock an interest rate on a home purchase or refinance, you can get started right here.
Time to make a move? Let us find the right mortgage for you