A look at 15-year mortgage rates over time
15-year mortgage rates hit all-time lows in 2020 and 2021. But they rose in 2022 as inflation and economic pressures pushed rates skyward.
The good news is, 15-year mortgage rates are usually substantially lower than 30-year rates. So choosing a 15-year mortgage can help you save on interest even in a higher-rate environment.
Verify your new rate
---
In this article (Skip to…) 
---
Current 15-year mortgage rates chart
As you can see in the 15-year mortgage rate chart below, both 15- and 30-year mortgage rates rose sharply to start 2022. After bottoming out during the Covid pandemic, interest rates rebounded on a growing economy and stimulus pullback from the Federal Reserve.
As the Fed works to keep historic inflation in check, it's likely further rate increases are in the future. However, mortgage rates can move unpredictably, and any major shifts in the U.S. and world economy can cause rates to rise or fall suddenly.
15-year mortgage rates chart: 2021-2022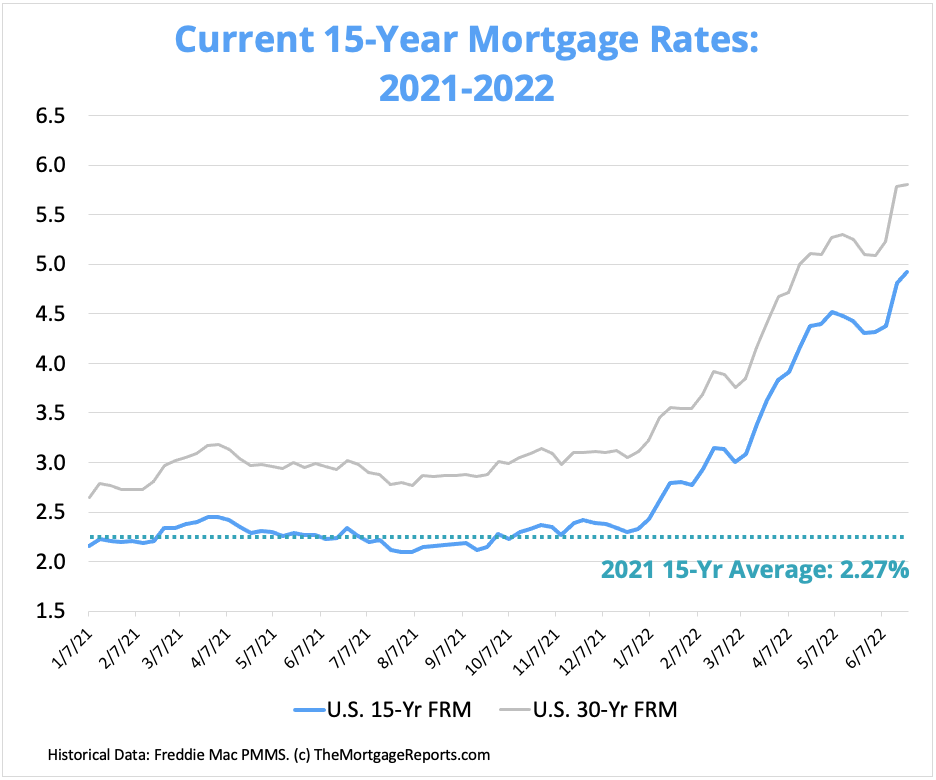 Historical 15-year mortgage rates chart
Despite recent hikes, 15-year mortgage rates are still just below their historical average. Freddie Mac has been tracking 15-year mortgage rate history since 1991, and during that time 15-year FRMs have averaged 5.19 percent. So anyone who can lock a 15-year fixed rate below that is still getting a good deal historically speaking.
15-year mortgage rates chart: 1991-2022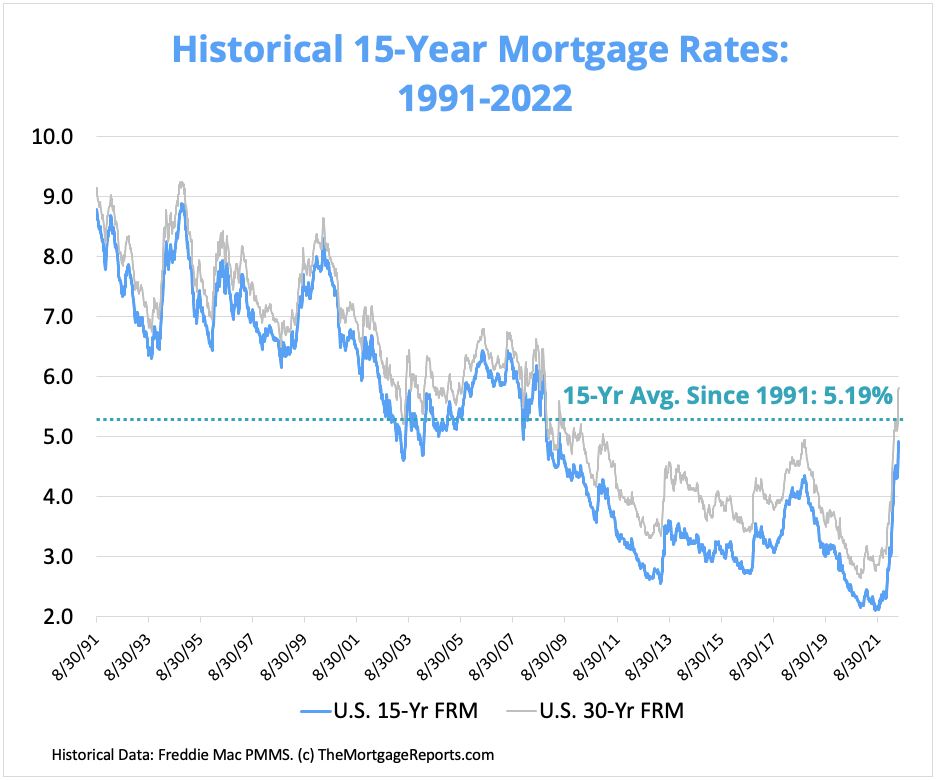 Check your 15-year mortgage rates. Start here
15-Year mortgage rates history
For some perspective on today's 15-year mortgage rates, here's how the average 15-year fixed rate has changed from year to year over the past three decades.
| | | | | | |
| --- | --- | --- | --- | --- | --- |
| Year | Average 15-Year Rate | Year | Average 15-Year Rate | Year | Average 15-Year Rate |
| 1992 | 7.96% | 2002 | 5.98% | 2012 | 2.93% |
| 1993 | 6.83% | 2003 | 5.17% | 2013 | 3.11% |
| 1994 | 7.86% | 2004 | 5.21% | 2014 | 3.29% |
| 1995 | 7.48% | 2005 | 5.42% | 2015 | 3.09% |
| 1996 | 7.32% | 2006 | 6.07% | 2016 | 2.93% |
| 1997 | 7.13% | 2007 | 6.03% | 2017 | 3.28% |
| 1998 | 6.59% | 2008 | 5.62% | 2018 | 4.00% |
| 1999 | 7.06% | 2009 | 4.57% | 2019 | 3.39% |
| 2000 | 7.72% | 2010 | 4.10% | 2020 | 2.61% |
| 2001 | 6.50% | 2011 | 3.70% | 2021 | 2.27% |
15-year mortgage rates vs. 30-year rates
15-year mortgage rates are consistently lower than 30-year mortgage rates. Over the last three decades, 15-year fixed rates have stayed 55 basis points (0.55%) below 30-year fixed rates on average, according to Freddie Mac's records.
Those lower rates can lead to serious savings for homeowners. But there's a catch.
Since a 15-year mortgage is paid off in half the time of a 30-year mortgage, each payment is a lot higher. That means a 15-year home loan could save you tens of thousands in interest in the long run but will cost you more from month to month.
Those higher payments are the reason many borrowers opt for a 30-year loan over a 15-year one. But, if you can afford the increased monthly mortgage payment, a 15-year FRM could be a very wise choice. You'll save a lot on interest over the life of your loan and that extra cash can be put to work for you — investing in the stock market, in home improvements, in a new business venture, or whatever you might choose.
If you're not sure which loan type to choose, talk to a loan officer who can run the numbers on a 15-year versus a 30-year mortgage and help you decide which one makes the most financial sense in your situation.
How to find the best 15-year mortgage rate
Just like 30-year mortgage rates, 15-year rates vary from one borrower to the next. The interest rate you qualify for largely depends on:
Your credit score
Your down payment
Your

debt-to-income ratio

Your loan program
Your lender
The overall interest market
Obviously no one can control where the overall mortgage interest rate market goes. But as a borrower, there are concrete steps you can take to make sure you get the lowest 15-year mortgage rate possible.
If you have some time before you apply for a mortgage, try:
Cleaning up errors on your credit report
Paying debts down or off
Making all debt payments on time
Keeping credit card balances below 30%
Saving for a bigger down payment
Shopping for the right type of loan
Any improvements to your financial picture can help lower your mortgage rate and save you money in the long run.
And if you're ready to buy or refinance, you can still shop around between lenders for the lowest interest rate. Mortgage companies have flexibility with their pricing and you can often use multiple mortgage offers as leverage to negotiate for a lower rate and/or fees.
Your next steps
Mortgage rates have risen from their historic lows in 2020 and 2021. In the current market, 15-year mortgage rates offer homeowners a chance to save compared to the traditional 30-year fixed loan.
If you're ready to get started, connect with a lender who can help you compare today's 15-year mortgage rates and find the most affordable home loan for you.
Time to make a move? Let us find the right mortgage for you