"Where do I start?"
If you want to buy a house in 2024 — especially your first house — this is probably the question you're asking yourself.
The answer is, start with small steps you can tackle right now.
You don't have to worry about deciphering mortgage papers and making a huge down payment right away.
Instead, here are three concrete things you can do this week that will put you on track to buy a house before the end of the year.
Find affordable financing today. Start here
How to buy a house in 2024: 3 steps you can take right now
Are you thinking of buying a home in the new year? Here are three easy steps you can take right now to ensure success.
1. Check your credit
Your credit is key to your home buying ability. A higher credit score means a lower mortgage rate, and a bigger budget.
Here's how your credit score affects your mortgage:
500-580: Difficult to qualify, higher mortgage rates
580-640: Less difficult to qualify, decent mortgage rates
640-720: Easy to qualify, good mortgage rates
720+: Easiest to qualify, best mortgage rates
Checking your credit at least six months in advance gives you time to flag errors on your report, and improve your score if need be.
Verify your mortgage eligibility
So, how do you check your credit report?
By law, every American is entitled to a free annual credit report from all three major credit bureaus (TransUnion, Experian, and Equifax).
If you haven't used yours up already, head to AnnualCreditReport.com and pull them now. (This is the only government-mandated site where you can get a free, no-strings-attached credit report for free.)
Getting your credit report takes just a few minutes. Once you have it in hand, you'll want to look for:
Errors and suspicious activity: Is there anything wrong with your name, address, accounts, or balances? Are there cards or credit lines you don't recognize? Late payments when you know you paid on time? Report these errors to the issuing credit bureau ASAP. They could be a sign you're a victim of identity theft (and they could be hurting your credit score, too)
Overdue accounts: If there are any accounts marked late, overdue, or in collections, then take steps to settle those up as quickly as possible. Payment history plays a huge role in your overall credit score, so addressing these issues fast is critical
Missing accounts: Are there any accounts, cards, or credit lines that aren't showing up on your report? If you're current on your payments with them, then contact the credit bureau and make sure it starts showing up on your credit report. It could give your score a boost, especially if you've had the account a while
You'll also want to pull your credit score. Some credit bureaus charge for this, but you may be able to view yours for free through your bank. Credit card companies often provide complimentary credit score access as well.
It often takes around six months or more to fix credit issues, so you want to check your credit as soon as possible.
Keep in mind that it takes around six months or more to fix credit issues. So if you see something wrong on your report, let the credit bureau know right away and be ready to provide evidence to back it up.
2. Figure out what you can afford
After checking your credit, you may very well be wondering, "Can I even afford to buy a house?"
Getting an answer to that question is the next step.
Before going any further, you need to figure out what you can afford given your income and existing debts and expenses.
For many people, a monthly mortgage payment around their current rent price is ideal. This is especially true in higher-cost housing markets. For others, it may be slightly more or slightly less.
A monthly mortgage payment close to your current rent payment is ideal.
To get a good pulse on what you can afford, head to our mortgage calculator, and click the "by income" tab.
This lets you enter your income, current debts, location, and other details to determine what home price and monthly payment you can most comfortably afford.
[Example] How to calculate your home buying budget: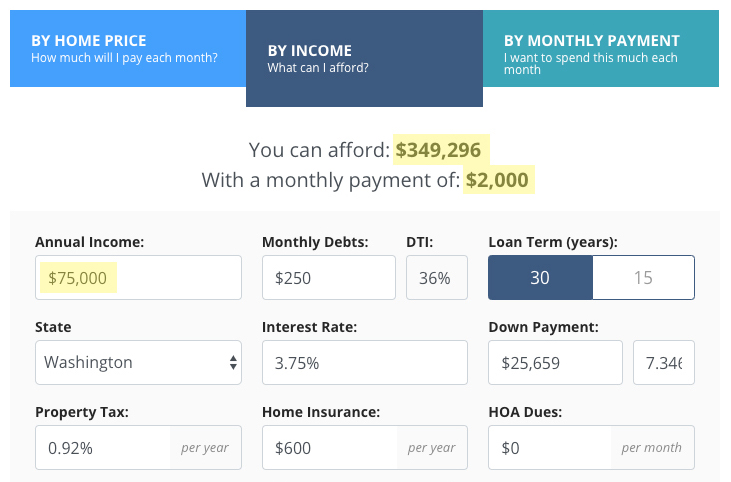 The "By income" mortgage calculator shows you how much house you can afford based on your yearly income and monthly debts.
Once you've determined a price point, compare that to home prices in your area.
Check out Realtor.com's market trends tool to get a feel for price trends in your county. There's even a heatmap that lets you separate the higher-cost markets from the lower-cost ones, so you can hone in on communities that may be best-suited for your budget.
[Example] Compare your budget to median home prices in your area: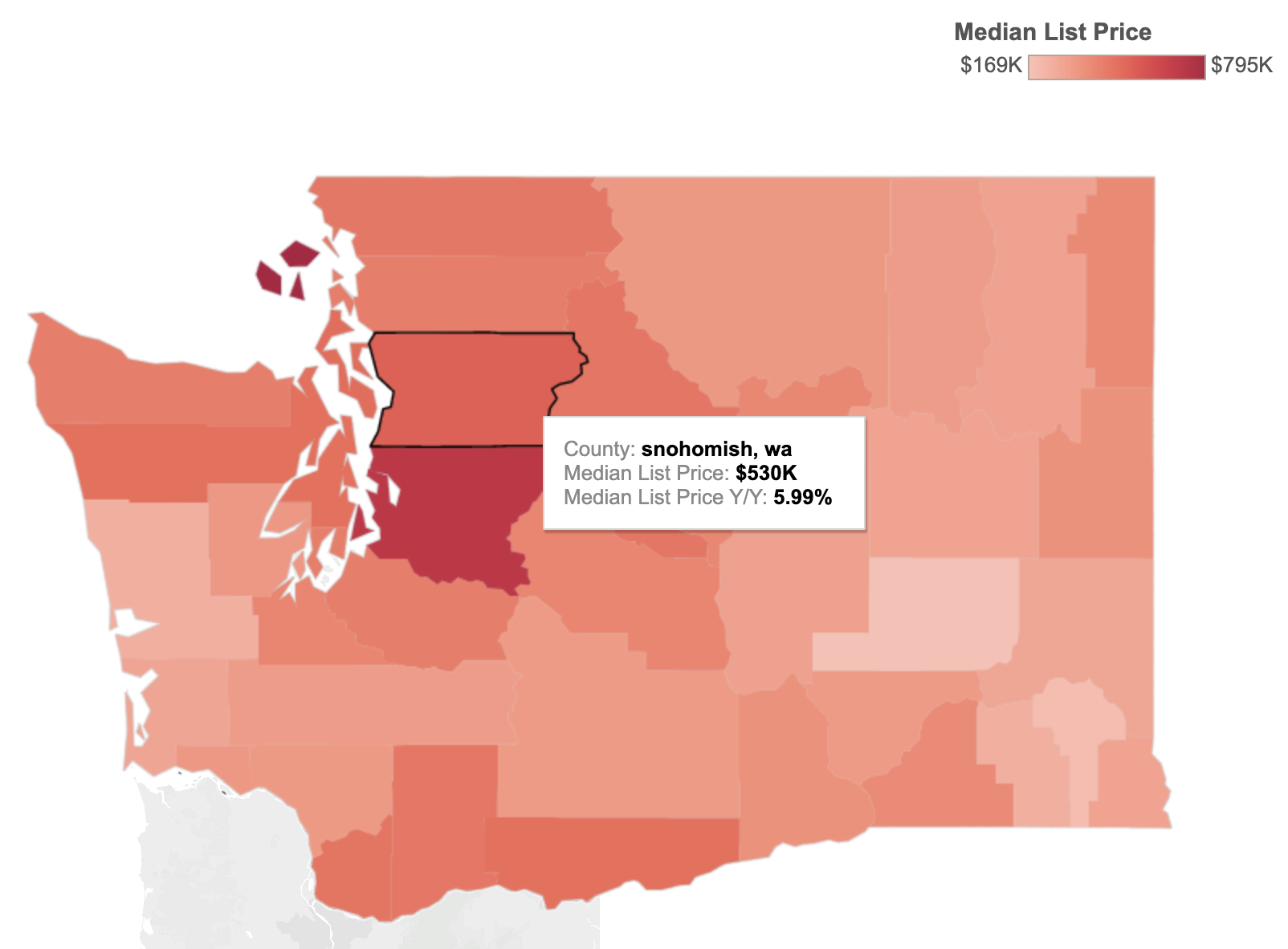 If it's looking like your price range won't work for the location you're eyeing, then you might need to tighten that belt and start stowing away some extra cash.
If it's too far outside your price range, you may want to consider some alternatives.
For instance, you might buy in a lower-cost market on the outskirts of your ideal location. Or you could think about purchasing a smaller property, like a townhome or condo instead of a single-family home.
If your budget already measures up to home prices in your area, then you're on track to start looking at financing options.
Verify your home loan eligibility
3. Make a savings plan for your down payment
The down payment is probably your biggest concern if you hope to buy a home this year — and for good reason.
Your down payment impacts not only your home buying options, but also how affordable your house is in the long run (even decades down the road, in fact).
And here's the simple fact of the matter: You don't need 20% down to buy a house. But, the smaller your down payment is, the larger your loan balance and monthly payments will be.
>> Related: How to buy a home with $0 down in 2024
A small down payment will also mean paying more in interest over the life of your loan, and lenders may require you to have a higher credit score to make up for the added risk you pose.
How much do I need to save for a down payment?
To make sure you get the benefits of a decent-sized down payment, it's important to implement a savings plan now.
Luckily, that's easy enough to do. You just need to know how much house you can afford and what you want to put down in cash.
Let's look at an example scenario:
Say you make $65,000 per year, have $7,000 in savings already, and are looking to buy a $200,000 home sometime this year.
Here's what your savings plan would need to look like for both a 5% and a 10% down payment on your home:
5% down payment ($10,000):

You'd need to save $1,000 per month January through October to buy a home by November of this year

10% down payment ($20,000):

You'd need to save around $2,000 per month through October to afford a home by November
Down payments don't have to come only from savings, though.
With most mortgage loans, you can also use down payment gifts to cover all or some of the costs.
There are also down payment assistance programs that can help you if you're a first-time homebuyer or your income is on the lower end.
A quick note here: Not all mortgages require down payments.
VA loans (for veterans and military members) and USDA loans (for rural home purchases) require zero down payment to eligible buyers.
Other loans, like FHA and conventional mortgages, require as little as 3 to 3.5% of the home's purchase price.
>> Related: Complete guide to types of home loans
How to buy your first home in 2024
These aren't the only three steps you'll need to take to buy a house in 2024, but they will put you on the track toward success.
If you start planning now, get to saving, and keep your finances in check, a new home may very well be in your future before 2021.
Curious what mortgage rates you may qualify for when it comes time to buy? Then shop around now and get quotes from our vetted lenders.
Time to make a move? Let us find the right mortgage for you