Origins of the townhouse
The structure we recognize today as the townhouse was first built as a city residence for nobleman and wealthy families.
These wealthy elites often owned one or more homes in the country where they spent the majority of their time. The city home, or the townhouse, had plenty of floors and living space for large well-to-do families and their servants.
These homes were stacked together, allowing families to keep their luxurious interiors and still be within walking distance of the business district, industrial areas, and mass transit.
Ready to buy a home? Start here.
Popularity with the middle class
Townhouses became popular for the middle class in the early 19th century as space in cities became limited. Townhouses could be built quickly and affordably, and took up less valuable space.
Today, these original townhouses are very desirable for their historical significance and central locations in desirable cities, such as the famous townhouses of San Francisco.
Though the townhouse tends to be more expensive in areas where detached single-family houses are uncommon, like San Francisco, New York City, and Chicago, they remain one of the top designs for growing cities.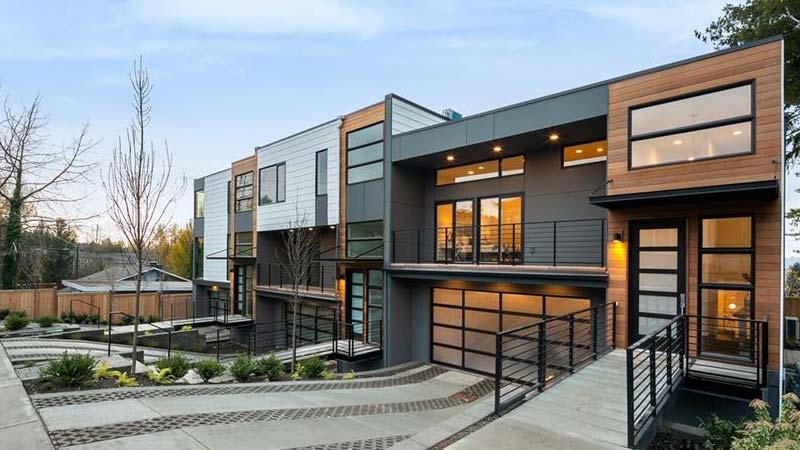 Photo courtesy Gillis Real Estate Group
Appeal for first-time home buyers
The townhouse's continued popularity is the product of its affordability and value.
A new townhouse can be an amazing value for first-time home buyers who want the privacy of a single-family home, but as a first-time home buyer can't afford the price.
The difference between townhouses and condominiums
Many home buyers overlook townhouses because of the misconception that they are like condominiums. The major difference is that with a townhouse you own the entire property, often times with a small yard. With a condominium on the other hand, you only own the space inside the home.
Like a condo, a townhouse community often has an association that helps with building maintenance and landscaping. This takes away some of the cost and effort of maintaining a townhouse when compared to a single-family home. In addition, most townhouse communities provide amenities similar to a condo, including pools, tennis courts, and fitness centers.
Safety and sense of community
Many residents in townhouse communities find it easy to get to know their neighbors, not only because of the shared walls, but because of the amenities provided within the community.
People living in these close-knit neighborhoods often cite safety as a big benefit to owning a townhouse. With neighbors in such close proximity, it is difficult for suspicious behavior to go unnoticed and these communities tend to be safer than single-home communities.
People looking for convenience, low-maintenance, safety, and a feeling of a community make great candidates for a townhouse. Townhouses enjoy all the benefits of owning a single-family home with the cost-saving benefits and amenities of a condo.
Time to make a move? Let us find the right mortgage for you