Hip-Hop's 'No Brainer' and 'Wild Thoughts' hitmaker keeps spinning and winning.
DJ Khaled is always in the house. No matter where he is, the hip-hop producer extraordinaire is the life of the party—on records, on stage, in clubs, and now in his brand new $25.9 million Miami Beach mansion. Life is always good in this famous deejay's neighborhood.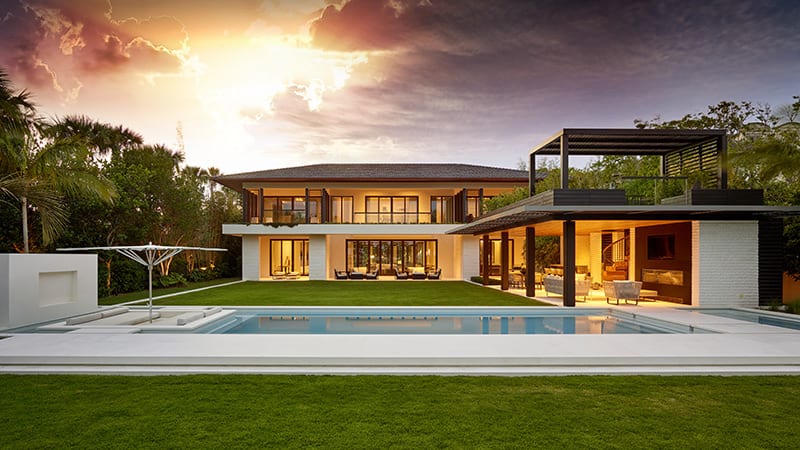 Courtesy of Douglas Elliman
DJ Khaled (a.k.a. Khaled Mohamed Khaled) closed on the waterfront mansion last week — the latest luxury perk in his sizzling music career.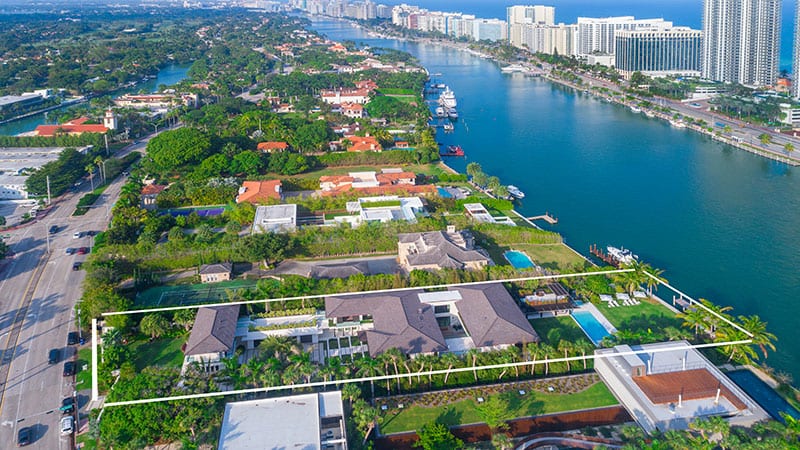 Courtesy of Douglas Elliman
The 9-bedroom, 10.5 bathroom residence spans 12,750 square feet with a sick 80-foot-long pool fly enough for family or entourage — and worthy of a future track shoutout (just wait, it's coming). The property boasts a main 5-bedroom house, 4-bedroom guest house, a chillin' gazebo, home theater, safe room, and an elevator.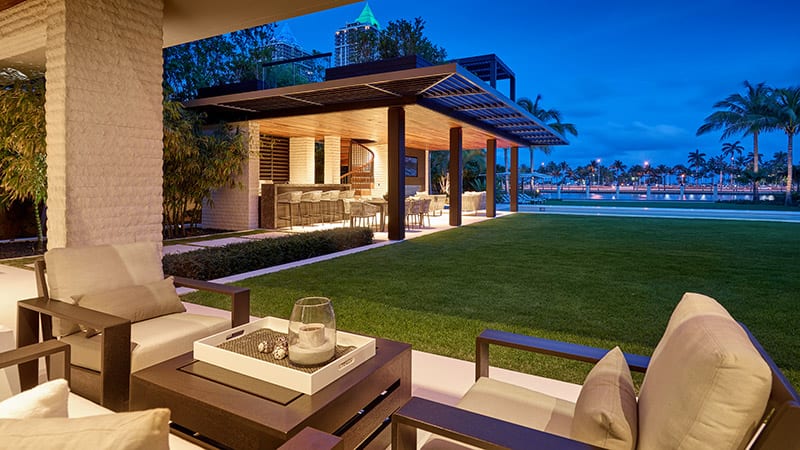 Courtesy of Douglas Elliman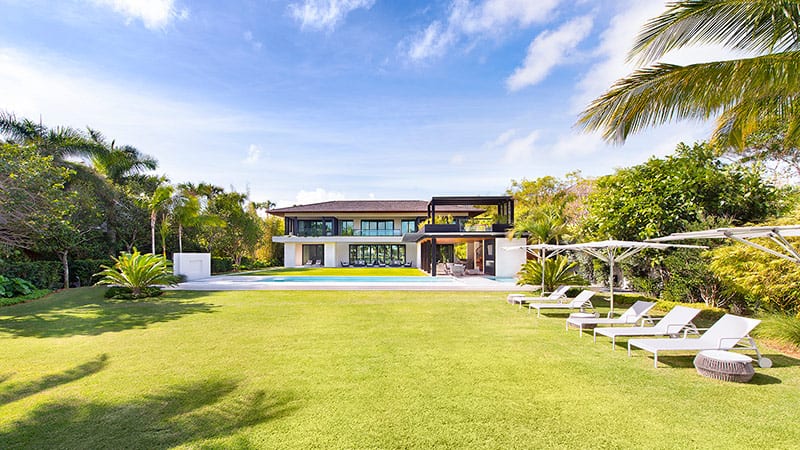 Courtesy of Douglas Elliman
The Grammy-nominated hitmaker's new crib is a tropical modern design by architect Cesar Molina, with contemporary interiors and expansive entertainment-friendly exteriors. The estate is distinguished by mahogany doors and windows, and Brazilian-inspired Curmaru wood eaves which dramatically shade the property — casting shadows with gorgeous palm trees.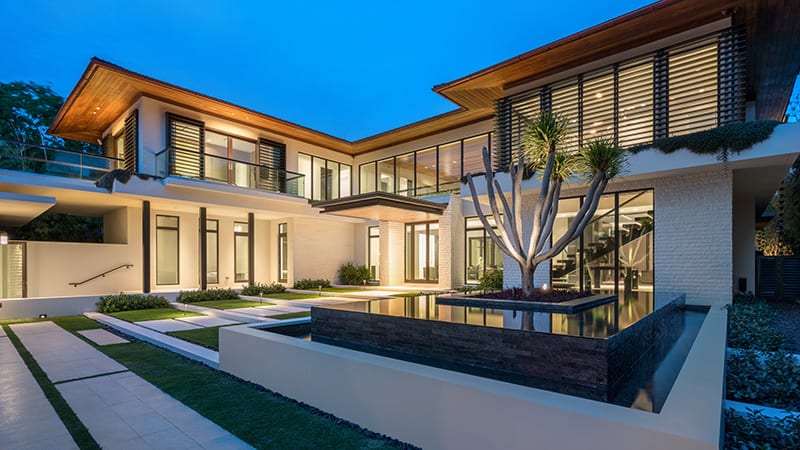 Courtesy of Douglas Elliman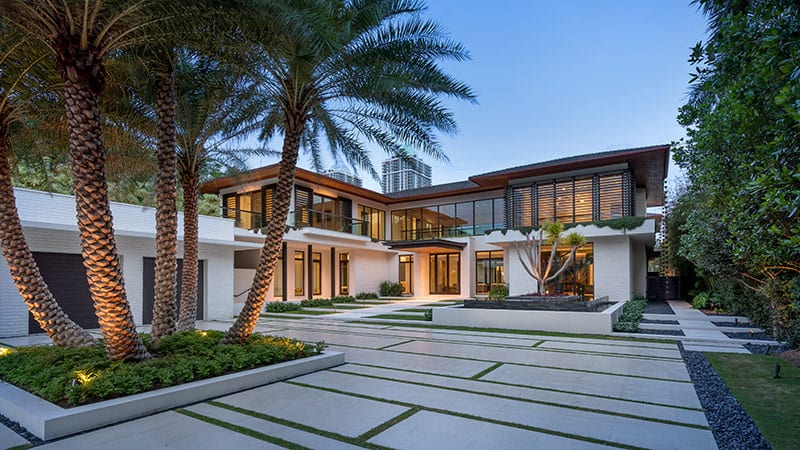 Courtesy of Douglas Elliman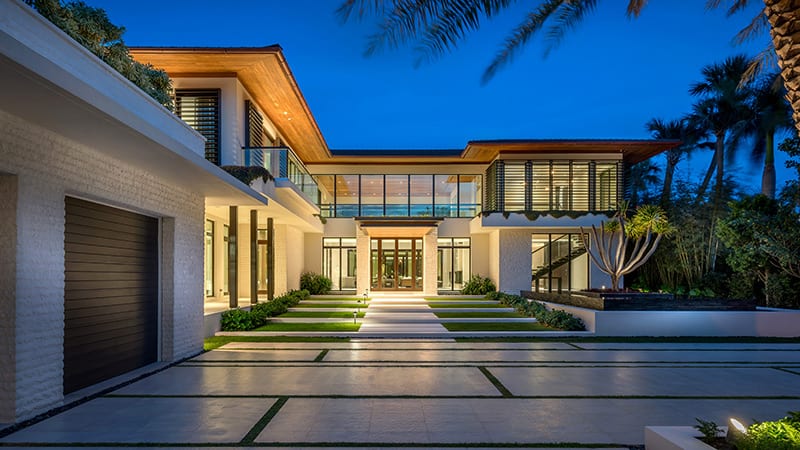 Courtesy of Douglas Elliman
The "Wild Thoughts" artist's home features Holly Hunt and Christian Liagre-designed interior furnishings integrated into modern spaces with massive Curmaru ceilings, custom wall treatments, modern fireplaces, and floating staircases.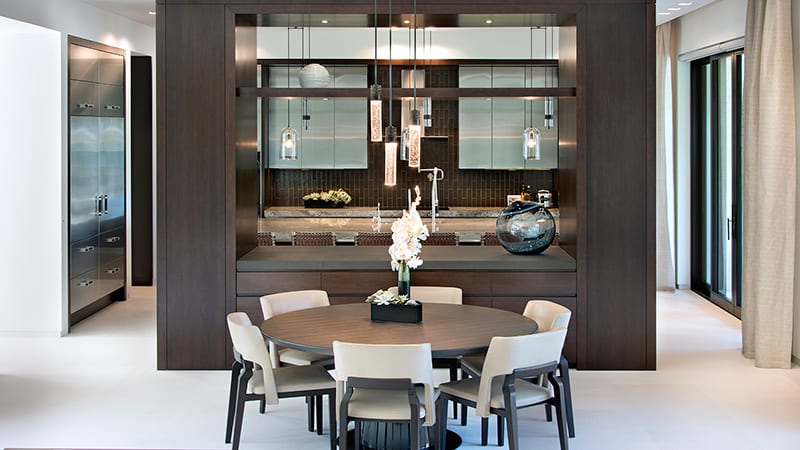 Courtesy of Douglas Elliman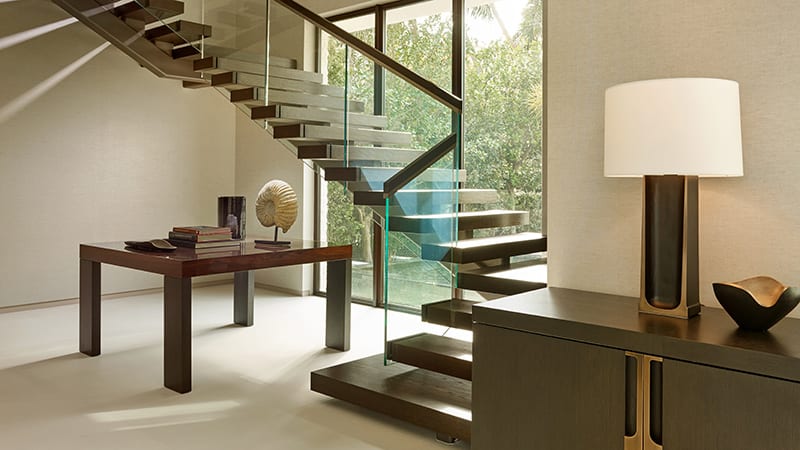 Courtesy of Douglas Elliman
A balcony corridor hovers beneath skylights and above natural-light-inviting picture windows that blend indoors to the outdoors.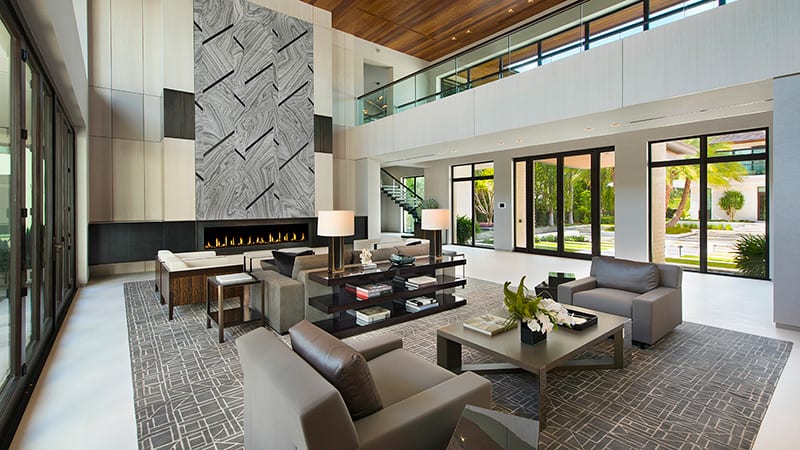 Courtesy of Douglas Elliman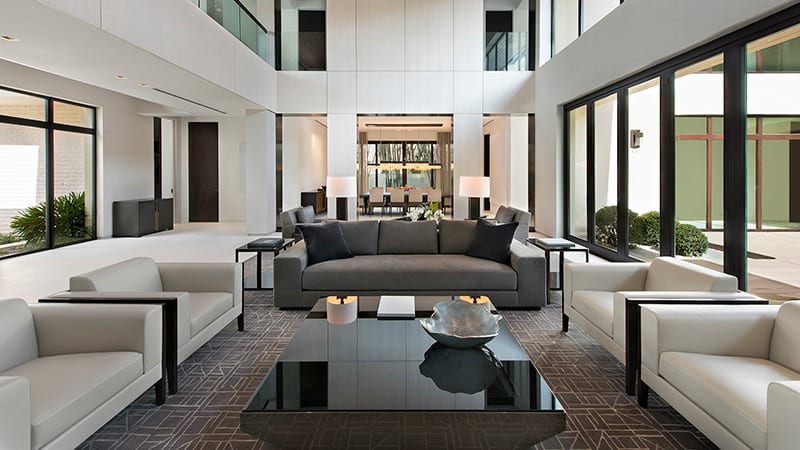 Courtesy of Douglas Elliman
The exterior is where this home earns its street (and waterfront) cred. Located along a picturesque creek, the meticulously landscaped grounds include the massive swimming pool, double-decker gazebo, loungy courtyard backyard, and a boat slip where DJ Khaled can anchor a boat or his beloved jet skis.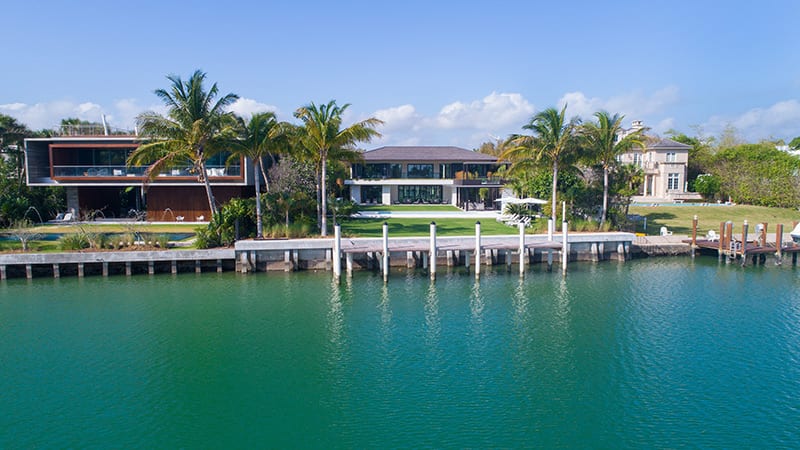 Courtesy of Douglas Elliman
Like a chic Miami waterfront hotel, the gazebo hangout (also crafted of Curmaru wood) is outfitted with a full kitchen bar, bathroom, outdoor shower and a fireplace.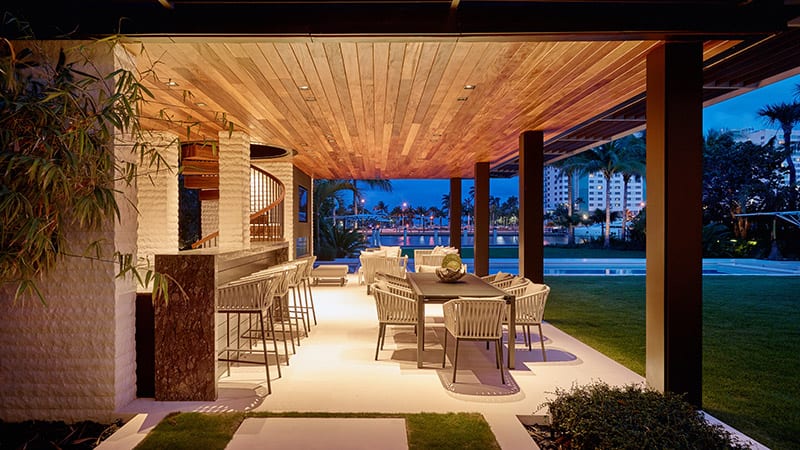 Courtesy of Douglas Elliman
In case you've lived under a rock recently, DJ Khaled is more than a music, social media, and award show personality. He's a big watersport aficionado — documented publicly on social media for our endless entertainment. His jet ski YouTube videos are a sensation, as he tour guides us across Miami's waterways, pausing at his favorite haunts and occasionally wiping out in the water.
DJ Khaled virtually lives his entire life on camera. He even Snapchatted his son's Asahd's birth. The uninhibited, self-promoting producer also has a passion for track suits (his signature attire), collectible footwear, red carpet walks, and camera mugging. And his fans eat it up.
No doubt DJ Khaled's music resonates, but his social media savvy expanded his base. He counts 1.2 million Instagram followers and 6.7 million YouTube subscribers—a channel that frequently stars now two-year-old Asahd, a budding celebrity himself. Swimming is one of their bonding activities, so prep that new pool ASAP.
DJ Khaled purchased his new digs from Michael Lerner, the entrepreneur who popularized Baby on Board signs—those geeky yellow kid safety placards on minivans everywhere. But who knew those effective Baby on Board signs were lucrative enough to own a nearly $26 million spread like this one? Not a bad gig at all.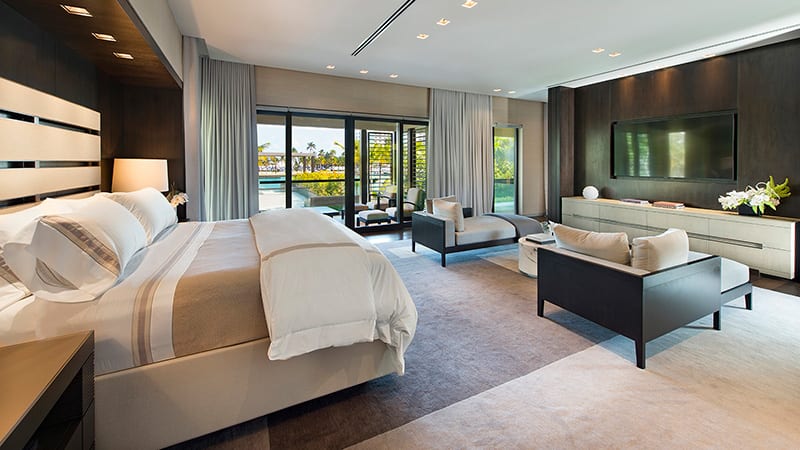 Courtesy of Douglas Elliman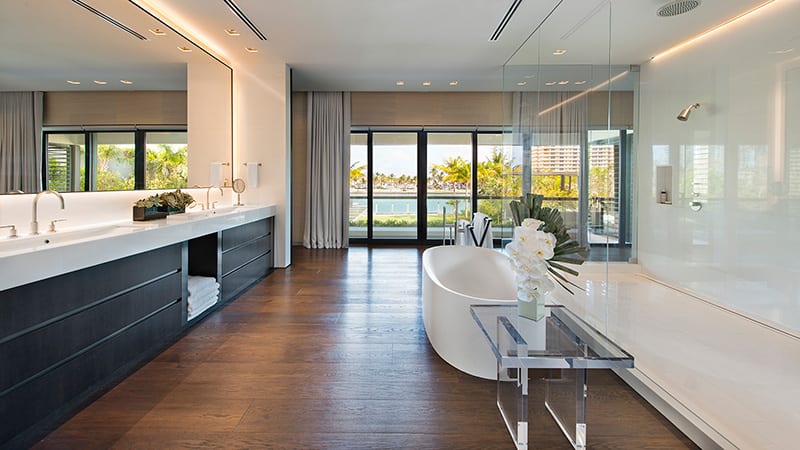 Courtesy of Douglas Elliman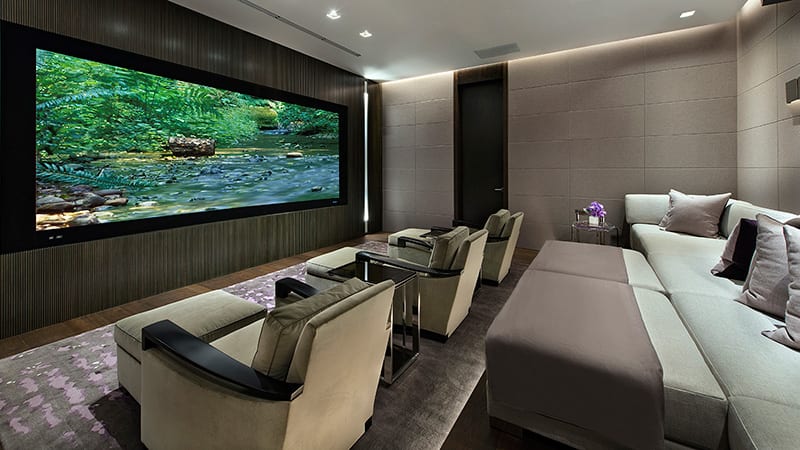 Courtesy of Douglas Elliman
Eloy Carmenate & Mick Duchon of Douglas Elliman listed the property while Orli Rudolph of NextHome Realty Professionals represented DJ Khaled.
DJ Khaled raps "Welcome To My Hood," and now everyone is invited to his new house — not literally, but digitally. That is, unless you're part of his collaboration crew, dropping Billboard hits and prerequisite slick monikers like Chance the Rapper, Pusha T, Swizz Beatz, 2 Chainz, Busta Rhymes and Zoey Dollaz.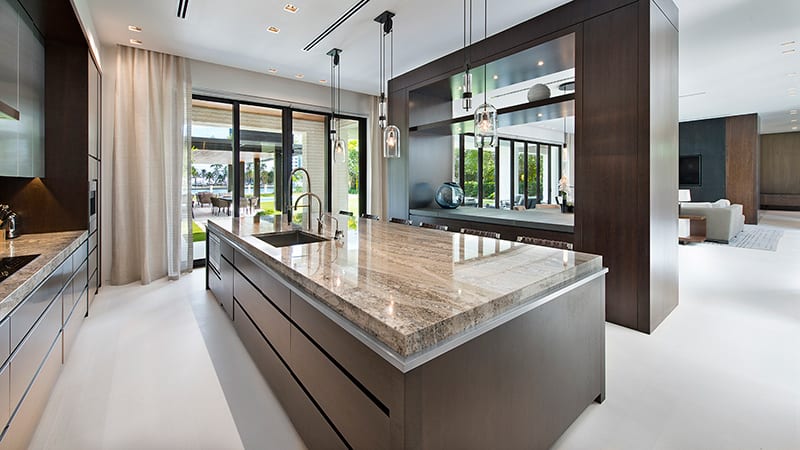 Courtesy of Douglas Elliman
The artist's hip-hop game elevated him to the top of the charts — spitting raps and collaborating with superstar artists like Rihanna, Drake, Jay-Z, Kanye "Ye" West, Jennifer Lopez, Lil Wayne, and Kendrick Lamar, the first and only Pulitzer Prize-winning rapper in history. With friends like that, who needs frenemies (the jovial deejay lacks rap enemies because he's universally appreciated as one of hip-hop's elite and genial producers).
DJ Khaled raps "I Got The Key" (with special verses from a vibing Jay-Z), representing the freedom of ownership. That includes owning your music catalog, your future, and a sweet estate in Miami Beach. It doesn't get better than that. If it does, DJ Khaled will find it.