Mortgage Guidelines Loosen Into 2013; More Home Loans Approved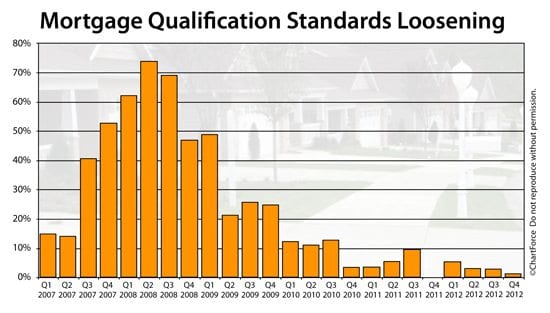 Despite what you may hear from friends and neighbors, the nation's banks are no longer tightening their respective mortgage lending standards.
Whether you're looking for a purchase money mortgage or a refinance, it's a good time to apply for a home loan.
Click here to check your mortgage eligibility (Oct 23rd, 2017).
More Mortgage Programs, Easier Mortgage Approvals
Each quarter, the Federal Reserve sends a survey to its member banks to gauge the change in supply of, and demand for, loans from businesses and U.S. households.
Among the survey questions is one pertaining to prime residential mortgages where "prime residential mortgage" is defined as a home loan for borrowers with a well-documented, high-performance credit history; with low debt-to-income ratios; and who chooses to finance a home via a traditional fixed-rate or adjustable-rate mortgage product.
The Fed wants to know if banks prime mortgage guidelines are getting tougher, easier, or staying the same.
Last quarter, bank responses reflected what today's mortgage applicants have already learned -- gaining home loan approval is not as difficult as what the papers may tell you.
Percentage of banks that tightened mortgage guidelines : 1.5%
Percentage of banks that made no change in mortgage guidelines : 92.3%
Percentage of banks that loosened mortgage guidelines : 6.1%
The Q4 2012 survey marks the ninth straight survey in which fewer than 10% of banks tightened standards. Many more are loosening instead. It's a good sign for the 2013 home purchase market, which has shown strong buyer demand and rising home prices.
Even home loan approvals are up. According to mortgage software provider Ellie Mae, there was a 5 percentage point annual increase in the number of purchase and refinance applications approved versus total applications.
More mortgage-qualified buyers means more potential buyers, which may help home value sustain their recent increases nationwide. The Federal Home Finance Agency says home prices rose 6 percent in the 12 months ending November 2012.
Click here to check your mortgage eligibility (Oct 23rd, 2017).
"Easy" Mortgage Refinance Programs Proliferate
Mortgage guidelines are loosening, but as compared to 2006, they remain relatively stiff. Minimum downpayment requirements are larger in many cases; banks require more income to offset debts; and minimum FICO score thresholds are rising.
However, a number of home loan programs highlight the growing trend toward looser mortgage standards. They are each government-backed programs, meant to give existing U.S. homeowners access to a fast and simple refinance.
For example, consider HARP 2.0.
HARP is the ultimate "Everyone Gets Approved" mortgage. There are no employment checks, no income checks, no credit score checks and no appraisals. There's also no maximum loan-to-value if you're willing to take a fixed-rate loan. About the only thing that matters with HARP is that you've not missed a mortgage payment in the last year.
Read the complete HARP guidelines here.
Then, there's the FHA Streamline Refinance program -- another program that's about as loose as you can. Similar to HARP, an FHA Streamline Refi requires no appraisal and has only minimal qualification standards. The FHA is raising mortgage insurance premiums April 1, 2013, though, so the advantage of refinancing an FHA-insured mortgage may diminish beyond that date.
The USDA Streamline Refinance and VA Streamline Refinance programs are similarly easy for which to qualify, too. And, with mortgage rate near lifetime-lows, demand has been high.
More than 20 million VA loans have been completed for military borrowers nationwide.
"Can I Get A Mortgage Approval?"
U.S. banks are approving more loans, which means that the national economy is in recovery. Job growth is ongoing and the housing market is more than 12 months off its bottom. To today's mortgage applicants, it means higher rates ahead.
Don't wait too long to refinance your home, therefore, or make a purchase offer. The banks are giving us a not-so-subtle reminder that the U.S. economy is currently looking up. Pretty soon, your mortgage rate will be, too.
Click here to check your mortgage eligibility (Oct 23rd, 2017).
The information contained on The Mortgage Reports website is for informational purposes only and is not an advertisement for products offered by Full Beaker. The views and opinions expressed herein are those of the author and do not reflect the policy or position of Full Beaker, its officers, parent, or affiliates.
Try the Mortgage Calculator