Mortgage rates today, March 16, 2020, plus lock recommendations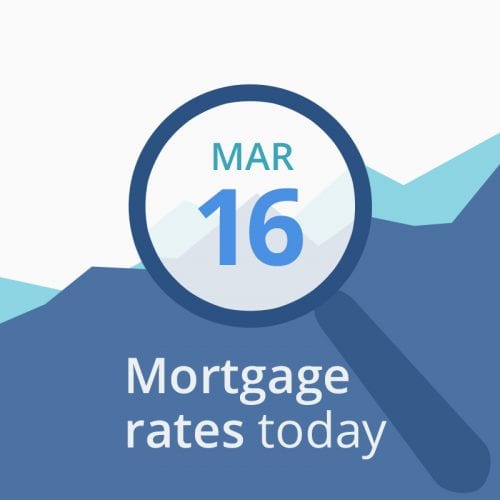 Forecast plus what's driving mortgage rates today
Average mortgage rates shot up extraordinarily sharply on Friday. It may or may not have been the biggest daily rise ever. But, after Wednesday and Thursday's disasters, last week must be close to being an all-time bad one for mortgage borrowers. And we're now a very long way away from the record-low rates we saw near the start of this month.

The normalization of these rates may soon reinstate the relationship between them and other markets, which has become untethered in recent weeks. It's too soon to be sure. But we plan to assume that's the case for the purpose of our daily predictions — unless and until events prove our assumption wrong.
Program
Rate
APR*
Change
Conventional 30 yr Fixed
4.25
4.25
-0.06%
Conventional 15 yr Fixed
4
4
-0.31%
Conventional 5 yr ARM
3.5
3.5
Unchanged
30 year fixed FHA
4.063
5.054
-0.31%
15 year fixed FHA
2.75
3.694
Unchanged
5 year ARM FHA
3.813
3.946
Unchanged
30 year fixed VA
3.563
3.747
-0.19%
15 year fixed VA
3.25
3.58
Unchanged
5 year ARM VA
3.313
2.912
Unchanged
Your rate might be different. Click here for a personalized rate quote. See our rate assumptions here.
Yesterday's big Federal Reserve rate cut and bond-buying announcement (more below) isn't having the effect policymakers probably hoped for. And, first thing, stock indexes were tumbling again. If we're right about the relationship between mortgage rates and other markets now being restored, we may see mortgage rates today falling, though probably not sharply. But that's far from certain. And, as always, events may overtake that prediction.
Market data affecting (or not) today's mortgage rates
First thing this morning, markets looked set to possibly deliver mortgage rates today that are lower. By approaching 10 a.m. (ET), the data, compared with roughly the same time on Friday morning, were:
Major stock indexes were sharply lower, with the Dow Jones Industrial Average down more than 2,700 points 15 minutes after opening. (Good for mortgage rates.) When investors are buying shares they're often selling bonds, which pushes prices of Treasurys down and increases yields and mortgage rates. The opposite happens when indexes are lower
Gold prices plunged to $1,468 an ounce from $1,574. (Bad for mortgage rates*.) In general, it's better for rates when gold rises, and worse when gold falls. Gold tends to rise when investors worry about the economy. And worried investors tend to push rates lower
Oil prices fell to $29.33 a barrel from $32.52 (Good for mortgage rates* because energy prices play a large role in creating inflation and also point to future economic activity.)
The yield on 10-year Treasurys moved lower to 0.79% from 0.97%. A year ago, it was at 2.59%. (Good for mortgage rates.) More than any other market, mortgage rates tend to follow these particular Treasury bond yields
CNN Business Fear & Greed index nudged upward to 3 from 2 out of a possible 100 points. A month ago, it stood at 60. (Bad for mortgage rates.) "Greedy" investors push bond prices down (and interest rates up) as they leave the bond market and move into stocks, while "fearful" investors do the opposite. So lower readings are better than higher ones
*A change of a few dollars on gold prices or a few cents on oil ones is a tiny fraction of 1%. So we only count meaningful differences as good or bad for mortgage rates.
A better day is possible, but far from certain.
This week
Federal Reserve's Sunday announcement
If the Fed's dramatic unveiling yesterday of a massive rate cut (to close to zero) and $700-billion stimulus package was intended to reassure investors, it hasn't worked. Stock markets opened this morning with all indexes sharply lower.
But what does the Fed's move mean for mortgage rates? On its website, Mortgage News Daily has a masterly overview of what's going on under the hood. But if you just want headline information, the following might help:
Fed rate cuts don't directly affect new mortgage rates. So don't expect your lender to be offering you a lower rate today just because of yesterday's announcement
The Fed's $700-billion stimulus package ("quantitative easing" (QE) program) isn't likely to do much immediately either. But that program includes some bond purchases, including those for mortgage-backed securities (MBSs), which might help in future
Unfortunately, that probably won't push down mortgage rates right away. But it might open up the possibility of them dipping lower (perhaps even to recent lows) in coming weeks. And it could restore the relationship between those and yields on 10-year Treasuries, which used to be very close
Excessive demand, mostly for refinances, was behind last week's sharp rises in mortgage rates. Lenders struggled to cope and investors didn't want to buy all the MBSs on offer when yields were low. Those higher rates may have already killed much of that demand, meaning things might get a little closer to normal
But what "normal" means when the Covid-19 coronavirus is ravaging most of the world's major economies is anyone's guess
We wish we could give you a better guide to what the future holds. But this is unknown territory, folks.
Virus still the biggest factor for mortgage rates
The Wuhan coronavirus (Covid-19, standing for Coronavirus disease 2019) has certainly been behind the chaos seen in global markets since Feb. 20.

The virus now has a confirmed presence on five continents and in 158 countries, up from 132 on Friday. Here at home, the US has 3,802 cases, more than double Friday's 1,832.
And that American number may be much higher in reality: A shortage of kits and the cost (for now) to uninsured patients of testing mean many more cases must surely go unconfirmed than in countries without those issues. And even those nations acknowledge a huge gap between their confirmed numbers and the actual infection rates.

Fourteen countries each has confirmed infections in the thousands or tens of thousands. Of the world's top-10 economies, only India and Brazil have fewer than 1,000 cases. And 30 other countries and territories have them in the hundreds.

While markets are made up of people who share the fear and empathy of the rest of humanity, their focus isn't directly on Covid-19's health implications. Their concern when trading is the virus's economic consequences, which are a byproduct of the medical ones.
Virus news roundup
The seriousness of the Covid-19 outbreak and its likely economic consequences can be seen in headlines and announcements since we last published on Friday morning:
President Donald Trump declared a national emergency, releasing potentially $50 billion in relief funds

More recently, he remarked, "We're doing great. It will all pass"
The Fed slashed its interest rates to close to zero on Sunday
It also announced a $700 billion stimulus package
Markets were apparently unimpressed by any of this and were plunging again first thing this morning

The US House of Representatives has passed with bipartisan support an extensive coronavirus aid package, which includes provisions for free virus testing and paid sick leave

Schools to shut in some states



Four states have effectively closed bars, restaurants and many other businesses and New York City is imposing severe restrictions
Following Major League Baseball's decision to postpone the start of this season, some players have been leaving spring training facilities
The scope of panic buying is widening. Many Americans have been stocking up on liquor ahead of possible voluntary or enforced periods of isolation
The Metropolitan Museum of Art and the Guggenheim have closed for now
Spain joined Italy in imposing a near-shutdown on residents
In Italy, if you want to pop to your local store for essential provisions, you must first download and print permission from a government website
And these are just a selection of the more eyebrow-raising stories to emerge over the weekend.
Worldwide worries
Data suggest the economic consequences of Covid-19 are likely to turn out to be severe. Economists, central banks and governments are slashing their forecasts for growth. And a growing number anticipate recessions.
Indeed, on March 2, the Organization for Economic Cooperation and Development (OECD) slashed its 2020 global growth forecasts to 1.5%, almost half the 2.9% it was expecting before Covid-19 took hold. It also warned that the virus could "plunge several countries into recession this year," according to The Guardian. The outlook has become grimmer over the couple of weeks since that was published.
Meanwhile, on March 6, a poll by Reuters of economists based in China found:
The coronavirus likely halved China's economic growth in the current quarter compared with the previous three months, more severe than thought just three weeks ago and triggering expectations for earlier interest rate cuts.
But there are other threats that aren't as immediately apparent. For instance, very low oil prices globally are likely to place some American oil companies under severe financial strain. But some of those are highly leveraged (have borrowed in ways that now seem imprudent) and face collapse if prices don't soon recover. And such extensive bankruptcies could have further consequences for those who lent to them.
The dangers of global connectedness
Globalization has brought much more sophisticated and diverse supply chains. So, for example, if you want to build a car in America, you'll likely rely on parts from several other nations. And that means you'll be vulnerable to any disruption in those other countries.
As long ago as Feb. 4, Bloomberg noted:
China is the largest exporter of intermediate manufactured goods that can be resold between industries or used to produce other things, so its problems quickly reverberate through global supply chains. Indeed, global reliance on those products doubled to 20% from 2005 to 2015.
But it's not just China. If global reliance on it for intermediate goods is 20%, the rest of the world accounts for 80%. And, as worryingly, some supply chains are so sophisticated that manufacturers may not realize the ultimate source of essential parts. Last Monday's Financial Times reported, "Many companies are unaware that they are exposed to parts shortages because of outbreak."
Central banks face problems
Traditionally, central banks intervene during troubled times to prop up their economies. And it seems certain most important ones will do so (if they haven't already) in response to Covid-19. However, last Thursday, the European Central Bank (ECB) surprised many when it declined to join the Federal Reserve and the Bank of England in implementing rate cuts.
The ECB did, however, announce a different stimulus measure: an increase in its asset purchase program of 120 billion euros ($135 billion). That falls far short of the Fed's potentially $1.5 trillion stimulus for the financial sector also unveiled last Thursday. That's more than twice as much as went on 2008's bank bailouts.
Then, yesterday, the Fed unveiled a dramatic cut in its interest rates that took them close to zero. And it also announced a huge stimulus program. Yet markets first thing this morning were still in a sour mood.
All this suggests central banks will have to tread warily when intervening. But few of them have much room to maneuver anyway. They already have exceptionally low rates (the ECB's is currently -0.5% — yes, a negative rate) so are limited in their use of that traditional stimulus tool. And the quantitative easing measures currently on the menu (sometimes compared to printing money) bring their own dangers.
Fed meeting
The Federal Open Market Committee was due to meet this week. That's normally important because the FOMC is the Federal Reserve body that sets that organization's interest rates — and therefore many others.
However, it preempted itself when it made its Sunday announcement. And this week's scheduled meeting has been canceled.
To be clear, Fed rates don't directly affect mortgage rates — except on existing adjustable-rate mortgages (ARMs). But they do influence the markets that do determine mortgage rates.
How scary are the health implications?
Overnight figures show Covid-19 has been confirmed in 174,134 (up from 139,004 on Friday) cases around the world, and has killed 6,684 (up from Friday's 5,116). Yes, those figures — assuming they're accurate — show it to be way more infectious than others, such as SARS and MERS. But they also reveal a much lower death rate (3.8%) so far among those infected than that of either SARS (nearly 10%) or MERS (35%).
And that crude death rate calculation is almost certainly too high. Some experts are predicting a final mortality rate of around 1% — about 10 times that of seasonal flu. But it's too soon to make definitive judgments.
However, last Wednesday, German Chancellor Angela Merkel said she expected 70% of all Germans to eventually be infected by Covid-19. That's not too far off the UK government's March 3 forecast of 80% for its population.
If those worst-case projections turn out to be roughly correct and that infection rate occurs globally, the coronavirus's final toll could be enormous, even with a 1% mortality rate. If 75% of the world's population (of 7.7 billion people) becomes infected and 1% of those die, that's 58 million deaths.
Economic reports this week
It's a mostly quiet week for domestic economic reports with only Tuesday's retail sales falling into the blockbuster category. But given that, in recent weeks, even seriously important ones have failed to cut through investors' obsession with Covid-19, that may make little difference.
Unless the coronavirus magically disappears during the next few days, expect none of this week's reports to make much difference to mortgage rates.
But, more normally, any economic report can move markets, as long as it contains news that's shockingly good or devastatingly bad — providing that news is unexpected.
Forecasts matter
That's because markets tend to price in analysts' consensus forecasts (below, we use those reported by MarketWatch) in advance of the publication of reports. So it's usually the difference between the actual reported numbers and the forecast that has the greatest effect.
And that means even an extreme difference between actuals for the previous reporting period and this one can have little immediate impact, providing that difference is expected and has been factored in ahead.
Although there are exceptions, you can usually expect downward pressure on mortgage rates from worse-than-expected figures and upward on better ones. However, for most reports, much of the time, that pressure may be imperceptible or barely perceptible.
This week's calendar
This week's calendar for economic reports comprises:
Monday: Nothing
Tuesday: February's retail sales (forecast +0.1%) and retail sales excluding autos (forecast +0.1%). Plus February industrial production (forecast +0.5%) and capacity utilization (forecast 77.1%)
Wednesday: February housing starts (forecast 1.498 million, annualized) and building permits (forecast 1.5 million, annualized). No Fed announcement on interest rates

Thursday: February leading economic indicators (no forecast but +0.8% in January)

Friday: February existing home sales (forecast 5.5 million homes sold, annualized)
Only Tuesday's retail sales seems likely to stand any chance of cutting through the Covid-19 gloom.
Today's drivers of change
What 2020 might hold
The year 2019 ended with most stock indexes at exceptional or record highs. And investors had one of the best 12 months in living memory. So will 2020 bring more of the same? Well, Covid-19 has already eaten up this year's gains in most stock markets — and, for some indexes, much or all of last year's.
In its latest poll of US-based economists, conducted March 4-6, Reuters found that many now perceived a higher risk of an imminent or near-term recession that during the same survey in February.
The economists who responded thought the chances of one occurring within a year were 30% up from 23% in February. The same numbers for those who thought one likely within the next two years were 40% and 30% respectively.
The Federal Reserve's role
And several financial reviews of 2019 warned that stock market rises were largely being fueled by the Federal Reserve's actions rather than underlying economic strength, though others dispute that.
The suggestion was that some investors saw stocks as a one-way bet. If anything went wrong (virus, economic slowdown … whatever), the Fed would ride to the rescue with lower interest rates and limitless stimulus packages. But its March 3 and March 15 cuts suggest central banks may struggle to deliver the panacea on which such faith is based, although its stimulus package last week may have contributed some relief. And Covid-19 might yet kill the perception they ever could.
But this theory about stock market investors banking on the Fed to rescue them would certainly explain why major indexes were regularly hitting record highs amid so-so economic data and corporate results.
Don't take forecasts too seriously
Just don't take such forecasts too seriously. And never forget a remark made by the late Harvard economics professor John Kenneth Galbraith:
The only function of economic forecasting is to make astrology look respectable.
Real-world forecasts also gloomy
On Jan. 20, global accountancy firm PwC unveiled its 23rd annual survey, which this year polled almost 1,600 chief executive officers (CEOs) from 83 countries. Again, that was before Covid-19 became the threat we now perceive it to be. But a whopping 53% of respondents predicted a decline in global GDP growth in 2020. That was up from 29% in 2019 and 5% in 2018.
Who was most pessimistic? Those from North America, where 63% of CEOs expected lower global growth. And only 36% of American CEOs were positive about their own companies' prospects for the year ahead. Again, that was many fewer than in 2019. Chair of the PwC network Bob Moritz issued a statement:
Given the lingering uncertainty over trade tensions, geopolitical issues and the lack of agreement on how to deal with climate change, the drop in confidence in economic growth is not surprising — even if the scale of the change in mood is. These challenges facing the global economy are not new — however the scale of them and the speed at which some of them are escalating is new.
Lower mortgage rates ahead?
Around New Year, it wasn't hard to find experts who were predicting that mortgage rates could plumb new depths in 2020. And it looks as if they were right — even if their correctness was short-lived
However, few of them predicted that a viral epidemic would be the cause of plunging rates. So their kudos is limited.
And we're yet to see how Covid-19 will play out. What we do know is that mortgage rates have recently not been tracking yields on 10-year Treasurys as closely they usually do (see above for the probable reason). And that means the volatility in wider markets has been muted for those rates.
But don't forget John Kenneth Galbraith's observation.
Rate forecasts for 2020
It may be a mistake to rely on experts' forecasts. But there's nothing wrong with taking them into account, appropriately seasoned with a pinch of salt. After all, who else are we going to ask when making plans?
Fannie Mae, Freddie Mac and the Mortgage Bankers Association (MBA) each has a team of economists dedicated to monitoring and forecasting what will happen to the economy, the housing sector and mortgage rates.
And here are their latest forecasts for the average rate for a 30-year, fixed-rate mortgage during each quarter (Q1, Q2 …) in 2020. Fannie's and the MBA's figures were published in March, and are thus more able to recognize the emerging effects of the coronavirus. But Freddie's latest forecast came out in December (it's chosen to update them quarterly) and so may be the least reliable:
| | | | | |
| --- | --- | --- | --- | --- |
| Forecaster | Q1 | Q2 | Q3 | Q4 |
| Fannie Mae | 3.5% | 3.3% | 3.2% | 3.2% |
| Freddie Mac | 3.8% | 3.8% | 3.8% | 3.8% |
| MBA | 3.4% | 3.3% | 3.3% | 3.4% |
Freddie Mac reckons that particular mortgage rate averaged 3.9% during 2019. So, if any of those experts' forecasts turn out to be right, it could be another good year for new mortgage borrowers — and for existing ones who want to refinance.
Negative mortgage rates
Just don't expect zero or negative mortgage rates in America anytime soon. Still, they're not unthinkable later this year or next, especially if the effects of Covid-19 force the Fed to make its rates negative. But we've a long way to go before that becomes a realistic prospect.
However, such negative mortgage rates already exist elsewhere in the world. Denmark's Jyske Bank is offering its local customers a mortgage with a nominal interest rate of -0.5%. Yes, that's minus 0.5%. However, after fees, that's likely to be closer to a free or incredibly cheap mortgage than one that actually pays borrowers.
But don't think there isn't a wider price to pay for ultralow mortgage rates. On Dec. 18, The New York Times reported that, in much of Europe, these are "driving a property boom that is pricing many residents out of big cities and causing concern among policymakers." And many fear a bubble that could end badly.
Trade
For now, trade may be on the back burner for markets. That's because, on January 15, President Donald Trump signed a phase-one trade agreement with China's Vice-Premier Liu He.
Although the White House remains proud of that deal, critics are less sure. They point to weaknesses that can't be resolved until a phase-two deal. And one of those is unlikely until 2021.
Limited economic boost
Following its January poll of economists, Reuters chose to quote Janwillem Acket, who's chief economist at Julius Baer, as representative of wider opinions:
The recent Phase 1 deal between the U.S. and China suggests decreasing odds of an escalation to a full-blown trade war. However, the deal so far is not comprehensive enough to significantly boost economic momentum.
And, of course, the impact of Covid-19 is making trade disputes look like a sideshow. Indeed, as countries scramble to prop up global trade, they may be abandoned and become irrelevances.
Rate lock recommendation
We suggest
We suggest that you lock if you're less than 30 days from closing. But we're looking at a personal judgment on a risk assessment here: Do the dangers outweigh the possible rewards?
Recent events have made our recommendation look prescient. Yes, you'd have made losses if you'd taken that advice in the period before those rates hit record lows. But your losses if you waited too long to lock were likely much worse.

However, none of this means we expect you to lock on days when mortgage rates are actively falling. That advice is intended for more normal times.
Only you can decide
Of course, financially conservative borrowers might want to lock immediately, almost regardless of when they're due to close. After all, current mortgage rates are at or near record lows and a great deal is assured.
On the other hand, risk-takers might prefer to bide their time and take a chance on future falls. But only you can decide on the level of risk with which you're personally comfortable.
If you are still floating, do remain vigilant right up until you lock. Make sure your lender is ready to act as soon as you push the button. And continue to watch key markets and news cycles closely. In particular, look out for stories that might affect the performance of the American economy, most especially those that concern the coronavirus. As a very general rule, good news tends to push mortgage rates up, while bad drags them down.
When to lock anyway
You may wish to lock your loan anyway if you are buying a home and have a higher debt-to-income ratio than most. Indeed, you should be more inclined to lock because any rises in rates could kill your mortgage approval. If you're refinancing, that's less critical and you may be able to gamble and float.
If your closing is weeks or months away, the decision to lock or float becomes complicated. Obviously, if you know rates are rising, you want to lock in as soon as possible. However, the longer your lock, the higher your upfront costs. On the flip side, if a higher rate would wipe out your mortgage approval, you'll probably want to lock in even if it costs more.
If you're still floating, stay in close contact with your lender, and keep an eye on markets.
My advice
Bearing in mind professor Galbraith's warning, I personally recommend:
LOCK

if closing in

7

days

LOCK

if closing in

15

days

LOCK

if closing in

30

days

FLOAT

if closing in

45

days

FLOAT

if closing in

60

days
But it's entirely your decision.

Verify your new rate (Mar 29th, 2020)
What causes rates to rise and fall?
Mortgage interest rates depend a great deal on the expectations of investors. Good economic news tends to be bad for interest rates because an active economy raises concerns about inflation. Inflation causes fixed-income investments like bonds to lose value, and that causes their yields (another way of saying interest rates) to increase.
For example, suppose that two years ago, you bought a $1,000 bond paying 5% interest ($50) each year. (This is called its "coupon rate" or "par rate" because you paid $1,000 for a $1,000 bond, and because its interest rate equals the rate stated on the bond — in this case, 5%).
Your interest rate: $50 annual interest / $1,000 = 5.0%
When rates fall
That's a pretty good rate today, so lots of investors want to buy it from you. You can sell your $1,000 bond for $1,200. The buyer gets the same $50 a year in interest that you were getting. It's still 5% of the $1,000 coupon. However, because he paid more for the bond, his return is lower.
Your buyer's interest rate: $50 annual interest / $1,200 = 4.2%
The buyer gets an interest rate, or yield, of only 4.2%. And that's why, when demand for bonds increases and bond prices go up, interest rates go down.
When rates rise
However, when the economy heats up, the potential for inflation makes bonds less appealing. With fewer people wanting to buy bonds, their prices decrease, and then interest rates go up.
Imagine that you have your $1,000 bond, but you can't sell it for $1,000 because unemployment has dropped and stock prices are soaring. You end up getting $700. The buyer gets the same $50 a year in interest, but the yield looks like this:
$50 annual interest / $700 = 7.1%
The buyer's interest rate is now slightly more than 7%. Interest rates and yields are not mysterious. You calculate them with simple math.
Mortgage rate methodology
The Mortgage Reports receives rates based on selected criteria from multiple lending partners each day. We arrive at an average rate and APR for each loan type to display in our chart. Because we average an array of rates, it gives you a better idea of what you might find in the marketplace. Furthermore, we average rates for the same loan types. For example, FHA fixed with FHA fixed. The end result is a good snapshot of daily rates and how they change over time.