The 2011 Refi Boom Begins : Should I Refinance My Mortgage?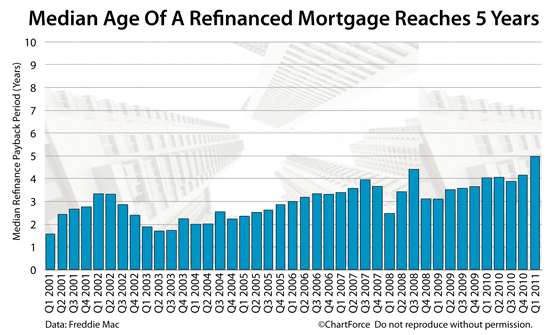 I pen a column for mortgage market news site HSH.com. Today's post is now live.
Click here to read the whole thing.
Should I Refinance My Mortgage?
Today's article is titled "Should You Refinance". It talks about how mortgage rates are falling but it's not always clear when the time is right to refinance. There's more to consider than just lower rates, or "break-even points".
An excerpt:
"When you are ready to refinance, you cannot control your mortgage rate; that is a mortgage market function. However, since you can control your closing costs, that is where you should focus your attention."
Read the full article on the HSH website, or go straight to the rate quote.
Refinance Into Lower Rate With Zero Closing Costs
It's a terrific time to re-evaluate  at your mortgage. Economic uncertainty is keeping rate suppressed and there's savings on the table. You'll have to take the first step, though. Your lender won't call you.
Click here to get a rate quote (Nov 21st, 2017). I'll get your rates for you quickly.
The information contained on The Mortgage Reports website is for informational purposes only and is not an advertisement for products offered by Full Beaker. The views and opinions expressed herein are those of the author and do not reflect the policy or position of Full Beaker, its officers, parent, or affiliates.
Try the Mortgage Calculator