Mortgage Rate Velocity Takes Off; Leaves Rate Shoppers In Its Dust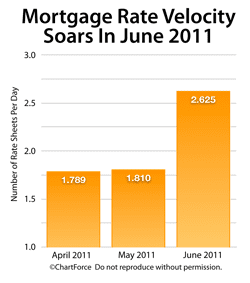 Want great, low rates? Act now! For real.
Since the start of June, mortgage rates are changing with alarming frequency. Wait too long and you'll lose your chance to lock.
No Mortgage Rate Tickers
Mortgage rates are based on the price of mortgage-backed securities; bonds that trade on Wall Street and that are backed by the U.S. government.
It's pretty simple -- as bond prices change, so do mortgage rates.
Bond prices change for literally hundreds of reasons, 3 of which include:
When economic outlooks change
When inflation expectations change
When geopolitical considerations change
Rate shoppers should be aware of these points. They materially change the mortgage rates you can get from your lender and it's not like you can research rates anywhere else. There's no 30-year fixed ticker on CNBC like there is for equities.
All 3 factors have been in flux since June 1 and it's causing mortgage rates to dance.
Click here to get a real-time mortgage rate quote (Jul 21st, 2017).
Mortgage Rate Volatility Soars In June
Since June 1, mortgage rates have been changing very, very quickly.
You wouldn't notice it unless you're shopping for a rate, but as compared to April and May 2011 when mortgage rates changed once every 4 hours, 26 minutes, on average, in June 2011 they're changing every 3 hours, 2 minutes.
To put 3 hours, 2 minutes in perspective, it's the same amount of time it takes to watch Dances with Wolves, roast a 16-pound turkey, and install a security patch on your Windows laptop.
Click here to get a real-time mortgage rate quote (Jul 21st, 2017).
When mortgage rates change, "old" rates and rate quotes are voided; unavailable and unlockable. Just like a stock, you have to buy a mortgage rate at its right-here-right-now pricing. You can't ask for yesterday's rates.
Volatility is at a 3-year high.
Lock Your Mortgage Rate Before It Changes (Again)
When mortgage rates change like this, you lose your ability to "sleep on it". You may even lose your ability to think on it.
Know what rate you want, then be ready to lock it when you see it. Once you blink, it's gone.
Click here to get a real-time mortgage rate quote (Jul 21st, 2017). I love to work with my readers and I'll get you today's rates quickly -- before they change again.
The information contained on The Mortgage Reports website is for informational purposes only and is not an advertisement for products offered by Full Beaker. The views and opinions expressed herein are those of the author and do not reflect the policy or position of Full Beaker, its officers, parent, or affiliates.
Try the Mortgage Calculator