Trying To Link Consumer Sentiment Surveys And Retail Sales Reports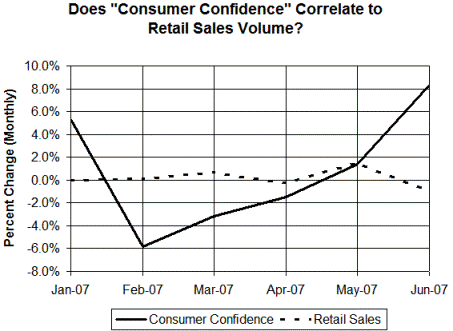 As Retail Sales plunged 0.9% -- the steepest mark in two years -- and Consumer Sentiment surged by 8.3%, we have to (once again) question if the University of Michigan Consumer Sentiment survey is of any use at all.
Assuming that there is a lag between a consumer's "improving feelings about the economy" and the time they spend their dollars, we would expect that the improvement since February would translate into Retail Sales improvements, too.
It didn't, and it hasn't (in this very small sample set).
Here are the questions of the University of Michigan Consumer Sentiment survey, courtesy of the Federal Reserve Bank of Philadelphia:
We are interested in how people are getting along financially these days. Would you say that you (and your family living there) are better off or worse off financially than you were a year ago?
Now looking ahead--do you think that a year from now you (and your family living there) will be better off financially or worse off, or just about the same as now?
Now turning to business conditions in the country as a whole--do you think that during the next 12 months we'll have good times financially, or bad times, or what?
Looking ahead, which would you say is more likely--that in the country as a whole we'll have continuous good times during the next five years or so, or that we will have periods of widespread unemployment ordepression, or what?
About the big things people buy for their homes--such as furniture, a refrigerator, stove, television, and things like that. Generally speaking, do you think now is a good or bad time for people to buy major household items?
500 people are polled and the answers to these five questions are used to predict the future of consumer spending. 
However, how people say they'll act and what how they actually act are two very different things.  As the chart above illustrates.
The information contained on The Mortgage Reports website is for informational purposes only and is not an advertisement for products offered by Full Beaker. The views and opinions expressed herein are those of the author and do not reflect the policy or position of Full Beaker, its officers, parent, or affiliates.
Try the Mortgage Calculator