The (Forthcoming) End Of The $729,750 Conforming Loan Limit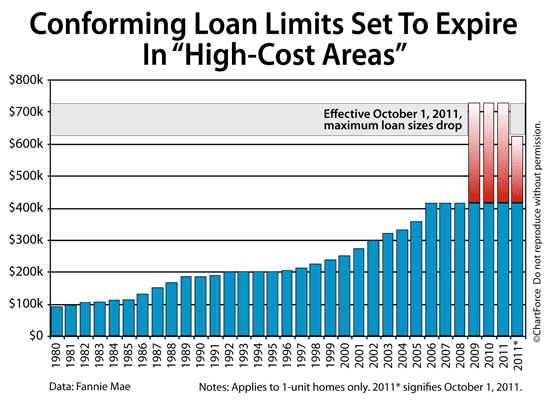 Today's blog content is posted at HSH.com. I'm a regular columnist there; it's a chance to write for a second audience and I appreciate the site's broad reach. Here's a summary of today's post. Click on through.
The $729,750 Loan Limit Is Expiring
This week's piece is titled "Expiration of conforming loan limits is going to cost you". It covers the termination of the temporary, $729,750 conforming loan limits in high-cost areas. After September 30, 2011, places like Loudoun County, Virginia; Potomac, Maryland; and Marin County, California will face a new, lower conforming loan limit.
An excerpt:
If you live in a high-cost area, look out. As of May 2011, a $925,000 home purchase needs a 21 percent down payment to keep it within conforming loan limits. After October 1, 2011, that figure will jump to 33 percent. It is an out-of-pocket cash difference of $104,250 to get access to the best rates in the market.
Read the full article on the HSH website.
Check Your Local Conforming Loan Limit Online
There's over official 3,100 municipalities nationwide, and each has its own conforming loan limit. Loans for more than the conforming loan limit may be considered jumbo, and jumbo mortgages tend to more pricey.
To check your local conforming loan limit, use this online, interactive form.
Or, for a rate quote in your area, use this online rate quote generator.
The information contained on The Mortgage Reports website is for informational purposes only and is not an advertisement for products offered by Full Beaker. The views and opinions expressed herein are those of the author and do not reflect the policy or position of Full Beaker, its officers, parent, or affiliates.
Try the Mortgage Calculator