Mortgage rates today, August 23, 2019, plus lock recommendations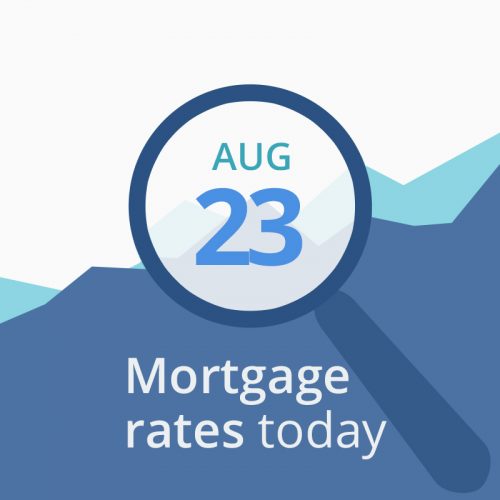 What's driving mortgage rates today?
Average mortgage rates held steady yesterday, in line with our prediction. So they remain at their highest in more than a week. But they're still attractive, even by comparison with the last 30 days' ultralow levels.
Today is likely to be dominated by a speech by Federal Reserve Chair Jerome Powell. Will he side with doves who want more rate cuts? Or with two top Fed officials who yesterday hawkishly said there should be no more reductions? Frustratingly, he begins speaking just as this column is published. One other late piece of news rivals his speech: This morning, China unveiled a new tranche of tariffs on US goods (more below).
Right now, mortgage rates today look likely to move lower or hold steady. But all that could change soon after Mr. Powell takes to his feet. Markets could take off in either direction, depending on what he says. Or, of course, he might say little, in which case expect a collective yawn.
Program
Rate
APR*
Change
Conventional 30 yr Fixed
3.688
3.688
+0.01%
Conventional 15 yr Fixed
3.375
3.375
Unchanged
Conventional 5 yr ARM
3.875
4.083
Unchanged
30 year fixed FHA
3.313
4.297
Unchanged
15 year fixed FHA
3.188
4.135
-0.06%
5 year ARM FHA
3.438
4.598
+0.02%
30 year fixed VA
3.313
3.482
Unchanged
15 year fixed VA
3.25
3.559
-0.06%
5 year ARM VA
3.5
3.815
+0.02%
Your rate might be different. Click here for a personalized rate quote. See our rate assumptions here.
» MORE: Check Today's Rates from Top Lenders (August 23, 2019)
Financial data affecting today's mortgage rates
First thing this morning, markets looked set to deliver mortgage rates today that are lower or unchanged. By approaching 10 a.m. (ET), the data, compared with this time yesterday, were:
Major stock indexes were all lower soon after opening. (Good for mortgage rates.) When investors are buying shares they're often selling bonds, which pushes prices of Treasurys down and increases yields and mortgage rates. The opposite happens on days when indexes fall. See below for a detailed explanation
Gold prices edged up to $1,516 an ounce from $1,513. (Good for mortgage rates.) In general, it's better for rates when gold rises, and worse when gold falls. Gold tends to rise when investors worry about the economy. And worried investors tend to push rates lower)
Oil prices fell to $54 a barrel from $56. (Good for mortgage rates, because energy prices play a large role in creating inflation)
The yield on 10-year Treasurys inched up to 1.60% from 1.58%. (Bad for mortgage rates.) More than any other market, mortgage rates tend to follow these particular Treasury bond yields
 CNNMoney's Fear & Greed Index fell to 27 from 32 out of a possible 100 points. (Good for mortgage rates.) "Greedy" investors push bond prices down (and interest rates up) as they leave the bond market and move into stocks, while "fearful" investors do the opposite. So lower readings are better than higher ones
It might be a better or quiet day for mortgage rates.
Verify your new rate (August 23, 2019)
Today's drivers of change
Federal Reserve — Today's big speech
At 10 a.m. (ET), Federal Reserve Chair Jerome Powell will begin a speech at the Jackson Hole economic symposium. Yesterday, The Guardian's economics editor Larry Elliott described it as "the most important speech in his [Powell's] 18 months in the job."
Mr. Powell will likely be forced to clearly signal whether or not the Fed will cut interest rates further. Both President Donald Trump and Wall Street very much want him to initiate significant ones quickly.
But many economists warn that further cuts now could bring great pain in the longer term. Central banks traditionally start to cut interest rates when a recession is looming. It's rare for them to do so at a time when a president is boasting of having "a strong economy." As The Wall Street Journal pointed out yesterday, the problem with doing so now is that the Fed will have one fewer critical stimulus measure available when the next recession does eventually arrive — as it surely will.
Yesterday, Philadelphia Fed President Patrick Harker and Kansas City Fed President Esther George both said they wouldn't support further cuts.
Fed divisions
On Wednesday afternoon, the Federal Reserve published the minutes of the last meeting of the Federal Open Market Committee (FOMC). That's the body that sets the organization's own interest rates — and therefore many others.
And that meeting was the one held at the end of July that decided on a rate cut — the first in more than 10 years.
Those minutes revealed that FOMC members were much more divided at the meeting than many had previously assumed. "A couple" wanted a bigger cut. But "several" wanted no change at all.
Fed and future rates
Many observers, analysts and investors have been expecting a further cut in mid-September when the FOMC is next due to meet. Indeed, some are predicting a half-percentage-point rate cut then, rather than the usual quarter-point change.
And there's been a widespread expectation that a September cut will be the first in a series, with as many as three between now and the end of the year. But the level of resistance among FOMC members at July's meeting may now put that level of slashing in doubt.
Markets are breathless in their anticipation of Mr. Powell's speech this morning. If he manages to avoid saying anything of import, his remarks may be a damp squib. But, if he provides clear signals in either direction, expect considerable volatility.
Trade disputes
The US-China trade dispute has escalated, de-escalated and re-escalated — and that's just so far in August. Formal talks are currently suspended. And rhetoric in both Beijing and Washington DC keeps getting hotter then cooler then hotter and so on, seemingly by the day.
Indeed, just this morning, Beijing unveiled a new tranche of measures that it says it will phase in from September 1. The announcement described additional tariffs on $75 billion of US goods, including frozen pork and nuts, according to The Financial Times.
All this is fueling uncertainty in markets. And that, in turn, is creating volatility. Many of the recent wild swings in mortgage rates, bond yields, stock markets, and gold and oil prices have been down to fears over this trade dispute.
Meanwhile, the possibility of a second front in the trade wars remains real. And there are general rumblings of possible escalations in the US-European Union (EU) trade dispute. Recently, the US proposed more tariffs on EU goods, though those are yet to be implemented.
Treasurys and mortgage rates
Why are mortgage rates currently so often out of sync with the markets they usually shadow? After all, markets are generally interdependent.
During economically worrying times (the opposite happens when confidence is high), investors sell stocks because they fear a downturn. But they have to put their money somewhere. So they buy lower-yield but safer "risk-off" investments, such as US Treasurys, gold and mortgage-backed securities (MBSs).
MBSs are bundles of individual mortgages, wrapped up within a bond-like product and sold on a secondary market. And, the more investors want to buy them, the lower the mortgage rate you're likely to be offered.
Markets in sync
Usually, the flows of money are fairly even across risk-off markets. So you can typically assume that gold and bond prices will go up or down roughly in line both with each other and inversely with falling or rising stock prices.
And the same applied to MBSs. In fact, the relationship between 10-year Treasury yields and mortgage rates was so close that many (wrongly) assumed the two were formally linked.
Why the change?
But nobody could make that mistake now. So why are the MBSs that actually determine mortgage rates drifting apart from risk-off investments generally and those Treasury yields in particular? There are three main reasons:
Investors are concerned they're not being rewarded sufficiently for the extra risk they shoulder when they buy MBSs rather than Treasury bonds. In particular, the Treasury doesn't try to welsh or to redeem its bonds early, making those ultrasafe and predictable. Meanwhile, mortgage borrowers often refinance and occasionally default
Some are worried about the possibility of the government reforming Fannie Mae and Freddie Mac
The things that spook or please investors in Treasury bonds don't always apply to mortgage-backed securities
Let's hope they get back into line soon.
Forecasting issues
Those Treasury yields are one of the main indicators we use to make predictions about where rates will head. And, with that tool more unreliable than usual, we sometimes struggle to get our daily predictions right. Until the relationship between rates and yields gets back in sync, you should bear that in mind.
Recent days have provided sharp reminders that mortgage rates are determined by the price of mortgage-backed securities and not other markets. However, there's no way to predict where MBSs will go without referring to other markets, which until recently have nearly always been fairly reliable guides.
"Inverted yield curve" is easy to understand
On August 6, The New York Times reported about the previous day's issues:
Yields on United States Treasuries, which fall as prices rise, dropped as investors sought safety in government-backed bonds. That deepened the inversion of the yield curve, a predictor of impending recession.
An "inverted yield curve" is an impressive piece of jargon that's actually easy to understand. It simply means that short-term Treasury bonds are giving higher yields than long-term ones. Yes, that's rare. You usually expect to get a better return the longer you commit to an investment.
It's also a little scary. Frequently, in the past, when the yield curve has inverted, a recession has soon followed. That doesn't mean it will this time. But it's a bit worrying.
Critical yield curve inverted
Any time yields are lower on longer-term bonds than shorter ones, that's an inversion. But it's when the 2- and 10-year Treasury yields invert that has proved to be the most reliable (close to invariable) predictor of recessions.
And those two hadn't crossed the line since June 2007 — until last week. Since then, it's crossed and recrossed it a number of times. Unless you're in hiding, you can't have missed the resulting doom-laden media reports, full of dire predictions. As The New York Times put it on Monday, "The chances that the U.S. will fall into recession have increased sharply in the last two weeks."
How disputes hurt
Markets hate trade disputes because they introduce uncertainty, dampen trade, slow global growth and are disruptive to established supply chains. President Donald Trump is confident that analysis is wrong and that America will come out a winner.
However, some fear a trade war — possibly on two fronts — might be a drag on the global economy that hits America especially hard. And that fear, in turn, is likely to exert long-term downward pressure on mortgage rates.
That's not to say they won't sometimes move up in response to other factors. But, absent a resolution, such trade wars may well see the current downward trend in mortgage rates continuing — or, at least, plateauing.
Brexit
Brexit is Britain's exit from the EU. New UK Prime Minister Boris Johnson currently seems firm about his country ceasing to be an EU member state on October 31.
He insists that will happen regardless of whether a withdrawal agreement containing transitional arrangements is in place. But such a "no-deal Brexit" is widely seen as a profound act of economic self-harm that could affect the wider global economy.
Worse for the world, all this could be happening when the EU economy is in trouble. Last week, it emerged that gross domestic product in Germany fell between April and June this year by 0.1% compared with the previous quarter. Another quarter like that and Germany would technically be in recession.
The last time Brexit was perceived to be a real threat to the global economy, it had a direct effect on American mortgage rates, pulling them down. That may well happen again this time around — though probably not noticeably until closer to that Halloween deadline.
Are markets bottoming out?
Since the middle of last November, the graph of average mortgage rates shows them falling with amazing consistency. Only occasionally and relatively briefly have they risen.
Some experts have been warning that those rates are unlikely to go much lower — at least, absent something disastrous happening that pushes them beyond established ranges. Such bad news remains a possibility.
But, without such an external stimulus, those experts reckon rates are unlikely to fall much further. And, of course, there's always scope for good economic news that could see them rise, possibly sharply.
… Maybe not
Not everyone agrees with this analysis. And recent events call it into question.
Recently, The Financial Times speculated about the possibility of negative interest rates in the US. And, last week, The Wall Street Journal joined in that speculation. The newspapers were, of course, referring to the Fed's internal rates. Few are yet suggesting American mortgage rates are likely to turn negative anytime soon.
Negative mortgage rates
But that idea's not as outlandish as you might think. Writing for The Mortgage Reports, Peter Miller described a Danish bank that is already charging its customers a negative mortgage rate:
A Danish bank called Jyske Bank is offering a mortgage that pays the borrower.

"Jyske Realkredit is ready with a fixed-rate mortgage with a nominal interest rate of minus 0.5%," says the bank.

"Yes, you read right," it continues. "You can now get a fixed-rate mortgage with a maturity of up to 10 years, where the nominal interest rate is negative." (Of course, the bank warns, there will be fees, so you may not actually get a return.)
Read the full report: Negative mortgage rates are real — and they might come to the U.S.
Of course, negative rates are no fun for savers. And Wednesday's Financial Times reported that customers of Jyske Realkredit with balances over DKr7.5 million (US$1.2 million) will have to pay a default rate of 0.6% a year. Meanwhile, another report on Wednesday, from Jim Bianco, said negative-earning corporate (not government) bonds in Europe and Japan are now worth more than $1 trillion. Extraordinary.
Rate lock recommendation
We suggest
We changed our rate lock recommendation on Monday to reflect recent changes in markets. So we now suggest that you lock if you're less than 15 days from closing. However, that doesn't mean we expect you to lock while mortgage rates are actively falling fast. That advice is intended for more normal times.
Of course, financially conservative borrowers might want to lock immediately, almost regardless of when they're due to close. After all, current mortgage rates remain exceptionally low and a great deal is assured. On the other hand, risk-takers might prefer to bide their time and take a chance on further falls. Only you can decide on the level of risk with which you're personally comfortable.
If you are still floating, do remain vigilant right up until you lock. Continue to watch key markets and news cycles closely. In particular, look out for stories that might affect the performance of the American economy. As a very general rule, good news tends to push mortgage rates up, while bad drags them down.
When to lock anyway
You may wish to lock your loan anyway if you are buying a home and have a higher debt-to-income ratio than most. Indeed, you should be more inclined to lock because any rises in rates could kill your mortgage approval. If you're refinancing, that's less critical and you may be able to gamble and float.
If your closing is weeks or months away, the decision to lock or float becomes complicated. Obviously, if you know rates are rising, you want to lock in as soon as possible. However, the longer your lock, the higher your upfront costs. On the flip side, if a higher rate would wipe out your mortgage approval, you'll probably want to lock in even if it costs more.
If you're still floating, stay in close contact with your lender, and keep an eye on markets. I recommend:
LOCK

if closing in

7

days

LOCK

if closing in

15

days

FLOAT

 if closing in

30

days

FLOAT

if closing in

45

days

FLOAT

 if closing in

60

days
» MORE: Show Me Today's Rates (August 23, 2019)
This week
This week's calendar of economic reports has been exceptionally quiet. However, the Fed is being unusually active and might well create waves.
Today sees the start of the annual, two-day Jackson Hole economic symposium in Jackson Hole, Wyo. That is sponsored by the Federal Reserve Bank of Kansas City. And it describes the symposium as an event at which it "hosts dozens of central bankers, policymakers, academics and economists from around the world." On this morning's agenda is a speech by Fed chair Jerome Powell (see "Fed" sections above).

Investors and analysts will study reports of the symposium's activities closely to get a better steer on future policy. And they might trade on any insights they gain.

Of course, any day can carry risk. Because any news story that can affect the American or global economies has the potential to move markets — and mortgage rates. And any economic report can trigger similar changes if it contains sufficiently shocking information.

Forecasts matter
Markets tend to price in analysts' consensus forecasts (below, we mostly use those reported by MarketWatch) in advance of the publication of reports. So it's usually the difference between the actual reported numbers and the forecast that has the greatest effect. That means even an extreme difference between actuals for the previous reporting period and this one can have little immediate impact, providing that difference is expected and has been factored in ahead. Although there are exceptions, you can usually expect downward pressure on mortgage rates from worse-than-expected figures and upward on better ones. However, for most reports, much of the time, that pressure may be imperceptible or barely perceptible.
This week's calendar
Monday: Nothing

Tuesday: Nothing

Wednesday: July existing home sales (actual 5.42 million sold homes — annualized figure; forecast 5.40 million). Also the publication of FOMC minutes

Thursday: August "flashes" (preliminary readings) of Markit purchasing manager indexes (PMIs) for manufacturing (actual 49.9; no forecast) and services (actual 50.9; no forecast). Both PMIs were lower than last month

Friday: July new home sales (actual 635,000 sales — annualized;

forecast 650,000 sales). Also, start of two-day Jackson Hole symposium



It's a quiet week. And it's unlikely any of the scheduled reports will disrupt markets. However, the Fed's activities today and tomorrow might — though only if they contain unexpected insights.

What causes rates to rise and fall?
Mortgage interest rates depend a great deal on the expectations of investors. Good economic news tends to be bad for interest rates because an active economy raises concerns about inflation. Inflation causes fixed-income investments like bonds to lose value, and that causes their yields (another way of saying interest rates) to increase.
For example, suppose that two years ago, you bought a $1,000 bond paying 5% interest ($50) each year. (This is called its "coupon rate" or "par rate" because you paid $1,000 for a $1,000 bond, and because its interest rate equals the rate stated on the bond — in this case, 5%).
Your interest rate: $50 annual interest / $1,000 = 5.0%
When rates fall
That's a pretty good rate today, so lots of investors want to buy it from you. You can sell your $1,000 bond for $1,200. The buyer gets the same $50 a year in interest that you were getting. It's still 5% of the $1,000 coupon. However, because he paid more for the bond, his return is lower.
Your buyer's interest rate: $50 annual interest / $1,200 = 4.2%
The buyer gets an interest rate, or yield, of only 4.2%. And that's why, when demand for bonds increases and bond prices go up, interest rates go down.
When rates rise
However, when the economy heats up, the potential for inflation makes bonds less appealing. With fewer people wanting to buy bonds, their prices decrease, and then interest rates go up.
Imagine that you have your $1,000 bond, but you can't sell it for $1,000 because unemployment has dropped and stock prices are soaring. You end up getting $700. The buyer gets the same $50 a year in interest, but the yield looks like this:
$50 annual interest / $700 = 7.1%
The buyer's interest rate is now slightly more than 7%. Interest rates and yields are not mysterious. You calculate them with simple math.
Show Me Today's Rates (August 23, 2019)

Mortgage rate methodology
The Mortgage Reports receives rates based on selected criteria from multiple lending partners each day. We arrive at an average rate and APR for each loan type to display in our chart. Because we average an array of rates, it gives you a better idea of what you might find in the marketplace. Furthermore, we average rates for the same loan types. For example, FHA fixed with FHA fixed. The end result is a good snapshot of daily rates and how they change over time.