TV Interview : Loan Fees Rising, Mortgage Rates Rising, Housing On The Mend In 2011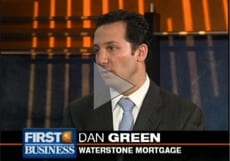 I returned to the First Business television studios this week to talk mortgages and housing.
In 3 minutes, our interview goes deep on:
Why conforming mortgage applicant will pay higher loan costs in 2011
The Fed's QE2 program to lower mortgage rates, and whether its working
Why mortgage rates are trending toward 6 percent, longer-term
The mortgage market and the housing market are in recovery. 2011 will tell a much different story from 2010. If you're planning to buy a home or refinance one in late-2011, consider moving up your timeframe.
When summer gets here, the "best deals" on homes -- and mortgage rates -- should be gone.
Call or with your follow-up questions. I answer all my own email personally.
The information contained on The Mortgage Reports website is for informational purposes only and is not an advertisement for products offered by Full Beaker. The views and opinions expressed herein are those of the author and do not reflect the policy or position of Full Beaker, its officers, parent, or affiliates.
Try the Mortgage Calculator