Mortgage rates today, July 11, 2019, plus lock recommendations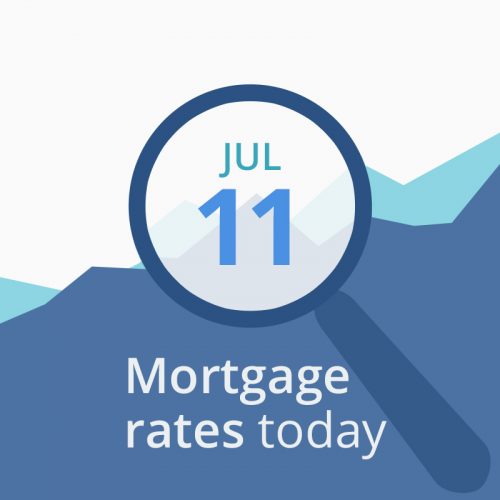 What's driving mortgage rates today?
Average mortgage rates inched up yesterday, as we predicted. They moved by only the smallest measurable amount, meaning you may still have had the same rate yesterday evening as you did that morning. But, depending on your lender, your closing costs may be a bit higher. In any event, those rates remain within the very narrow (and very, very low) range within which they've been moving for the last three weeks.
The consumer price index was published this morning. Those figures were just a little stronger than expected. Yet, on publication, they pushed up Treasury yields (and probably mortgage rates) — though so far only moderately. Meanwhile, few think the second day of the Fed chair's testimony on Capitol Hill will contain many surprises (see below for how Day One went).
The data below the table are indicative of mortgage rates today edging upward. However, as always, events might yet overtake that prediction.
Program
Rate
APR*
Change
Conventional 30 yr Fixed
3.938
3.938
Unchanged
Conventional 15 yr Fixed
3.5
3.5
Unchanged
Conventional 5 yr ARM
4.125
4.377
+0.03%
30 year fixed FHA
3.25
4.234
Unchanged
15 year fixed FHA
3.375
4.324
Unchanged
5 year ARM FHA
3.688
4.867
+0.01%
30 year fixed VA
3.563
3.735
Unchanged
15 year fixed VA
3.625
3.937
Unchanged
5 year ARM VA
3.813
4.109
+0.04%
Your rate might be different. Click here for a personalized rate quote. See our rate assumptions here.
» MORE: Check Today's Rates from Top Lenders (July 11, 2019)
Financial data affecting today's mortgage rates
First thing this morning, markets looked set to deliver mortgage rates today that are a little higher again. By approaching 10:00 a.m. (ET), the data, compared with this time yesterday, were:
Major stock indexes were nearly all higher soon after opening (bad for mortgage rates). When investors are buying shares they're often selling bonds, which pushes prices of Treasuries down and increases yields and mortgage rates. The opposite happens on days when indexes fall. See below for a detailed explanation
Gold prices edged up to $1,417 an ounce from $1,412. (Good for mortgage rates.) In general, it's better for rates when gold rises, and worse when gold falls. Gold tends to rise when investors worry about the economy. And worried investors tend to push rates lower)
Oil prices increased to $61 a barrel from $59 (bad for mortgage rates, because energy prices play a large role in creating inflation)
The yield on 10-year Treasuries inched up to 2.09% from 2.07% (bad for borrowers). More than any other market, mortgage rates tend to follow these particular Treasury yields
 CNNMoney's Fear & Greed Index held steady at 61 out of a possible 100 points. (Neutral for borrowers.)  "Greedy" investors push bond prices down (and interest rates up) as they leave the bond market and move into stocks, while "fearful" investors do the opposite. So lower readings are better than higher ones
It might be a another slightly worse day for mortgage rates.
Verify your new rate (July 11, 2019)
Today's drivers of change
Federal Reserve
Two important Fed-related events happened yesterday. First, Chair Jerome Powell began a two-day stint testifying on Capitol Hill, which continues today. And, secondly, we saw the publication of the minutes of the last meeting of the Federal Open Market Committee (FOMC). That's the Fed body that determines that organization's interest rates — and therefore many others. So investors always study those meeting minutes in great detail, hoping to uncover a hint over future moves.
In both events, the Fed bent over backward to please markets — and the President, who's been exerting political pressure on the organization to be more dovish (or less economically responsible, in some observers' view). Normally, you'd have expected a sharp reaction from markets to all that love. But, in the event, many barely budged.
Why was that? Well, to justify that dovishness, the Fed had to talk up economic "uncertainties," which is a toxic word to markets. And, overnight, The Financial Times noted, "Some investors warn that too much stimulus could distort financial markets." Meanwhile, this morning's New York Times spoke of markets' reactions to Powell's "comments that trade tensions and global economic issues continue to weigh on the United States economy."
Might Powell use his second day of testimony today to attempt to reassure skeptical markets? Maybe. But Fed chairs famously have to be careful what they say. And he's treading a particularly fine line right now. So he may prefer to play safe.
Trade disputes
The US-China trade dispute is still very much alive in spite of recent events. At the end of last month, Presidents Donald Trump and Xi Jinping met in Osaka, Japan during the G20 summit. And, as a result, bilateral trade talks are beginning again this week and America has held off on the implementation of planned new tariffs. But existing tariffs (and resentments and disagreements) remain in place.
So far, markets have appeared skeptical about how much difference the Osaka meeting will ultimately make. Many question whether the resumed talks can make much progress.
US vs. EU
Meanwhile, the possibility of a second front in the trade wars remains real. And there are increasing rumblings of possible escalations in the US-European Union (EU) trade dispute. Last week, the U.S. proposed more tariffs on EU goods, though those are yet to be implemented.
The EU is the biggest trading bloc in the world and an all-out trade war would be a clash of Titans that could cause real harm to the global economy  — as well as the economies of both participants.
How disputes hurt
Markets hate trade disputes because they introduce uncertainty, dampen trade, slow global growth and are disruptive to established supply chains. The President is confident that analysis is wrong and that America will come out a winner. However, some fear a trade war — possibly on two fronts — might be a drag on the global economy that hits America especially hard. And that fear, in turn, is likely to exert long-term downward pressure on mortgage rates. That's not to say they won't sometimes move up in response to other factors.  But, absent a resolution, such trade wars may well see the current downward trend in mortgage rates continuing.
Are markets bottoming out?
Since the middle of last November, the graph of average mortgage rates shows them falling with amazing consistency. Only occasionally and relatively briefly have they risen.
Some experts are now warning that those rates are unlikely to go much lower — at least, absent something disastrous happening that pushes them beyond established ranges. Such bad news remains a possibility. Currently, there are tensions in the Middle East that could rapidly turn into a shooting war involving the United States. Trade disputes might become yet more widespread and toxic, ultimately triggering a global recession. And, of course, events may quickly arise that are currently on nobody's radar.
But, without such an external stimulus, those experts reckon rates are unlikely to fall much further. And, of course, there's scope for good economic news that could see them rise, possibly sharply. Not everyone agrees with this analysis: Read Could we see 2% mortgage rates before this is all over?
Meanwhile, the deals that are available for you to lock in are now excellent by all but the most extreme standards. That's why we still suggest locking your rate if you're less than 30 days from closing. In this writer's personal assessment, the potential gains you stand to make by floating are outweighed by the possible losses. But, as we say below on a daily basis, "Only you can decide on the level of risk with which you're personally comfortable."
Treasuries and mortgage rates
We liked a Mortgage News Daily simile so much we stole it. Mortgage rates are like dogs while yields on 10-year Treasury bonds are like their owners. Mostly, mortgage rates trot happily along on their leashes at their human's heels. But occasionally they run ahead, dragging the owner along. And at other times they sit stubbornly and have to be dragged along.
Recently, they've been sitting a lot. If they'd been keeping up with those Treasury yields, rates would be even lower than they currently are. Why the gap? Apparently, investors are concerned they're not being rewarded sufficiently for the extra risk they shoulder when they buy mortgage-backed securities rather than Treasury bonds. And some are worried about the possibility of the government reforming Fannie Mae and Freddie Mac.
Those Treasury yields are one of the main indicators we use to make predictions about where rates will head. And, with that tool less reliable than usual, we sometimes struggle to get our daily predictions right. Until the relationship between rates and yields gets back in synch, you should bear that in mind.
Rate lock recommendation
Trends
Trends are impossible to discern from just a few days' changes. So don't read too much into short-term fluctuations. Frustrating though it is, there really is no way of knowing immediately what movements over a brief period mean in their wider context.
Even when one's discernible, trends in markets never last forever. And, even within a long-term one, there will be ups and downs. Eventually, at some point, enough investors decide to cut losses or take profits to form a critical mass. And then they'll buy or sell in ways that end that trend. That's going to happen with mortgage rates. Nobody knows when or how sharply a trend will reverse. But it will. That might not be wildly helpful but you need to bear it in mind. Floating always comes with some risk.
Short- and long-term differences
Of course, it's possible the Federal Reserve's doveish March policy statement on rates, which seems to have been largely confirmed in mid-June, has established a long-term downward trend. But you can still expect to see rises and falls (such as those over the last several weeks) within it as other risk factors emerge and recede. And, depending on how near you are to your closing date, you may not have time to ride out any increases.
Experts differ over what may come next. And so much is unpredictable that your gut feel may have roughly the same chance of being proved right as their more informed views. Just don't forget that you're gambling with the mortgage rate you're probably going to be paying for a very long time.
We suggest
We suggest that you lock if you're less than 30 days from closing. Of course, financially conservative borrowers might want to lock immediately, almost regardless of when they're due to close. After all, current mortgage rates remain exceptionally low and a great deal is assured. On the other hand, risk takers might prefer to bide their time and take a chance on further falls. Only you can decide on the level of risk with which you're personally comfortable.
If you are still floating, do remain vigilant right up until you lock. Continue to watch key markets and news cycles closely. In particular, look out for stories that might affect the performance of the American economy. As a very general rule, good news tends to push mortgage rates up, while bad drags them down.

When to lock anyway
You may wish to lock your loan anyway if you are buying a home and have a higher debt-to-income ratio than most. Indeed, you should be more inclined to lock because any rises in rates could kill your mortgage approval. If you're refinancing, that's less critical and you may be able to gamble and float.
If your closing is weeks or months away, the decision to lock or float becomes complicated. Obviously, if you know rates are rising, you want to lock in as soon as possible. However, the longer your lock, the higher your upfront costs. On the flip side, if a higher rate would wipe out your mortgage approval, you'll probably want to lock in even if it costs more.
If you're still floating, stay in close contact with your lender, and keep an eye on markets. I recommend:
LOCK

if closing in

7

days

LOCK

if closing in

15

days

LOCK

 if closing in

30

days

FLOAT

if closing in

45

days

FLOAT

 if closing in

60

days
» MORE: Show Me Today's Rates (July 11, 2019)
This week
There were three main scheduled events this week that could have triggered large rises or falls in mortgage rates. Yesterday saw two of them and both concerned the Federal Reserve.  Read about what happened under "Today's drivers of change" (above).
This morning's release of inflation data was the third of this week's economic events that had the potential to send mortgage rates soaring or tumbling. Although the numbers were very close to forecasts, they were sufficiently different to send Treasury yields (and probably mortgage rates) up. This morning's weekly jobless claims were also better than expected.
Of course, any day can carry risk. Because any news story that can affect the American or global economies has the potential to move markets — and mortgage rates. And any economic report can trigger similar changes if it contains sufficiently shocking information.

Forecasts matter
Markets tend to price in analysts' consensus forecasts (below, we mostly use those reported by MarketWatch, Moody's Analytics or Bain Mortgage) in advance of the publication of reports. So it's usually the difference between the actual reported numbers and the forecast that has the greatest effect. That means even an extreme difference between actuals for the previous reporting period and this one can have little immediate impact, providing that difference is expected and has been factored in ahead. Although there are exceptions, you can usually expect downward pressure on mortgage rates from worse-than-expected figures and upward on better ones. However, for most reports, much of the time, that pressure may be imperceptible or barely perceptible.
Monday: Nothing

Tuesday: May job openings (actual 7.3 million vacancies; no forecast). The NFIB Small Business Optimism Index slipped slightly amid rising uncertainty

Wednesday: Publication of FOMC minutes at 2:00 p.m. (ET). Also, Fed Chair Jerome Powell testifies this morning on Capitol Hill

Thursday: June consumer price index (CPI) (actual +0.1%; forecast unchanged: 0.0%) and core CPI (actual +0.2%; forecast +0.2%)
Friday: June producer price index (forecast unchanged: 0.0%)

It's a quiet week for economic reporting. The CPI figures and Fed events could have made it moderately important. But didn't.

What causes rates to rise and fall?
Mortgage interest rates depend a great deal on the expectations of investors. Good economic news tends to be bad for interest rates because an active economy raises concerns about inflation. Inflation causes fixed-income investments like bonds to lose value, and that causes their yields (another way of saying interest rates) to increase.
For example, suppose that two years ago, you bought a $1,000 bond paying 5% interest ($50) each year. (This is called its "coupon rate" or "par rate" because you paid $1,000 for a $1,000 bond, and because its interest rate equals the rate stated on the bond — in this case, 5%).
Your interest rate: $50 annual interest / $1,000 = 5.0%
When rates fall
That's a pretty good rate today, so lots of investors want to buy it from you. You can sell your $1,000 bond for $1,200. The buyer gets the same $50 a year in interest that you were getting. It's still 5% of the $1,000 coupon. However, because he paid more for the bond, his return is lower.
Your buyer's interest rate: $50 annual interest / $1,200 = 4.2%
The buyer gets an interest rate, or yield, of only 4.2%. And that's why, when demand for bonds increases and bond prices go up, interest rates go down.
When rates rise
However, when the economy heats up, the potential for inflation makes bonds less appealing. With fewer people wanting to buy bonds, their prices decrease, and then interest rates go up.
Imagine that you have your $1,000 bond, but you can't sell it for $1,000 because unemployment has dropped and stock prices are soaring. You end up getting $700. The buyer gets the same $50 a year in interest, but the yield looks like this:
$50 annual interest / $700 = 7.1%
The buyer's interest rate is now slightly more than 7%. Interest rates and yields are not mysterious. You calculate them with simple math.
Show Me Today's Rates (July 11, 2019)

Mortgage rate methodology
The Mortgage Reports receives rates based on selected criteria from multiple lending partners each day. We arrive at an average rate and APR for each loan type to display in our chart. Because we average an array of rates, it gives you a better idea of what you might find in the marketplace. Furthermore, we average rates for the same loan types. For example, FHA fixed with FHA fixed. The end result is a good snapshot of daily rates and how they change over time.