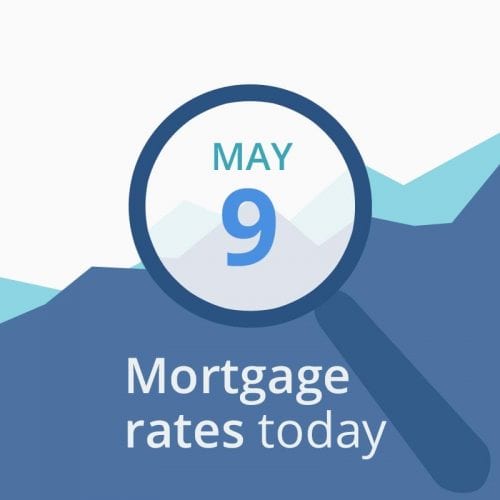 What's driving current mortgage rates?
Average mortgage rates actually rose yesterday — or, in Mortgage News Daily's words, moved "sideways to slightly higher." It was a repeat of Tuesday: the markets that mortgage rates generally shadow moved in ways that should have seen lower rates. But those rates broke with those markets.
Nobody has a way of forecasting where mortgage rates will go except through those other markets. So, until the normally close (if imperfect) relationship resumes, you should read our daily predictions with more than usual skepticism. The possibility of an imminent trade war with China continues to dominate market movements. To keep up with that read our "China talks" section, below.
The data below the rate table are indicative of mortgage rates falling appreciably today. But, as already explained, that forecast depends on rates following the normal rules, something they've failed to do of late.

» MORE: Check Today's Rates from Top Lenders (May 9, 2019)
Program
Rate
APR*
Change
Conventional 30 yr Fixed
4.125
4.125
Unchanged
Conventional 15 yr Fixed
3.688
3.688
-0.06%
Conventional 5 yr ARM
4.063
4.637
Unchanged
30 year fixed FHA
3.75
4.738
Unchanged
15 year fixed FHA
3.625
4.575
Unchanged
5 year ARM FHA
3.625
5.067
-0.02%
30 year fixed VA
3.813
3.987
Unchanged
15 year fixed VA
3.688
4
Unchanged
5 year ARM VA
3.75
4.324
-0.05%
Your rate might be different. Click here for a personalized rate quote. See our rate assumptions here.
Financial data affecting today's mortgage rates
First thing this morning, markets looked set to deliver significantly lower mortgage rates today. By approaching 10:00 a.m. (ET), the data, compared with this time on Friday, were:
Major stock indexes were all significantly lower soon after opening (good for mortgage rates). When investors are buying shares they're often selling bonds, which pushes prices of Treasuries down and increases yields. The opposite happens on days like today. See below for a detailed explanation
Gold prices edged down to $1,282 from $1,288. (Bad for mortgage rates.) In general, it's better for rates when gold rises, and worse when gold falls. Gold tends to rise when investors worry about the economy. And worried investors tend to push rates lower)
Oil prices edged up to $62 from $61 a barrel (bad for mortgage rates, because energy prices play a large role in creating inflation)
The yield on 10-year Treasuries held steady at 2.43 percent. (Neutral for borrowers). More than any other market, mortgage rates tend to follow these particular Treasury yields
 CNNMoney's Fear & Greed Index fell again to 37 from 39 out of a possible 100. It was up at 59 a week ago. (Good for borrowers. "Greedy" investors push bond prices down (and interest rates up) as they leave the bond market and move into stocks, while "fearful" investors do the opposite. So lower readings are better than higher ones
Remember, those are mostly comparisons with this time yesterday. In fact, all the indicators (including ones shown as "bad" or "neutral") were this morning heading in directions that favor falling mortgage rates. Today might be better day for mortgage rates.

Verify your new rate (May 9, 2019)
China talks
At a rally yesterday evening, President Trump escalated squabbles with China when he said it "broke the deal." There was a sharp reaction to the accusation in markets today.
Small wonder those markets continue to obsess about the current round of  U.S.-China trade talks.  Yesterday, The New York Times quoted forecasts from Moody's Analytics that the failure of those talks would "subtract 1.8 percentage points from G.D.P. growth and cause unemployment to rise."
That Times article was asking why, with so much at stake, markets weren't reacting even more violently. It concluded that analysts and investors are calculating that President Trump would ultimately not allow such a disaster. Neil Irwin, the article's author, wrote:
If you're trying to bet on where markets will be six months or a year from now, there are a few things you know. The president of the United States cares a lot about what happens to the stock market, as his tweets make plain. He will be running for re-election in 18 months. He enjoys making big, bold promises, many of which don't materialize.
Is that a sensible calculation? It may be. Both sides are keen on a deal that might postpone economic slowdowns. But neither side can lose face because, politically, both need to sell the outcome to their respective populations as a clear win. Banking on POTUS backing down seems risky.
Recent history
Last week, Treasury Secretary Steven Mnuchin and U.S. Trade Representative Robert Lighthizer were in Beijing conducting trade negotiations. And the official line was that those talks had been "productive."
So it was a surprise on Sunday when President Trump's tweeted two messages that threatened, absent rapid progress in the negotiations, to impose new tariffs — and to maintain or hike existing ones — on all Chinese imports from this Friday. China's leadership is not known for responding well to threats, and markets globally responded badly to the tweets.
However, early concerns that those tweets would cause China's chief negotiator Vice-Premier Liu He and his team to postpone, cancel or foreshorten a scheduled visit to Washington DC later this week proved unfounded. They're still due to arrive later today.  Nevertheless, that didn't stop markets fearing that Mr. Trump's high-risk strategy posed a significant danger to global trade.
Mortgage rates and China
It was this fear that triggered Monday's sharp fall in average mortgage rates. However, they've barely budged since then. And that's surprising. Mortgage rates are usually heavily influenced by certain other markets (we list most of them, above) and would normally have fallen further on Tuesday and Wednesday. This writer's yet to hear a complete and convincing reason for why they didn't. If and when he does, you'll be the first to know.
In the meantime, here are a couple of likely scenarios. If the talks appear to be getting back on track, markets could respond by pushing mortgage rates higher. With luck, the same mechanism that stopped them falling as sharply as expected will prevent extreme rises. But you probably shouldn't bank on that. Of course, if the talks fall apart completely, that would normally trigger further falls.
Rate lock recommendation
Trends
Trends are impossible to discern from just a few days' changes. So don't read too much into recent fluctuations. Frustrating though it is, there really is no way of knowing immediately what movements over a brief period mean in their wider context.
Even when one's discernable, trends in markets never last forever. And, even within a long-term one, there will be ups and downs. Eventually, at some point, enough investors decide to cut losses or take profits to form a critical mass. And then they'll buy or sell in ways that end that trend. That's going to happen with mortgage rates. Nobody knows when or how sharply a trend will reverse. But it will. That might not be wildly helpful but you need to bear it in mind. Floating always comes with some risk.
Of course, it's possible the Federal Reserve's March statement on rates has established a long-term downward trend. But you can still expect to see rises and falls (such as those over the last several weeks) within it as other risk factors emerge and recede. And, depending on how near you are to your closing date, you may not have time to ride out any increases.
Risks from a future recession
Of course, a recession couldn't, by definition, arise before you close. But the more investors suspect there's one on the horizon, the lower mortgage rates are likely to go.
Last Friday's better-than-expected employment data followed the previous Friday's better-than-expected GDP figures. And, between the two, there had been other generally positive reports, including one about productivity. You might normally have expected those to generate higher mortgage rates. At other times, they might even have created a clear upward trend. But not now.
Some of this may be down to investors reading beyond the headline figures in economic reports. For example, NASDAQ's Weekly Economic Release Summary, published last Friday, said, "… the GDP internals were weak even though the reported overall number was strong." But some of it may be down to underlying skepticism over the sustainability of growth based on a one-time, massive tax cut.
So, for now, markets seem unable to make up their minds what the future holds. If and when they do, mortgage rates could rise (on optimism) or fall (on pessimism).
We suggest
Last Wednesday's Fed announcement didn't move policy on from that declared after March's meeting. That was doveish and ruled out further rate hikes this year. And it will likely continue to add some downward pressure on mortgage rates in coming months. As we've seen in recent weeks, that doesn't mean there aren't other risks (currently known and unknown) that could see them rise, possibly sharply. We suggest that you lock if you're less than 30 days from closing.
Of course, financially conservative borrowers might want to lock immediately, almost regardless of when they're due to close. On the other hand, risk takers might prefer to bide their time. Only you can decide on the level of risk with which you're personally comfortable.
If you are still floating, do remain vigilant right up until you lock. Continue to watch key markets and news cycles closely. In particular, look out for stories that might affect the performance of the American economy. As a very general rule, good news tends to push mortgage rates up, while bad drags them down.

When to lock anyway
You may wish to lock your loan anyway if you are buying a home and have a higher debt-to-income ratio than most. Indeed, you should be more inclined to lock because any rises in rates could kill your mortgage approval. If you're refinancing, that's less critical and you may be able to gamble and float.
If your closing is weeks or months away, the decision to lock or float becomes complicated. Obviously, if you know rates are rising, you want to lock in as soon as possible. However, the longer your lock, the higher your upfront costs. On the flip side, if a higher rate would wipe out your mortgage approval, you'll probably want to lock in even if it costs more.
If you're still floating, stay in close contact with your lender, and keep an eye on markets. I recommend:
LOCK

if closing in

7

days

LOCK

if closing in

15

days

LOCK

 if closing in

30

days

FLOAT

if closing in

45

days

FLOAT

 if closing in

60

days
» MORE: Show Me Today's Rates (May 9, 2019)
This week
After last week's feast of economic data, this week sees a famine. It's possible Friday's consumer price index (CPI) report could move markets. However, the others on the calendar are unlikely to do so, especially with China preoccupying markets.
Of course, it remains true that any economic report can cause waves if it contains sufficiently shocking data. But probably not this week.
Forecasts matter
Markets tend to price in analysts' consensus forecasts (below, we use those reported by MarketWatch) in advance of the publication of reports. So it's usually the difference between the actual reported numbers and the forecast that has the greatest effect. That means even an extreme difference between actuals for the previous reporting period and this one can have little immediate impact, providing that difference is expected and has been factored in ahead. Although there are exceptions, you can usually expect downward pressure on mortgage rates from worse-than-expected figures and upward on better ones. However, for most reports, much of the time, that pressure may be imperceptible or barely perceptible.
Monday: Nothing
Tuesday: March job openings (actual 7.5 million jobs). Also, consumer credit data for March will be published at 3:00 p.m. (ET)
Wednesday: Nothing

Thursday: March trade deficit (actual –

$50.0

billion; forecast -$50.1 billion) and April producer price index (actual

+0.2

percent; forecast +0.2 percent)

Friday: April consumer price index (CPI — forecast +0.4 percent), including core CPI (forecast +0.2 percent). Also, the federal budget will be published at 2:00 p.m. (ET)

That's a much lighter schedule than most weeks contain.
What causes rates to rise and fall?
Mortgage interest rates depend a great deal on the expectations of investors. Good economic news tends to be bad for interest rates because an active economy raises concerns about inflation. Inflation causes fixed-income investments like bonds to lose value, and that causes their yields (another way of saying interest rates) to increase.
For example, suppose that two years ago, you bought a $1,000 bond paying 5 percent interest ($50) each year. (This is called its "coupon rate" or "par rate" because you paid $1,000 for a $1,000 bond, and because its interest rate equals the rate stated on the bond — in this case, 5 percent).
Your interest rate: $50 annual interest / $1,000 = 5.0%
When rates fall
That's a pretty good rate today, so lots of investors want to buy it from you. You can sell your $1,000 bond for $1,200. The buyer gets the same $50 a year in interest that you were getting. It's still 5 percent of the $1,000 coupon. However, because he paid more for the bond, his return is lower.
Your buyer's interest rate: $50 annual interest / $1,200 = 4.2%
The buyer gets an interest rate, or yield, of only 4.2 percent. And that's why, when demand for bonds increases and bond prices go up, interest rates go down.
When rates rise
However, when the economy heats up, the potential for inflation makes bonds less appealing. With fewer people wanting to buy bonds, their prices decrease, and then interest rates go up.
Imagine that you have your $1,000 bond, but you can't sell it for $1,000 because unemployment has dropped and stock prices are soaring. You end up getting $700. The buyer gets the same $50 a year in interest, but the yield looks like this:
$50 annual interest / $700 = 7.1%
The buyer's interest rate is now slightly more than seven percent. Interest rates and yields are not mysterious. You calculate them with simple math.
Show Me Today's Rates (May 9, 2019)
Mortgage rate methodology
The Mortgage Reports receives rates based on selected criteria from multiple lending partners each day. We arrive at an average rate and APR for each loan type to display in our chart. Because we average an array of rates, it gives you a better idea of what you might find in the marketplace. Furthermore, we average rates for the same loan types. For example, FHA fixed with FHA fixed. The end result is a good snapshot of daily rates and how they change over time.