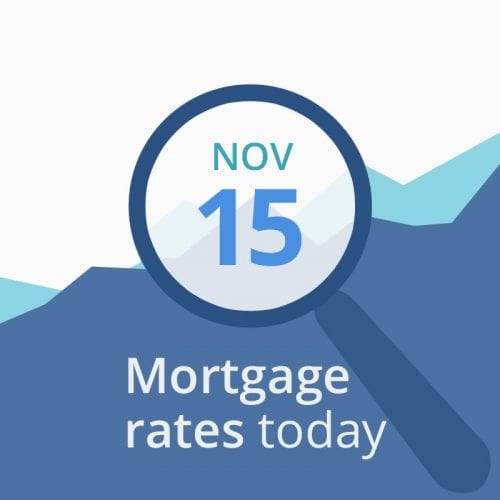 What's driving current mortgage rates?
Average mortgage rates today dropped shockingly in response to global economic occurrences.
This morning, investors ignored a fairly-important report in the US, Retail Sales for October. Like the CPI, this reflects consumer spending, which pushes rates higher when it increases, and lower when spending drops. Experts predicted that retail sales increased by .6 percent in October, and the actual figures exceeded that, coming in with a .7 percent increase.
That should have been bad news for mortgage rates, but it was completely eclipsed by an unexpected global event — the Brexit-caused collapse of the British Pound. In addition, Bitcoin dropped to under $6,000, the lowest level in over a year.
Investors are nervous, and nervous investors fly to safe vehicles like US Treasuries and mortgage-backed securities (MBS). That causes their prices to increase and yields (rates) to fall.
These rates are just averages. Click here to get your personalized rate now. (May 25th, 2019)
Program
Rate
APR*
Change
Conventional 30 yr Fixed
5.08
5.091
-0.08%
Conventional 15 yr Fixed
4.583
4.603
-0.04%
Conventional 5 yr ARM
4.438
5.029
-0.05%
30 year fixed FHA
4.833
5.844
-0.04%
15 year fixed FHA
4.063
5.016
-0.06%
5 year ARM FHA
4.25
5.527
-0.11%
30 year fixed VA
4.958
5.158
Unchanged
15 year fixed VA
4.188
4.505
-0.06%
5 year ARM VA
4.188
4.706
-0.1%
Your rate might be different. Click here for a personalized rate quote. See our rate assumptions here.
Financial data affecting today's mortgage rates
We are looking at a mixed bag of financial data — the most important being stocks, oil and Treasuries. One is bad for rates, one is good and the last is neutral for rates. Probably why everyone is spinning their wheels.
Major stock indexes opened lower this morning (good for rates)
Gold prices rose $11 to  $1,214 an ounce. (This is good for mortgage rates. In general, it's better for rates when gold rises, and worse when gold falls. Gold tends to rise when investors worry about the economy. And worried investors tend to push rates lower)
Oil prices remained at $57 a barrel (neutral for rates because energy prices play a large role in creating inflation)
The yield on ten-year Treasuries plunged 6 basis points (6/100th of 1 percent) to 3.10 percent. That's great news for borrowers because mortgage rates tend to follow Treasuries
CNNMoney's Fear & Greed Index lost another 2 points, falling to 8 (out of a possible 100). That score is solidly in the "extreme fear" range. And the direction (downward) is good for rates. "Greedy" investors push bond prices down (and interest rates up) as they leave the bond market and move into stocks, while "fearful" investors do the opposite
Verify your new rate (May 25th, 2019)
Rate lock recommendation
Mortgage rates are likely to increase in the months following the election. Statistics show that the economy and interest rates tend to heat up in the 12 months after an election no matter who wins. But today looks like a great day to lock in a better deal if you're closing soon.
In a rising rate environment, the decision to lock or float becomes complicated. Obviously, if you know rates are rising, you want to lock in as soon as possible. However, the longer your lock, the higher your upfront costs. If you are weeks away from closing on your mortgage, that's something to consider. On the flip side, if a higher rate would wipe out your mortgage approval, you'll probably want to lock in even if it costs more.
If you're still floating, stay in close contact with your lender, and keep an eye on markets. I recommend:
LOCK

if closing in

7

days

LOCK

if closing in

15

days

LOCK

 if closing in

30

days

FLOAT

if closing in

45

days

FLOAT

 if closing in

60

days
Lock in your rate. Start here. (May 25th, 2019)
This week
This week brings us the release of only three pieces of economic data that likely will affect mortgage rates, but two of them are considered to be highly important. There won't be much going on until Wednesday.
Monday: Bond markets are closed, but the stock markets are open. No scheduled reporting.
Tuesday: Nothing
Wednesday: October Consumer Price Index (CPI) and Core CPI Because the US economy is two-thirds driven by consumer spending, anything that affects prices affects interest rates. Higher CPI (and the more important Core CPI, which strips out volatile food and energy prices) lead to interest rate increases
Thursday: Retail Sales for October Like the CPI, this reflects consumer spending, which pushes rates higher when it increases, and lower when spending drops)
Friday: Industrial Production and Capacity Utilization for October This report measures manufacturing strength. Factories operating at full capacity cause prices and interest rates to rise, while less demand for production can push rates lower
What causes rates to rise and fall?
Mortgage interest rates depend on a great deal on the expectations of investors. Good economic news tends to be bad for interest rates because an active economy raises concerns about inflation. Inflation causes fixed-income investments like bonds to lose value, and that causes their yields (another way of saying interest rates) to increase.
For example, suppose that two years ago, you bought a $1,000 bond paying five percent interest ($50) each year. (This is called its "coupon rate.") That's a pretty good rate today, so lots of investors want to buy it from you. You sell your $1,000 bond for $1,200.
When rates fall
The buyer gets the same $50 a year in interest that you were getting. However, because he paid more for the bond, his interest rate is now five percent.
Your interest rate: $50 annual interest / $1,000 = 5.0%
Your buyer's interest rate: $50 annual interest / $1,200 = 4.2%
The buyer gets an interest rate, or yield, of only 4.2 percent. And that's why, when demand for bonds increases and bond prices go up, interest rates go down.
When rates rise
However, when the economy heats up, the potential for inflation makes bonds less appealing. With fewer people wanting to buy bonds, their prices decrease, and then interest rates go up.
Imagine that you have your $1,000 bond, but you can't sell it for $1,000 because unemployment has dropped and stock prices are soaring. You end up getting $700. The buyer gets the same $50 a year in interest, but the yield looks like this:
$50 annual interest / $700 = 7.1%
The buyer's interest rate is now slightly more than seven percent. Interest rates and yields are not mysterious. You calculate them with simple math.
Verify your new rate (May 25th, 2019)
Mortgage rate methodology
The Mortgage Reports receives rates based on selected criteria from multiple lending partners each day. We arrive at an average rate and APR for each loan type to display in our chart. Because we average an array of rates, it gives you a better idea of what you might find in the marketplace. Furthermore, we average rates for the same loan types. For example, FHA fixed with FHA fixed. The end result is a good snapshot of daily rates and how they change over time.