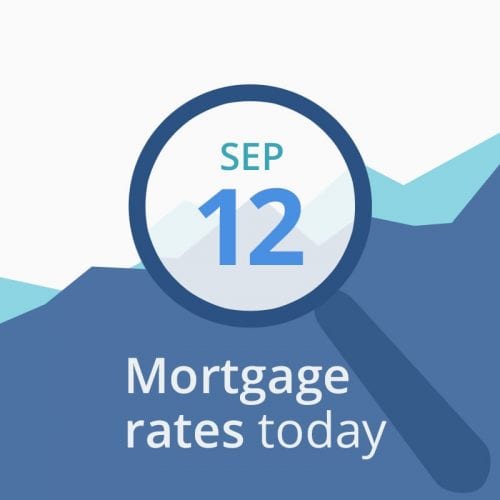 What's driving current mortgage rates?
Average mortgage rates today have not moved much, although individual lenders have likely adjusted their pricing. August's Producer Price Index, which analysts expected to rise by .2 percent, actually fell for the first time in 18 months, by .1 percent. The index tracks prices at the manufacturing level of the economy. However, the components that brought it down are known to be volatile (retail and transportation), so the report did not generate as much excitement as it could have. But it is good for mortgage rates.
There will also be a Treasury auction of 10-year Notes. High demand could help rates, less demand could cause increases. The auction results will be available at 1 PM EDT and we will update you here.
Program
Rate
APR*
Change
Conventional 30 yr Fixed
4.875
4.886
Unchanged
Conventional 15 yr Fixed
4.455
4.474
Unchanged
Conventional 5 yr ARM
4.438
4.854
+0.02%
30 year fixed FHA
4.542
5.55
Unchanged
15 year fixed FHA
3.75
4.701
Unchanged
5 year ARM FHA
4.25
5.412
+0.02%
30 year fixed VA
4.667
4.863
Unchanged
15 year fixed VA
3.875
4.189
Unchanged
5 year ARM VA
4.313
4.631
Unchanged
Your rate might be different. Click here for a personalized rate quote. See our rate assumptions here.
Financial data affecting today's mortgage rates
Today's economic data are mostly favorable for interest rates, but rising oil prices are a major concern, at least offsetting all the other positive news. Today's bond auction results, due at 1 PM EDT, may cause bigger changes. We will update this column when those results are available.
Major stock indexes opened mixed but flat (neutral for mortgage rates)
Gold prices reversed yesterday's $5 drop, rising to $1,203 an ounce. (That is good news for mortgage rates. In general, it's better for rates when gold rises, and worse when gold falls. Gold tends to rise when investors worry about the economy. And worried investors tend to push rates lower)
Oil prices rose $2 to $71 a barrel (very bad for today's mortgage rates because energy prices play a large role in creating inflation)
The yield on ten-year Treasuries edged 1 basis point (1/100th on 1 percent) lower, to  2.96 percent. That is reassuring for borrowers because it has risen for three days straight, and mortgage rates tend to follow Treasuries
CNNMoney's Fear & Greed Index increased by 1 point to a reading of 57 (out of a possible 100). That is just on the "greedy" side of "neutral,"  which is slightly bad for mortgage rates. "Greedy" investors push bond prices down (and interest rates up) as they leave the bond market and move into stocks, while "fearful" investors do the opposite
Verify your new rate (Apr 25th, 2019)
Rate lock recommendation
Today's bond auction could really move the needle. If you're happy with the rate you can get this morning, you may want to lock. If you can afford to gamble, (and I would, because I expect the auction to receive decent demand from overseas), you could be rewarded with better rates this afternoon.
In a rising rate environment, the decision to lock or float becomes complicated. Obviously, if you know rates are rising, you want to lock in as soon as possible. However, the longer you lock, the higher your upfront costs. If you are weeks away from closing on your mortgage, that's something to consider. On the flip side, if a higher rate would wipe out your mortgage approval, you'll probably want to lock in even if it costs more.
If you're still floating, stay in close contact with your lender, and keep an eye on markets. I recommend:
LOCK

if closing in

7

days

LOCK

if closing in

15

days

LOCK

if closing in

30

days

FLOAT

if closing in

45

days

FLOAT

 if closing in

60

days
Lock in your rate. Start here. (Apr 25th, 2019)
This week
Friday is probably the most important day this week — it brings three influential reports. But there are other important data coming this week (Wednesday and Thursday), so keep your eyes on this column and stay in contact with your loan advisor. For all reports except unemployment claims, if the actual numbers are higher than expected numbers, rates may suffer. If they come in lower, meaning a softer economy or less inflation, rates can drop.
Monday: Nothing
Tuesday: Treasury auction of 3-year Notes, which is less important because they are short-term, but can indicate demand for US debt. Higher demand is good, lower demand is bad.
Wednesday: Producer Price Index for August. It tracks prices at the manufacturing level of the economy. There will also be a Treasury auction of 10-year Notes. High demand could help rates, less demand could cause increases
Thursday: Weekly Jobless Claims (expected: 210k), Consumer Price Index (CPI) (expected: .3 percent increase to an annualized 2.4 percent increase). This is one of the more important reports. Also, a 30-year Treasury auction, which can influence long-term rates if demand is higher or lower than expected
ADP Employment (previous month 219k jobs added, 186k expected) and Productivity (predicted 2.9 percent increase)
Friday: Retail sales (expected increase .4 percent), Consumer Sentiment (expected reading: 96.6), and Industrial Production for August (predicted: .3 percent increase)
Video: More about mortgage rates
What causes rates to rise and fall?
Mortgage interest rates depend on a great deal on the expectations of investors. Good economic news tends to be bad for interest rates because an active economy raises concerns about inflation. Inflation causes fixed-income investments like bonds to lose value, and that causes their yields (another way of saying interest rates) to increase.
For example, suppose that two years ago, you bought a $1,000 bond paying five percent interest ($50) each year. (This is called its "coupon rate.") That's a pretty good rate today, so lots of investors want to buy it from you. You sell your $1,000 bond for $1,200.
When rates fall
The buyer gets the same $50 a year in interest that you were getting. However, because he paid more for the bond, his interest rate is now five percent.
Your interest rate: $50 annual interest / $1,000 = 5.0%
Your buyer's interest rate: $50 annual interest / $1,200 = 4.2%
The buyer gets an interest rate, or yield, of only 4.2 percent. And that's why, when demand for bonds increases and bond prices go up, interest rates go down.
When rates rise
However, when the economy heats up, the potential for inflation makes bonds less appealing. With fewer people wanting to buy bonds, their prices decrease, and then interest rates go up.
Imagine that you have your $1,000 bond, but you can't sell it for $1,000 because unemployment has dropped and stock prices are soaring. You end up getting $700. The buyer gets the same $50 a year in interest, but the yield looks like this:
$50 annual interest / $700 = 7.1%
The buyer's interest rate is now slightly more than seven percent. Interest rates and yields are not mysterious. You calculate them with simple math.
Verify your new rate (Apr 25th, 2019)
Mortgage rate methodology
The Mortgage Reports receives rates based on selected criteria from multiple lending partners each day. We arrive at an average rate and APR for each loan type to display in our chart. Because we average an array of rates, it gives you a better idea of what you might find in the marketplace. Furthermore, we average rates for the same loan types. For example, FHA fixed with FHA fixed. The end result is a good snapshot of daily rates and how they change over time.