Why New Construction Condo Mortgage Guidelines Should Be Granted "Special Exceptions"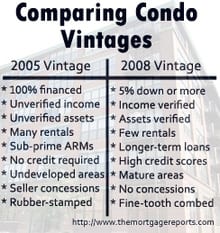 Fannie Mae's new mortgage guidelines rightfully scrutinize buyers and owners of condominiums.
Since late-2007, mortgage markets have a new emphasis on collateral, or the value of the underlying property, and in a condo building, collateral can be wiped out for reasons beyond the borrower's control:
Foreclosure-like sales prices in a similar unit
"Special" assessment fees levied by the association
Too much supply for similar units, not enough demand
However, just because condos are more "at-risk" than other property types doesn't mean that Fannie Mae should lump all condominium buildings together. 
New construction condos in 2008 pose much less tisk to lenders than those of 2005 and what Fannie Mae is doing is equivalent to swearing off California Zinfandel forever just because 2005 was a crap year.
The 2008 Condo Vintage should produce much different results from the 2005 Condo Vintage, but, unfortunately, mortgage lenders plan to treat them both the same.
The biggest reason why 2008 condo mortgages will be different is because today's average condo buyer hurdles over lending guidelines that 2005 buyers never had to consider, including:
Proving income with tax returns, W-2s and paystubs
Proving assets with bank statements and retirement statements
Showing healthy debt-to-income ratios
Making minimum downpayments of 5% for primary owners, 25% for investors
And then, lenders are applying harsher title regulations, new seller concession rules and strict appraisal review requirements to every mortgage approval -- safeguards which did not exist in 2005.
And lastly, the cherry on top: mortgage products.  Over the last few years:
Lenders discontinued the 2-year ARM
Negatively-amortizing loans fell out of favor
5-year ARM consistently out-priced 3-year ARMs
Therefore, almost nobody in today's new construction condo buildings has a mortgage adjusting prior to 2013. 
Fannie's new, stricter condo guidelines is bad news for new construction buyers because it unfairly lumps their home loans with poorly-performing assets. There's a well-known saying about babies and bathwater.
Over the next 2 years, loan performance attached to Housing Heyday Condos is expected to deteriorate and then should start to show improvement because the "new" home loans in the building will be subscribed to the "stricter" mortgage guidelines.
As an action item, if you live in one of these building and know you'll need a new mortgage prior to 2010, consider getting that mortgage today.  Joining the 2008 Vintage, after all, should be less restrictive than waiting to see what the 2009 or 2010 Vintage will look like.
Borrowing for condos should get harder before it gets easier and as stories like this one (no relation!) repeat themselves around the country, lenders will tighten up to protect themselves -- even as the Vintage that led to these situations is from last year's soil.
The information contained on The Mortgage Reports website is for informational purposes only and is not an advertisement for products offered by Full Beaker. The views and opinions expressed herein are those of the author and do not reflect the policy or position of Full Beaker, its officers, parent, or affiliates.
Try the Mortgage Calculator