Mortgage Rates : Make Your Own Luck To Land Low Rates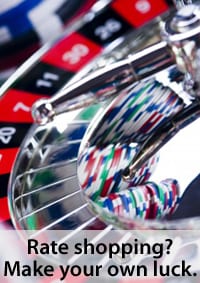 Shopping for mortgage rates would be easier if rates weren't changing all the time.
Mortgage Rates Change All Day, Every Day
Mortgage bond prices-- similar to stock prices -- are random.  They can't be predicted with any sort of certainty, and they change from minute-to-minute.
Facts like this are big deal to people like you and me because mortgage bonds are the basis of everyday mortgage rates -- from conforming to FHA. Mortgage rates are in constant flux.
As a real-life illustration, mortgage rates changed every 4 hours and change last month.
That's fast.
It makes life tough for people looking to shop for the lowest mortgage rates possible. Mostly because it can take more than 4 hours to do your shopping (and do it right).
Click here for an online rate quote (Oct 22nd, 2017).
Shopping Rates? It's Better To Be Lucky Than Smart
Shopping lenders is always a good idea. You never know which bank will have the lowest rates, or lowest fees, or widest selection of programs.
But, when it comes to physically lock your rate; to find the best possible mortgage rate that you can with the lowest set of closing costs, you're going to need more than just "good shopping skills". You're going to need good luck.
Mortgage rates can change at any time, and often do.
While you're shopping for a loan, for example, rates could be rising. And not just by an eighth-percent here and there. I'm talking big jumps.
There have been a half-dozen days in the past year on which conforming mortgage rates rose 0.375. There have also been days when rates have dropped by as much. It reminds us of an important Mortgage Rate Axiom:  You can't shop for good luck.
Some days, mortgage rates happen to rise
Some days, mortgage rates happen to fall
Some days, mortgage rates do nothing
And then, there are the days when mortgage rates do all three.
You're at the market's mercy and the market is merciless.
Click here for an online rate quote (Oct 22nd, 2017).
Want Good Mortgage Rate Luck? Do Good Research.
Since you can't shop for good luck in mortgages, you can at least shop for good information.
Talk with multiple loan officers well before you have a need to lock-in, and gather as much data as possible -- about yourself, about your home, and the process, and about the mortgage market drivers.
Then, after having these conversations, two things will happen. First, you'll get a very close approximation of your final closing costs and rates. This is important for comparison's sake. You need to know which lender is consistently in the ballgame, and which lender never is.
Second, you'll get a feel for the loan officers to whom you're talking. Who's a professional, who's a hack, and who fails to return a phone call.
Then, when it is time to lock-in, you won't have to screw around with the shopping process. You'll already know your "A List" of lenders and can choose the one that gives the best combination of rates and fees at that given moment.
Just make sure, though, that when you shop for rates, you do it the right way. Let your lender pull your credit for pete's sake. It's not going to harm your score and your lenders need to know this stuff.
Now... Go Get Your Rate Quotes!
If you're in the market for a mortgage, or know you'll need one soon, start your shopping here. Get a rate quote based on your parameters, and follow-up for more information.
Oh, and do it with some other lenders, too.
The trick to getting low mortgage rates is to do a fair amount of research, to pick a "good" lender, and to have a little luck. You can make it happen. You just have to start strong.
Click here for an online rate quote (Oct 22nd, 2017).
The information contained on The Mortgage Reports website is for informational purposes only and is not an advertisement for products offered by Full Beaker. The views and opinions expressed herein are those of the author and do not reflect the policy or position of Full Beaker, its officers, parent, or affiliates.
Try the Mortgage Calculator