Use A Boy Scout's Approach When Shopping For Mortgage Rates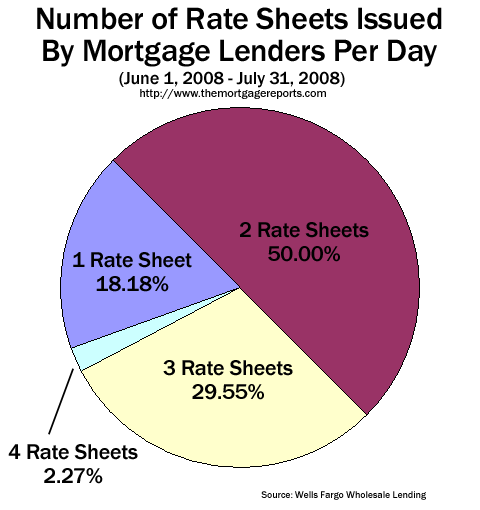 If the changing mortgage guidelines don't bedevil you, changing mortgage rates will.
It's getting even tougher to shop for low mortgages rate because rates refuse to stay in any one place for very long.  The pie chart above puts it in perspective.
The data is astounding -- especially against the rate-change numbers from earlier this year.  It appears that mortgage rates are getting more volatile as the year goes on.
Today, rates change mid-day 82 percent of the time.
When you're shopping for a home loan, remember that Wall Street often sets the rates -- not the loan officer.  Your best protection from mortgage rate volatility, therefore, is to saddle up with a pro that understands how Wall Street works, and then be prepared to lock your mortgage rate as soon as possible.
This last step is critical.
As an example, think back 6 months.  On January 23, 2008, 30-year fixed mortgage rates dipped to 5.125% and stayed there for fewer than 3 hours.  The 30 days that followed was a complete unravel job.
Shoppers that were prepared when rates dipped in January now have very mortgage rates.  Those unprepared, however, missed the boat.
Volatility comes from economic uncertainty and that should continue at least through the rest of the year and probably deep into 2009.  The best protection from it is simple -- make like a boy scout.
The information contained on The Mortgage Reports website is for informational purposes only and is not an advertisement for products offered by Full Beaker. The views and opinions expressed herein are those of the author and do not reflect the policy or position of Full Beaker, its officers, parent, or affiliates.
Try the Mortgage Calculator