How Foreign National Real Estate Investors Can Leverage The U.S. Dollar For Better Returns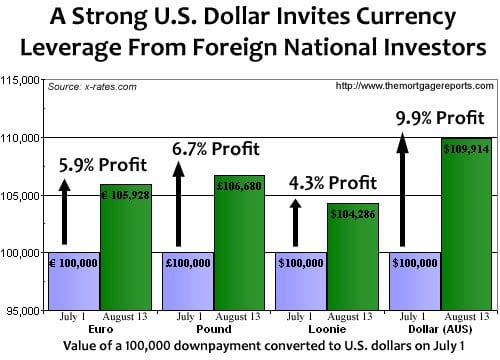 The U.S. dollar is gaining value rapidly, changing the financials for foreigners buying U.S. property.  The rising Greenback makes a case for Irish, British and Canadian foreign nationals to make as large a downpayment as possible on their next investment unit.
It's a mortgage strategy reversal for the international real estate investment crowd.
Until recently, the most common foreign national mortgage tactic was to load up on as much real estate as possible while making as small of an upfront investment as lenders would allow.  Known as leverage, this strategy afforded foreign nationals the chance to capitalize on a soft U.S. real estate market, owning multiple properties, all with small amounts of equity.
Leverage plays off the idea that the home appreciates -- not the downpayment.  It's a familiar concept in financial circles and helps real estate investors extract the maximum return on their equity.
But for international buyers, there's an extra variable in the leverage equation that's irrelevant to domestic ones -- currency exposure.
For investors whose homeland is Ireland, England, Canada, or Australia, a down payment can't be made on a home without first converting native currency into U.S. dollars.  Until recently, though, converting euros, pounds, loonies, or Australian dollars into U.S. dollars was a losing investment.
Illustrating this concept in a real-world example, let's examine a buyer from Ireland who used €43,290 to make a US$60,000 downpayment on a Chicago condo last year.
Sept 17, 2007: The $60,000 investment "costs" €43,290
June 30, 2008: The $60,000 is worth €38,100
Over the 9-month stretch above, the Irish buyer incurred a €5,180 loss because during that time, the U.S. dollar lost so much of its value versus the euro.
Since then, however, the U.S. dollar has rallied, changing the behavior of foreign national investors.
Today, instead of using the small downpayment strategy to purchase as many properties as possible, international buyers are simultaneously limiting their exposure to U.S. real estate and maximizing currency exchange rates by placing large downpayments on just a few properties.
One recurring piece of news is that world economies are weakening and, in the face of economic uncertainty, international traders are pumping the U.S. dollar.  The greenback, it appears, is reclaiming it role as a safe haven for currency traders.
So, while the demand for U.S. dollars grow, so does its value, carrying every financial instrument denominated in dollars with it.  This includes investor equity in U.S. real estate.
Foreign national buyers are aware of this shift and in areas like Chicago, Manhattan, and Brooklyn, they are getting the best of both worlds -- cheap housing from eager sellers, plus the added bump to their real estate ROI because the rising U.S. dollar.
Investors have changed their strategy from one of equity leverage to one of currency leverage.
Here's another real-world example using the same Irish buyer in Chicago:
June 30, 2008: The $60,000 investment "costs" €38,100
August 13, 2008: The $60,000 is worth €40,528
Versus the earlier example in which Irish investor lost money on exchange rates, in the current example, he gained on it.  €2,418 to be exact.  That's good math.
In addition, currency leverage carries ancillary benefits worth heeding.
The first is well-known but worth stating aloud: mortgage lenders offer better loan terms as lending risk decreases.  It follows, therefore, that a foreign national buyer with a large downpayment will get better loan terms than a one with a small downpayment.
Consider these two examples:
A buyer with a 20% downpayment may be offered a mortgage rate of 10%
A buyer with a 50% downpayment may be offered a mortgage rate of 6.5%
For international investors in search of positive cash flow, that low interest rate can be a dream -- especially when compounded with a relatively smaller loan size.
And secondly, when buyers are making 50 percent downpayments, mortgage lenders tend to relax their underwriting standards a bit.
This is a huge help for buyers with difficult-to-trace income streams, or other profile anomalies and can be the difference between a mortgage approval and a mortgage denial.
So, as a financing strategy, currency leverage can not only improve return on investment, but it's also a way to simplify the process by which foreign nationals buy and finance U.S. real estate.
If you're in need of a foreign national mortgage or have additional questions not addressed, email me or phone me directly.  My contact information is all over this Web page
The information contained on The Mortgage Reports website is for informational purposes only and is not an advertisement for products offered by Full Beaker. The views and opinions expressed herein are those of the author and do not reflect the policy or position of Full Beaker, its officers, parent, or affiliates.
Try the Mortgage Calculator