Mortgage rates today, March 8, 2018, plus lock recommendations
What's driving current mortgage rates?
Mortgage rates today are almost unchanged from yesterday's as market participants await tomorrow's highly-important releases.
The Labor Department reported that initial claims for state unemployment benefits increased 21,000 to a seasonally adjusted 231,000 for the week ended March 3. That's 11,000 more than analysts expected, which would be good for mortgage rates if anyone cared.
But market participants tend to ignore this report when it precedes the much-more-important monthly Employment Situation report, which is due tomorrow morning.
Verify your new rate (Aug 15th, 2020)
Mortgage rates today
| Program | Rate | APR* | Change |
| --- | --- | --- | --- |
| Conventional 30 yr Fixed | 4.622 | 4.633 | Unchanged |
| Conventional 15 yr Fixed | 4.167 | 4.186 | Unchanged |
| Conventional 5 yr ARM | 4.0 | 4.325 | Unchanged |
| 30 year fixed FHA | 4.5 | 5.507 | Unchanged |
| 15 year fixed FHA | 3.75 | 4.701 | Unchanged |
| 5 year ARM FHA | 3.875 | 4.867 | Unchanged |
| 30 year fixed VA | 4.583 | 4.778 | +0.04% |
| 15 year fixed VA | 3.875 | 4.189 | Unchanged |
| 5 year ARM VA | 4.125 | 4.145 | Unchanged |
Your rate might be different. Click here for a personalized rate quote. See our rate assumptions here.
Financial data that affect today's mortgage rates
Today's early data are mixed and largely offset each other's effect on mortgage rates.
Major stock indexes are up across the board this morning (bad for rates, because rising stocks typically take interest rates with them — making it more expensive to borrow )
Gold prices dropped by $1 to $1,326 an ounce. (That is bad for mortgage rates. In general, it's better for rates when gold rises, and worse when gold falls. Gold tends to rise when investors worry about the economy. And worried investors tend to push rates lower)
Oil prices fell $1 to $61 a barrel (good for mortgage rates, because higher energy prices play a large role in creating inflation)
The yield on ten-year Treasuries remains at 2.88 percent. This is neutral for mortgage rates because they tend to follow Treasuries
CNNMoney's Fear & Greed Index went lower by 6 points to a reading of 20 (out of a possible 100). That's considered the "fear" range.  Moving into a more fearful state is usually good for rates. "Fearful" investors generally push bond prices up (and interest rates down) as they leave the stock market and move into bonds, while "greedy" investors do the opposite.
This week
This week brings five reports of moderate-to-major importance, culminating in Friday's Monthly Employment Situation Report, arguably the most important report of the month for mortgage rates.
Monday: nothing
Tuesday: January's Factory Orders measures manufacturing sector strength by tracking new orders. Analysts expect orders to have fallen by 1.4 percent. A bigger drop would be good for rates (but it would take a large one to matter), and a smaller one would be bad, indicating less weakness than previously believed.
Wednesday: ADP Employment report, which reflects new payrolls for major payroll-processing firm ADP. Investors pay attention because it is believed to foreshadow the extremely-crucial government employment numbers which come out on Friday.
Thursday: Weekly Unemployment Claims come out as usual. But his week, investors won't be paying attention unless we get a large deviation from expectations, mostly because we'll be getting the much more important monthly report the next day.
Friday: The Labor Department releases the Monthly Employment Situation report, which supplies the unemployment rate, average earnings and the number of new jobs added to the economy. Experts predict that 210,000 non-farm payrolls were added to the economy, that the unemployment rate fell to 4 percent, and that average hourly earnings increased by .2 percent. If the economy created more jobs, higher wages or less unemployment, rates will rise. The opposite is also true.
Rate lock recommendation
Today's rates  But the overall trend is higher. In general, pricing for a 30-day lock is the standard most lenders will (should) quote you. The 15-day option should get you a discount, and locks over 30 days usually cost more.
In a rising rate environment, the decision to lock or float becomes complicated. Obviously, if you know rates are rising, you want to lock in as soon as possible. However, the longer you lock, the higher your upfront costs. If you are weeks away from closing on your mortgage, that's something to consider. On the flip side, if a higher rate would wipe out your mortgage approval, you'll probably want to lock in even if it costs more.
If you're still floating, stay in close contact with your lender, and keep an eye on markets.
LOCK

if closing in

7

days

LOCK

if closing in

15

days

LOCK

if closing in

30

days

FLOAT

if closing in

45

days

FLOAT

if closing in

60

days
Video: More about mortgage rates
What causes rates to rise and fall?
Mortgage interest rates depend on a great deal on the expectations of investors. Good economic news tends to be bad for interest rates because an active economy raises concerns about inflation. Inflation causes fixed-income investments like bonds to lose value, and that causes their yields (another way of saying interest rates) to increase. This illustration from Mortgage News Daily shows how rising stocks tend to pull interest rates with them.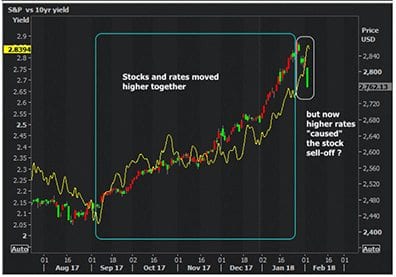 For example, suppose that two years ago, you bought a $1,000 bond paying five percent interest ($50) each year. (This is called its "coupon rate.") That's a pretty good rate today, so lots of investors want to buy it from you. You sell your $1,000 bond for $1,200.
When rates fall
The buyer gets the same $50 a year in interest that you were getting. However, because he paid more for the bond, his interest rate is now five percent.
Your interest rate: $50 annual interest / $1,000 = 5.0%
Your buyer's interest rate: $50 annual interest / $1,200 = 4.2%
The buyer gets an interest rate, or yield, of only 4.2 percent. And that's why, when demand for bonds increases and bond prices go up, interest rates go down.
When rates rise
However, when the economy heats up, the potential for inflation makes bonds less appealing. With fewer people wanting to buy bonds, their prices decrease, and then interest rates go up.
Imagine that you have your $1,000 bond, but you can't sell it for $1,000 because unemployment has dropped and stock prices are soaring. You end up getting $700. The buyer gets the same $50 a year in interest, but the yield looks like this:
$50 annual interest / $700 = 7.1%
The buyer's interest rate is now slightly more than seven percent. Interest rates and yields are not mysterious. You calculate them with simple math.
Verify your new rate (Aug 15th, 2020)