Mortgage Rates Today, June 23, 2017, Plus Lock Recommendations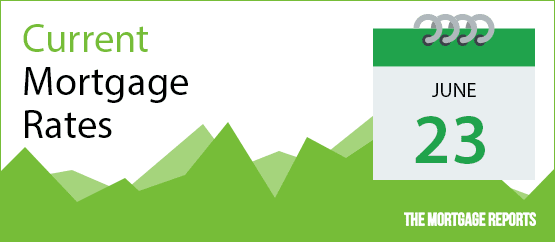 What's Driving Mortgage Interest Rates
Mortgage rates today edged up after New home sales, reported the Commerce Department, spiked to 610,000. That's up strongly from April's 569,000 units. That's nice for the housing sector and the economy, but less positive for mortgage interest rates.
Mortgage Rates Today
| Program | Rate | APR* | Change |
| --- | --- | --- | --- |
| Conventional 30 yr Fixed | 3.750 | 3.750 | Unchanged |
| Conventional 15 yr Fixed | 3.125 | 3.125 | Unchanged |
| Conventional 5 yr ARM | 3.125 | 3.678 | Unchanged |
| 30 year fixed FHA | 3.250 | 4.210 | Unchanged |
| 15 year fixed FHA | 2.750 | 3.669 | Unchanged |
| 5 year ARM FHA | 2.875 | 4.031 | -0.03% |
| 30 year fixed VA | 3.375 | 3.531 | Unchanged |
| 15 year fixed VA | 3.000 | 3.300 | +0.12% |
| 5 year ARM VA | 3.250 | 3.335 | -0.02% |
Your rate might be different. Click here for a personalized rate quote. See our rate assumptions here.
Today's Data
Indicators are a mixed bag, unlikely to change rates much.
Stock markets: all three major indexes are up slightly (slightly bad for rates)
10-year Treasury yield: down one basis point (1/100th of one percent) at 2.15 percent (slightly good for rates)
Oil is almost unchanged at $43.17 a barrel, up a few cents from yesterday's pricing (neutral)
Gold is $5 higher at $1,256 an ounce (good-- gold rises when the economy falters and a softer economy is good for interest rates)
CNNMoney's Fear & Greed Index: Unchanged at a neutral 52.  (Neutral.)
Monday
Monday brings us May's Durable Goods Orders. This moderately-important report provides a snapshot of orders for big-ticket purchases. It's a decent gauge of economic health, because consumers and companies tend to place these orders only when they are comfortable with their income situations.
An increase over the previous month could cause rates to nudge upward, but probably not much. This data is already pretty old, and it would take an unexpectedly large jump to move the needle much.
Rate Lock Recommendation
Mortgage rates today continue to move up and down within a very narrow range. Most indicators that are good for rates have been offset by others that are bad. There is nothing this morning signalling any change from this.
I would probably lock if rates were in my strike zone and I was closing soon. However, your own goals and tolerance for risk may vary. this is only what I would do.
LOCK

if closing in

7

days

FLOAT

if closing in

15

days

FLOAT

if closing in

30

days

FLOAT

if closing in

45

days

FLOAT

if closing in

60

days
What Causes Rates To Rise And Fall?
Mortgage interest rates depend on a great deal on the expectations of investors. Good economic news tends to be bad for interest rates, because an active economy raises concerns about inflation. Inflation causes fixed-income investments like bonds to lose value, and that causes their yields (another way of saying interest rates) to increase.
For example, suppose that two years ago, you bought a $1,000 bond paying five percent interest ($50) each year. (This is called its "coupon rate.") That's a pretty good rate today, so lots of investors want to buy it from you. You sell your $1,000 bond for $1,200.
When Rates Fall
The buyer gets the same $50 a year in interest that you were getting. However, because he paid more for the bond, his interest rate is not five percent.
Your interest rate: $50 annual interest / $1,000 = 5.0%
Your buyer's interest rate: $50 annual interest / $1,200 = 4.2%
The buyer gets an interest rate, or yield, of only 4.2 percent. And that's why, when demand for bonds increases and bond prices go up, interest rates go down.
When Rates Rise
However, when the economy heats up, the potential for inflation makes bonds less appealing. With fewer people wanting to buy bonds, their prices decrease, and then interest rates go up.
Imagine that you have your $1,000 bond, but you can't sell it for $1,000, because unemployment has dropped and stock prices are soaring. You end up getting $700. The buyer gets the same $50 a year in interest, but the yield looks like this:
$50 annual interest / $700 = 7.1% The buyer's interest rate is now slightly more than seven percent.
Click to see today's rates (Sep 24th, 2017)
The information contained on The Mortgage Reports website is for informational purposes only and is not an advertisement for products offered by Full Beaker. The views and opinions expressed herein are those of the author and do not reflect the policy or position of Full Beaker, its officers, parent, or affiliates.
Try the Mortgage Calculator