Mortgage Rates Today, June 15, 2017, Plus Lock Recommendations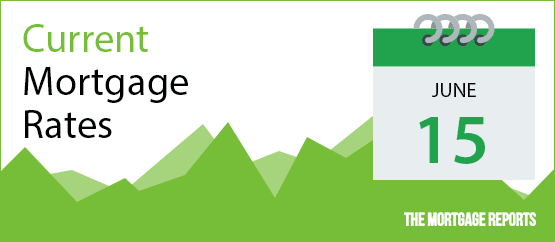 What's Driving Mortgage Rates Today
Today's mortgage rates dropped this morning based on some disappointing economic news.
May's Industrial Production measures manufacturing sector strength. Analysts anticipated a 0.1 percent increase, and got a disappointing .4 percent decrease. Because this points to softening in the manufacturing sector, and bad news for the economy, this is good news for mortgage rates.
Weekly unemployment claims. Analysts expect 245,000 claims, but actual claims came in at 237,000. This indicates that the labor market is stronger than experts thought, which is slightly bad for mortgage rates. However, this s only a weekly report, so its importance is somewhat diminished.
Mortgage Rates Today
| Program | Rate | APR* | Change |
| --- | --- | --- | --- |
| Conventional 30 yr Fixed | 3.625 | 3.625 | -0.13% |
| Conventional 15 yr Fixed | 3.000 | 3.000 | -0.13% |
| Conventional 5 yr ARM | 3.000 | 3.635 | -0.04% |
| 30 year fixed FHA | 3.250 | 4.190 | -0.01% |
| 15 year fixed FHA | 2.750 | 3.683 | +0.02% |
| 5 year ARM FHA | 2.875 | 4.018 | -0.04% |
| 30 year fixed VA | 3.375 | 3.506 | -0.01% |
| 15 year fixed VA | 2.875 | 3.181 | Unchanged |
| 5 year ARM VA | 3.250 | 3.347 | +0.01% |
As of 10:30 EDT
Your rate might be different. Click here for a personalized rate quote. See our rate assumptions here.
Today's Data
Indicators are mixed, and should mostly cancel each other out. Rates may not change much today, unless global political or economic events or random White House tweets cause them to move.
Stock markets: major indexes are mixed (neutral)
10-year Treasury yield: up three basis points  (3/100ths of one percent) to 2.16 percent (slightly bad for mortgage rates)
Oil is currently at $44.56 a barrel, down about $2 from yesterday's pricing, and continuing a trend of softening energy costs. That's excellent news for anyone floating a mortgage rate, because falling energy prices quell concerns about inflation.
Gold is down sharply from $1,279$1,255.50. (bad, because gold normally falls when the economy improves and inflation becomes a concern)
CNNMoney's Fear & Greed Index: Down three points to a neutral 52.  (That is slightly good for rates. Even though the result is neutral, the direction of change is toward a more fearful state.)
This Week
Unlike last week, this week will be extremely busy. There are six pieces of economic data that are relevant to mortgage rates along with a couple of Treasury auctions.
Friday: May's Housing Starts tracks groundbreakings of new home projects. Analysts predict an increase in starts of new homes last month. A decline would be good for mortgage rates.
Friday: June's preliminary reading to the University of Michigan's Index of Consumer Sentiment measures consumer willingness to spend. It's one of the more important reports. It is expected to come in at 97.0, down from from May's 97.1. A smaller-than-expected reading is good for mortgage rates because less spending means fewer concerns about inflation.
Rate Lock Recommendation
Mortgage rates today are likely to bump around within a narrow range, unless some bombshell drops later. If I could get a rate I was happy with, and I was closing in the next month, I'd probably lock. But your tolerance for risk and your goals may vary.
LOCK

if closing in

7

days

LOCK

if closing in

15

days

LOCK

if closing in

30

days

FLOAT

if closing in

45

days

FLOAT

if closing in

60

days
What Causes Rates To Rise And Fall?
Mortgage interest rates depend on a great deal on the expectations of investors. Good economic news tends to be bad for interest rates, because an active economy raises concerns about inflation. Inflation causes fixed-income investments like bonds to lose value, and that causes their yields (another way of saying interest rates) to increase.
For example, suppose that two years ago, you bought a $1,000 bond paying five percent interest ($50) each year. (This is called its "coupon rate.") That's a pretty good rate today, so lots of investors want to buy it from you. You sell your $1,000 bond for $1,200.
When Rates Fall
The buyer gets the same $50 a year in interest that you were getting. However, because he paid more for the bond, his interest rate is not five percent.
Your interest rate: $50 annual interest / $1,000 = 5.0%
Your buyer's interest rate: $50 annual interest / $1,200 = 4.2%
The buyer gets an interest rate, or yield, of only 4.2 percent. And that's why, when demand for bonds increases and bond prices go up, interest rates go down.
When Rates Rise
However, when the economy heats up, the potential for inflation makes bonds less appealing. With fewer people wanting to buy bonds, their prices decrease, and then interest rates go up.
Imagine that you have your $1,000 bond, but you can't sell it for $1,000, because unemployment has dropped and stock prices are soaring. You end up getting $700. The buyer gets the same $50 a year in interest, but the yield looks like this:
$50 annual interest / $700 = 7.1% The buyer's interest rate is now slightly more than seven percent.
Click to see today's rates (Aug 19th, 2017)
The information contained on The Mortgage Reports website is for informational purposes only and is not an advertisement for products offered by Full Beaker. The views and opinions expressed herein are those of the author and do not reflect the policy or position of Full Beaker, its officers, parent, or affiliates.
Try the Mortgage Calculator