Should You Use A Home Builder's Preferred Lender?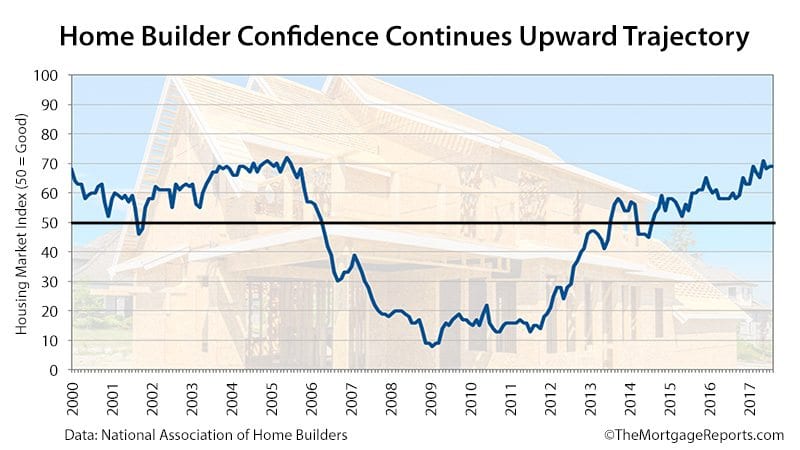 Home Builders Are Feeling Great About The Future
A recent report shows that home builders are confident about the rest of 2017.
In its monthly Housing Market Index, the National Association of Home Builders weighed in on the future of new home sales.
The trade group reported a "score" of 67 in June, down two points from the month prior, but a higher than the 50-point mark at which builders are considered "confident".
It's no wonder builders are feeling good. Homes are in demand and buyers are ready to hand over top-dollar for newly-built homes.
But as a buyer, don't assume you are getting a great value, especially if the builder steers you to use their preferred lender.
Click to see today's rates (Sep 25th, 2017)
Using Your Builder's Preferred Lender: Good Idea Or Mistake?
It sounds like the perfect deal.
The builder offers $15,000 in free upgrades or closing cost credits if you use its preferred lender.
Since all lenders are basically the same, as some buyers mistakenly think, there's no downside to this plan.
But you might "score" a better deal by avoiding this offer, and here's why.
The incentive severely limits competition from other lenders. Therefore, the "preferred" lender could charge a very high rate, costing you more than you are "saving" in upgrades or closing cost help.
For instance, a $350,000 loan at 4.5% will cost you $17,000 more over ten years than if you shop around and get 4%.
Those "free" upgrades aren't looking so free, are they?
The builder is likely making a kickback on the mortgage deal. So, of course, it is going to persuade you to use its lender. Just keep in mind that it is illegal for anyone to require to use a certain lending institution.
The builder will likely require you to get pre-approved via its lender, but you don't have to complete the process there. Take the rate and fee structure, and shop it around to other banks and mortgage companies. You might be surprised at the rate difference.
If nothing else, take those other quotes back to the preferred lender and play hardball. Likely, they will budge on their rate and fees.
A Strategy To Drive Down Price
A separate strategy requires a shrewd buyer's agent.
First, make sure you have independent representation. In other words, your buyer's agent has no affiliation with the builder or builder's lender.
(Rule #1 of real estate: Make sure all parties to the transaction have no prior relationship, i.e. agent/lender, builder/agent, builder/lender unless there is true, clear advantage to the consumer from this arrangement.)
Then, ask your real estate agent to negotiate sky-high builder upgrades and/or closing cost assistance if you (the buyer) use the preferred lender. Let's assume the agent negotiates upgrades in the amount of $10,000 and $5,000 in closing cost help.
Keep in mind that the money comes from you in the form of a higher rate or higher home price -- no matter how much the builder says they are a gift. If builders were truly handing out five figures with every sale, they would go under pretty quickly.
With the dollar figures in place, come back later saying that you have decided not to use the builder's preferred lender. Rather than taking the "free" upgrades, you will accept a lower sale price for the home.
According to Jillayne Schlicke at real estate education firm CE Forward, the builder legally can't increase the sale price of the home if you don't use the preferred lender. All it can do is take away incentives.
But, it's all your money. So why can't the lender reduce the sales price if you opt out of the upgrades?
The builder will certainly balk at this proposition. And, the reality is, you might not receive a price discount for the whole amount (see the next section). But, any discount helps.
This strategy may not work when there is a waiting list a mile long to buy the home. However, in buyer-oriented markets, you might score a lower home price and possibly get a better deal on the mortgage, too.
Should You Skip The Builder's Deal?
As discussed above, the "upgrades money" is already built into the home price. The builder isn't truly giving you anything.
Sometimes it's better to take a lower home price and pass on upgrades.
The builder quotes retail prices for the upgrades, but he or she pays wholesale. For instance, $3,000 granite countertops may only cost the builder $1,500.
And, it could be unwise to finance high-end appliances with a 30-year loan when the units will last 10 years or less, according to Schlicke.
However, the builder is going to want to keep that home price high. A discounted home will drag down appraised values in the rest of the development.
If you can't get a lower home price, ask for structural upgrades. These are harder and more expensive to complete once the home is built, and add long-term value to the home. Some examples are as follows.
A vaulted roof
Skylights
Extra windows
Plumbing/electricity run to potential extra rooms/bathrooms
Fireplace
Additional insulation
The builder may give you these upgrades despite your choice of lender, simply to keep values high in the community.
When To Use The Builder's Lender
There's nothing wrong with using the builder's preferred lender. Just make sure the value is there.
The lender's rate and fees should be similar to those of two or three other lenders.
As a buyer, don't get too emotionally attached to a particular home or neighborhood. You will agree to anything that removes resistance.
Instead, look at it as a business transaction -- that's all it is to the builder.
Negotiate like crazy. You'll thank yourself later.
What Are Today's Mortgage Rates?
To today's buyers, new construction homes can be appealing. New homes are often built with the latest amenities and technology and, because of low interest rates, they're often affordable, too.
Get today's live mortgage rates now. Your social security number is not required to get started, and all quotes come with access to your live mortgage credit scores.
Click to see today's rates (Sep 25th, 2017)
The information contained on The Mortgage Reports website is for informational purposes only and is not an advertisement for products offered by Full Beaker. The views and opinions expressed herein are those of the author and do not reflect the policy or position of Full Beaker, its officers, parent, or affiliates.
Try the Mortgage Calculator