Have You Given Your Application Yet? In 5 Days, New Mortgage Guidelines Go Into Effect And They're Harsh.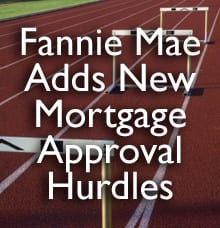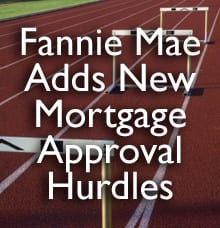 Effective Tuesday, September 1, conforming mortgage approvals are due to toughen up again.
Fannie Mae is imposing strict new lending guidelines that should slow down purchase and refinance activity in Cincinnati and parts elsewhere.
In a public announcement, Fannie Mae defends its pending changes, citing high levels of unemployment, a surge in mortgage fraud, and general market fluctuations.
It's the first major conforming mortgage guideline change since April and this one is a big one -- 15 separate underwriting areas are affected.
Are sampling of the across-the-board guideline changes includes:
Credit, income and asset documentation can't be more than 90 days old. The former guidelines allowed for 120 days.
Lenders must compare actual federal tax returns from the IRS to a borrower's supplied income documentation. Previously, this review step was at the lender's discretion.
"Tip" income for service persons must be documented and verified.
Trailing secondary wage earning is now prohibited. This means that Proctor & Gamble employees relocating to Cincinnati can't use a spouse's "expected" Cincinnati income until that spouse actually has a job.
Stocks, bonds and mutual funds are "worth" 70% of their current market value as reserve funds. Formerly, securities were taken at 100% of value.
Retirement assets are counted at 60% of their current market value. Formerly, retirement assets were taken at 70% of value.
By themselves, these bullet points would kick a bevy of home loans from the underwriting queue.  Waiters can no longer claim tip income; relocating families can't use both spouses' income.  But of all the changes Fannie Mae is making, the biggest deal may be its new restrictions on home loans tied to 2-unit properties.
Until now, Fannie Mae had viewed 2-units homes as "safe", assigning them the same liberal underwriting policies as for a single-family home. Today, not so much.
Refinancing owners and new buyers of 2-unit homes now face higher minimum FICO requirements and lower maximum LTVs.
Using your 2-unit as a Primary Residence:
Purchase: Maximum LTV lowered to 80%; 640 minimum FICO.
Rate-and-Term Refinance: Maximum LTV lowered to 80%; 640 minimum FICO.
Cash Out Refinance: Maximum LTV lowered to 75%; 680 minimum FICO.
Using your 2-Unit as an Investment Property
Purchase: Maximum LTV lowered to 75%; 660 minimum FICO.
Rate-and-Term Refinance: Maximum LTV lowered to 75%; 660 minimum FICO.
Cash Out Refinance: Maximum LTV lowered to 70%; 680 minimum FICO.
Fannie Mae's new 2-unit guidelines restrict loan-to-value and raise FICO minimums by up to 15 percent and 40 points, respectively.  Because of it, fewer 2-unit mortgage applicants will qualify for mortgages.
This should slow purchase and refinance activity in the 2-unit market.
Meanwhile, Fannie Mae's changes aren't in place just yet -- September 1, 2009 is the  "effective date".  So, if you have a 2-unit home to refinance or purchase, consider getting a move on.  You don't have to be closed by September 1 -- you just have to be in underwriting.
to find out more about Fannie Mae's changes and how it might impact your pending mortgage approval. You can also ask me to to get in advance of the changes.
The information contained on The Mortgage Reports website is for informational purposes only and is not an advertisement for products offered by Full Beaker. The views and opinions expressed herein are those of the author and do not reflect the policy or position of Full Beaker, its officers, parent, or affiliates.
Try the Mortgage Calculator