Mortgage Rates Today, June 1, 2017, Plus Lock Recommendations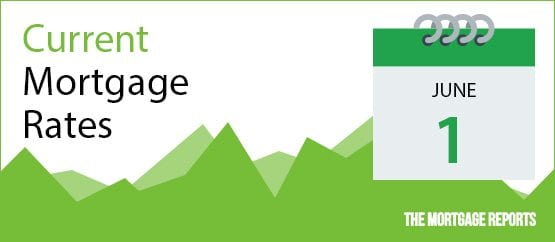 What's Driving Mortgage Rates Today?
Mortgage rates today have been reversing improvements made yesterday afternoon, but have been bumping up and down within a very narrow range. We are waiting for the next trend to form, and tomorrow's Monthly Employment Report could easily do that.
Today's Weekly Jobless Claims came in much higher than expected, 248,000 instead of the anticipated 238,00. That's good for mortgage rates, as it indicates weakening in the labor market and no inflation in wages. Too bad that it's only a weekly report.
The ISM report for May indicating US manufacturing is gaining in strength, increasing to a level of 55. However, that's in line with expectations and should have minimal impact.
However, ADP reported adding a monstrous 253,000 jobs to the market, blowing away expectations of 185,000 jobs. That is likely to be much more influential than the weekly report, because it's monthly. And because many feel that it foreshadows tomorrow's Employment Report from Labor Department.
Today's Mortgage Rates
(as of 10:30 am EDT)
| Program | Rate | APR* | Change |
| --- | --- | --- | --- |
| Conventional 30 yr Fixed | 3.750 | 3.750 | Unchanged |
| Conventional 15 yr Fixed | 3.125 | 3.125 | Unchanged |
| Conventional 5 yr ARM | 3.000 | 3.629 | Unchanged |
| 30 year fixed FHA | 3.250 | 4.198 | -0.01% |
| 15 year fixed FHA | 2.750 | 3.633 | +0.01% |
| 5 year ARM FHA | 2.875 | 3.981 | Unchanged |
| 30 year fixed VA | 3.375 | 3.523 | Unchanged |
| 15 year fixed VA | 2.875 | 3.181 | Unchanged |
| 5 year ARM VA | 3.250 | 3.308 | +0.01% |
Your rate might be different. Click here for a personalized rate quote. See our rate assumptions here.
Today's Data
All indicators are bad for rates. Every one of them highlights economic strength, which tends to push investors into stocks and out of mortgage-backed securities (MBS) and bonds. That causes interest rates to rise.
Stock markets: all three major indexes are up (bad for rates)
10-year Treasury yield: up four basis points (.04) to 2.23 percent (bad for rates)
Oil rose slightly to $48.40 a barrel (slightly bad for rates)
Gold is down slightly to $1,265.50 (slightly bad, because gold normally falls when the economy is strengthening and investors are confident)
CNNMoney's Fear & Greed Index: Up seven points to a neutral 55. The number is neutral for rates, but the direction of its movement is bad. It means investors are more optimistic, and that tends to push rates up.
This Week
The rest of this short week brings one major report:
Friday: Monthly Employment Report (very important, 4.4 percent unemployment expected)
Rate Lock Recommendation
If the Employment Report tomorrow follows today's ADP data, we could see a jump in rates tomorrow morning. If it does not, rates could drop. If I could lock a rate I liked today, and I was closing soon, I'd probably do it.
If you're a gambler or can afford to wait for a better rate, you might choose to float. Everyone's goals and tolerance for risk are different.
LOCK

if closing in

7

days

LOCK

if closing in

15

days

LOCK

if closing in

30

days

FLOAT

if closing in

45

days

FLOAT

if closing in

60

days
What Causes Rates To Rise And Fall?
Mortgage interest rates depend on a great deal on the expectations of investors. Good economic news tends to be bad for interest rates, because an active economy raises concerns about inflation. Inflation causes fixed-income investments like bonds to lose value, and that causes their yields (another way of saying interest rates) to increase.
For example, suppose that two years ago, you bought a $1,000 bond paying five percent interest ($50) each year. (This is called its "coupon rate.") That's a pretty good rate today, so lots of investors want to buy it from you. You sell your $1,000 bond for $1,200.
When Rates Fall
The buyer gets the same $50 a year in interest that you were getting. However, because he paid more for the bond, his interest rate is not five percent.
Your interest rate: $50 annual interest / $1,000 = 5.0%
Your buyer's interest rate: $50 annual interest / $1,200 = 4.2%
The buyer gets an interest rate, or yield, of only 4.2 percent. And that's why, when demand for bonds increases and bond prices go up, interest rates go down.
When Rates Rise
However, when the economy heats up, the potential for inflation makes bonds less appealing. With fewer people wanting to buy bonds, their prices decrease, and then interest rates go up.
Imagine that you have your $1,000 bond, but you can't sell it for $1,000, because unemployment has dropped and stock prices are soaring. You end up getting $700. The buyer gets the same $50 a year in interest, but the yield looks like this:
$50 annual interest / $700 = 7.1% The buyer's interest rate is now slightly more than seven percent.
Click to see today's rates (Sep 23rd, 2017)
The information contained on The Mortgage Reports website is for informational purposes only and is not an advertisement for products offered by Full Beaker. The views and opinions expressed herein are those of the author and do not reflect the policy or position of Full Beaker, its officers, parent, or affiliates.
Try the Mortgage Calculator