How To Refinance Your Home: Getting The Most Cash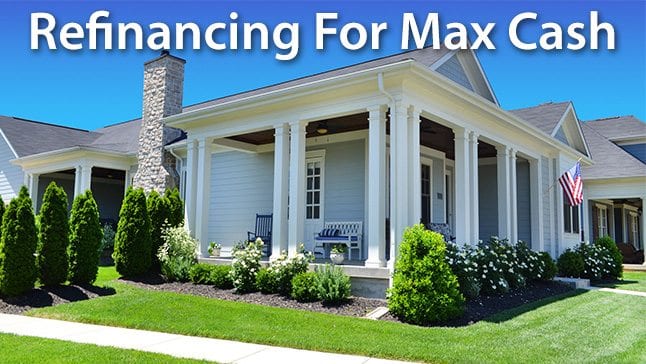 How To Refinance Your Home -- The Right Way
How to refinance your home is a question which comes up with increasing frequency and for a basic reason. Rising home prices have put trillions of dollars in new equity in homeowners' hands.
According to the National Association of Realtors, the typical existing home sold for $236,400 in March. That's up 6.8 percent from a year ago, and represents the "61st consecutive month of year-over-year gains."
Such gains are hard to ignore. The Federal Reserve estimates that homeowner equity went from $6.580 trillion at the end of 2011 to $13.349 at the end of 2016. That's a difference of $6.769 trillion, a huge amount.
The catch is that not all of that equity can be instantly and joyously converted to cash. Lenders will allow homeowners to refinance and put cash in their pockets, but they will only finance some of your equity.
Cash Out Vs. Rate And Term
Many homeowners refinance simply to improve the terms of their mortgages. If you bought your home ten years ago, for example, you probably got an interest rate above six percent. Today, you could exchange that for a mortgage in the four percent range.
If your new loan amount is the same as the remaining balance on your old loan, that's called a "rate and term" refinance.
You could also choose to add your refinancing costs to your new loan, increasing its amount. This is called a "limited cash out" refinance. There are usually no additional fees for adding your costs to the new loan balance, but you will be paying interest on the additional amount.
Finally, there is the "cash out" refinance. That's the one that allows you to borrow more and take the excess as cash at closing. There are usually additional charges for cash-out refinances.
How Much Cash Out Can You Take?
Let's imagine that you bought a $250,000 home ten years ago with ten percent down. Today, the property is worth $400,000. If you got a 6.5 percent interest  rate, you'd owe roughly $190,750 today.
Subtract that $190,750 from the property's $400,000 fair market value. That leaves you $209,250 in equity. Don't expect to borrow against all of that, however.
An FHA lender might be willing to refinance up to 85 percent of the property value. That's called an 85 percent loan-to-value (LTV) refinance. In this example, that's $340,000, providing $149,250 in cash (before paying refinance costs).
A conforming lender (Fannie Mae or Freddie Mac) will allow cash out up to 80 percent of the property value. That's $320,000, with $129,250 in cash to you.
However, conforming loans can come with very high surcharges for cash-out refinancing, depending on your credit score and the property type.
VA-qualified borrowers can refinance up to 100 percent of their property value, subject to VA loan limits. VA borrowers pay 3.3 percent for cash-out refinancing their VA home loans. The fee for a rate-and-term refinance of a VA loan (called an IRRRL) is just .5 percent.
Replacement Terms
One of the oddities of cash-out refinancing is that it can produce elongated periods of indebtedness.
If you have a 30-year mortgage, and refinance after five years with a 30-year loan, you're looking at 35 years of financing. It might be smarter and less costly in the long run to refinance to a loan with a shorter term.
The HELOC Alternative
While a cash-out refinance can help property owners get gobs of equity, it's not the only way to extract capital from a home. An alternative option is the HELOC, the home equity line of credit.
HELOCs can let you pull more equity out of your home -- 90 percent in some cases. The fees are typically lower, even zero. If your current mortgage has a decent rate, you can save a lot in fees by choosing a HELOC over a cash-out refinance.
However, a HELOC is not just a loan, it's a line of credit with a variable interest rate. Typically, a 15-year HELOC has a draw period of five years, in which you can withdraw money up to your credit limit. Ther only required payment during this time is the interest due.
The second phase is the repayment period -- usually ten years. If you start a ten-year repayment with a maximum balance, your payments can be high. This is especially true if interest rates rise.
For instance, repaying $75,000 at 4.0 percent over 30 years creates a monthly cost for principal and interest of $358.06. Shorten the repayment period to ten years at six percent, and the required monthly payment climbs to $832.65.
What Are Today's Mortgage Rates?
Current mortgage rates depend on whether you choose rate-and-term or cash-out refinancing. And rates for HELOCs can start out very low, but rise over time.
Given that most homeowners today have more equity than in recent years, it may be time to review your cash-out options. And while homes increasingly hold a lot of equity, be sure to limit your borrowing to what you really need, what you can really repay, and what feels comfortable.
Click to see today's rates (Sep 23rd, 2017)
The information contained on The Mortgage Reports website is for informational purposes only and is not an advertisement for products offered by Full Beaker. The views and opinions expressed herein are those of the author and do not reflect the policy or position of Full Beaker, its officers, parent, or affiliates.
Try the Mortgage Calculator