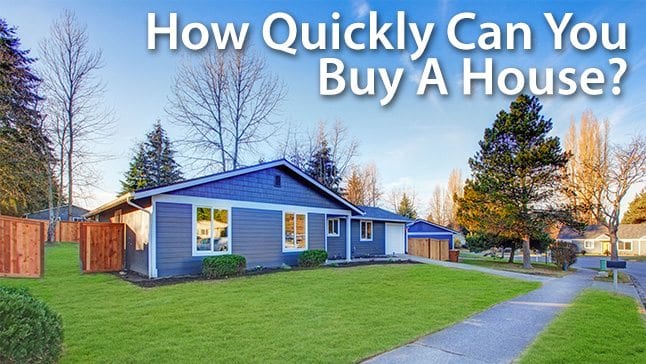 How long does it take to buy a house?
Can you buy a house in 10 days?
How long does It take to buy a house? The real answer involves more than the actual time required to make an offer and wait for closing. And—as it turns out—a lengthy process actually benefits buyers and sellers.
If you've got a wallet full of cash and a seller in a hurry, you'd probably be able to close in a matter of days. But that's not how it works for most of us.
Verify your new rate (Nov 29th, 2020)
Down payments take time
When we think about home buying, there are usually notions of neighborhood drives and visits to open houses. Actually, the process starts long before, for most purchasers, because there is the very practical need to come up with down payment money.
According to the National Association of Realtors (NAR), the time it takes to save for a down payment varies significantly:
Six months or less: 40 percent of all pre-owned home purchasers.
Six to 12 months: 15 percent.
Twelve to 18 months: 9 percent
Eighteen to 24 months: 7 percent.
More than two years: 29 percent.
Not all buyers, however, save the money required for a down payment. Some speed the process by receiving down payment help in the form of gifts from family and friends. Others benefit from down payment assistance programs.
How can buyers quickly save down payments? The real trick is that many purchasers – especially first-timers – buy with financing that requires little down. These include loans guaranteed by the Veterans Administration (zero down) or the FHA (3.5 percent for most borrowers).
How long does it take to buy a house? Depends on your credit
Most buyers purchase with financing, and that means they have to make lenders happy. One key to a successful mortgage application is to have the best possible credit, a process that should start several months before you apply for a loan.
Why so long? Credit reports can include mistakes, and mistakes can mean lower credit scores and higher loan costs. According to a 2013 study by the Federal Trade Commission (FTC), "one in four consumers identified errors on their credit reports that might affect their credit scores."
Many scores were off by 25 points, while a small number were reduced by 100 points or more.
Start checking credit reports a few months before applying for a loan. If you find an error or out-of-date item, you'll have time to straighten out the problem.
Freebies
As a place to start with credit fixes go to AnnualCreditReport.com – under federal law you are entitled to one free credit report from each of the three major credit reporting agencies every 12 months.
In addition to the three free credit reports, you can get a  credit report without charge if you're turned down for a job, loan or insurance. As the FTC explains:
"Under federal law, you're entitled to a free report if a company takes adverse action against you, such as denying your application for credit, insurance, or employment, and you ask for your report within 60 days of receiving notice of the action. The notice will give you the name, address, and phone number of the credit reporting company.
You're also entitled to one free report a year if you're unemployed and plan to look for a job within 60 days; if you're on welfare; or if your report is inaccurate because of fraud, including identity theft."
If any of these circumstances apply, make a point of getting a free credit report. You may find an error or out-of-date item which needs to be removed.
Rapid rescoring
Mortgage borrowers may find a last-minute credit report hitch. Assuming it can be quickly resolved, your scores may not change until the end of the billing cycle. Tat may be too late to save a mortgage application.
If you find yourself in such a situation, ask the loan officer about "rapid rescoring," a fee-based service which can result in far faster credit score turn-around times.
Rapid rescoring is only available through your mortgage lender. You can't hire the rescorers yourself.
Home searching
How long does it take to search for a home? Truth is, a lot of us constantly search. Leading real estate websites get more than 200 million site visits per month while existing home sales now average fewer than 500,000 per month.
According to NAR, the typical pre-owned home took 34 days to sell in March and 45 days in February. Such broad averages do not address specific markets, where days-on-the-market figures may be very much longer or shorter.
Just like home sellers, there's no way to tell how long buyers will be in the market. The best suggestion is to start looking online and then physically visit as many homes as possible to narrow down your preferences.
Contracts
Sale offers today typically include a variety of contingencies, maybe 10 days for a property inspection or termite check. In practice, the typical time from the signing of an offer to closing is likely to be from 30 to 45 days.
Why? Lenders need time to process loan applications, and while getting a 30-day mortgage lock is usually easy, longer locks may not be available or may cost extra.
What about a quickie closing? If you're financing the purchase, several rules apply.
First, lenders must supply formal Loan Estimate (LE) forms within three business days when you apply for a home loan. The lender must provide a Closing Disclosure (CD) at least three business days before settlement.
If you're refinancing a home, there is a three-day "Notice of the Right to Rescind."
Reality
While in theory, it might be possible to shuffle the paperwork in ten days or so, it probably won't happen. Lenders will still want an appraisal, and that can take several days to schedule and complete.
Most buyers and sellers will not want a quickie closing, because it takes time to find movers, locate a replacement home for sellers, and close out a lease for buyers with a rental property.
So how long does it take to buy a house? Probably longer than most people expect – and that's okay.
What are today's mortgage rates?
Current mortgage rates depend somewhat on how fast you want to buy your home. You can get private financing in a matter of days or even hours if you're willing to make a huge down payment and pay a lot of fees.
If you plan to finance your home in a more traditional way, you should be able to complete the deal in under a month if you have gotten yourself pre-approved for your loan. Then, the lender just has to appraise and approve the property.
Verify your new rate (Nov 29th, 2020)