What's Driving Mortgage Rates Today?
It's Fed day! The Federal Reserve adjourns its two-day meeting and will give guidance on future rate hikes and policy. Watch for an update from The Mortgage Reports shortly following the Fed's 2:00 PM ET announcement.
ISM Non-Manufacturing Index
Mortgage rates got a little worse this morning, but are recovering now. The Institute For Supply Management (ISM) released its index in which a reading above 50 indicates expanding activity in services, construction, mining, and other non-manufacturing sectors.
This morning's reading rang in at 57.5, about 2 points higher than expected. Markets took this as a sign of an expanding economy, which is bad for mortgage rates.
Rates have since recovered, though, ahead of the much anticipated Fed meeting announcement.
Verify your new rate (Feb 24th, 2020)
 Mortgage Rates Today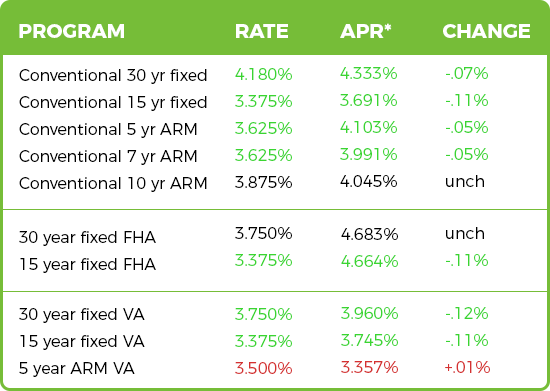 (As of 11:38 am PM EDT)
Meanwhile, major stock indexes are down slightly, helping rates.
Puerto Rico just filed for bankruptcy, the biggest municipal bankruptcy ever. It's unclear whether this will affect the U.S. mainland economy.
CNNMoney's Fear & Greed Index has moved solidly into "Neutral" ground to 45 out of 100 (100 being "extreme greed"). There seems to be more pessimism than optimism in the markets today, which is generally good for mortgage rates.
Today through Friday
All eyes will be on the Federal Open Market Committee (FOMC) announcement released at 2:00 PM ET today.
Furthermore, Friday will be a market-moving day, with no less than five Fed members speaking at various engagements.
Plus, arguably the most important regular report each month, the Jobs Report, is released Friday. It's an indicator that the Fed closely watches to determine future rate policy. A stellar reading could ensure a rate hike next month and send mortgage rates up, but not dramatically so.
Rate Lock Recommendation
There's risk of rising rates this week. The Fed is not expected to raise rates, but its post-meeting announcement might offer clues to a rate hike in June. Mortgage rates could rise if anything unexpected is found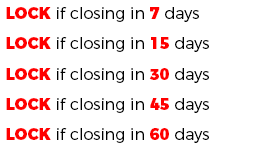 What Causes Rates To Rise And Fall?
Mortgage interest rates depend on a great deal on the expectations of investors. Good economic news tends to be bad for interest rates, because an active economy raises concerns about inflation. Inflation causes fixed-income investments like bonds to lose value, and that causes their yields (another way of saying interest rates) to increase.
For example, suppose that two years ago, you bought a $1,000 bond paying five percent interest ($50) each year. (This is called its "coupon rate.") That's a pretty good rate today, so lots of investors want to buy it from you. You sell your $1,000 bond for $1,200.
When Rates Fall
The buyer gets the same $50 a year in interest that you were getting. However, because he paid more for the bond, his interest rate is not five percent.
Your interest rate: $50 annual interest / $1,000 = 5.0%
Your buyer's interest rate: $50 annual interest / $1,200 = 4.2%
The buyer gets an interest rate, or yield, of only 4.2 percent. And that's why, when demand for bonds increases and bond prices go up, interest rates go down.
When Rates Rise
However, when the economy heats up, the potential for inflation makes bonds less appealing. With fewer people wanting to buy bonds, their prices decrease, and then interest rates go up.
Imagine that you have your $1,000 bond, but you can't sell it for $1,000, because unemployment has dropped and stock prices are soaring. You end up getting $700. The buyer gets the same $50 a year in interest, but the yield looks like this:
$50 annual interest / $700 = 7.1% The buyer's interest rate is now slightly more than seven percent.
Verify your new rate (Feb 24th, 2020)