What's Driving Mortgage Rates Today?
Mortgage rates today depend on several moderately-important reports that investors are likely to jump on — data that has some predictive value for inflation.
Jobless claims (expected 245,000, got 257,000). Great for mortgage rates.
Durable Goods Orders (See below)
Pending Home Sales (came in with a .8 percent decrease. That's good for mortgage rates because it creates less demand for mortgages.)
The important one is March's Durable Goods Orders. It judges manufacturing sector strength by tracking orders for expensive purchases at U.S. factories — stuff like appliances, home theatres and airplanes. Experts anticipate a 1.2 percent increase.
Luckily for anyone floating a mortgage rates, the Commerce Department announced just a 0.7 percent increase in new orders. Even better, a secondary reading excluding more volatile items came in much weaker than expected. This is probably not so great if you own a factory, but awesome for mortgage rates.
Click to see today's rates (Apr 27th, 2017)
 Mortgage Rates Today
(As of 11:29 am PM EDT)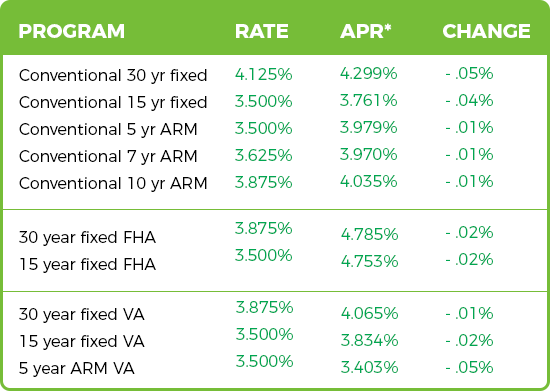 Tomorrow
Happy Friday brings a few interesting reports, too. Variance from expected values could trigger rate changes.
GDP (Gross Domestic Product)
Consumer Sentiment (expected 98)
Rate Lock Recommendation
Mortgage rates have just dropped. It could be a good time to lock in a rate if you're looking to do so in coming weeks. I'd probably also lock if I could get a longer term rate at the same price, but not if the surcharges exceed .5 percent.
Click to see today's rates (Apr 27th, 2017)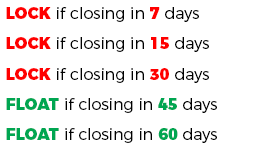 What Causes Rates To Rise And Fall?
Mortgage interest rates depend on a great deal on the expectations of investors. Good economic news tends to be bad for interest rates, because an active economy raises concerns about inflation. Inflation causes fixed-income investments like bonds to lose value, and that causes their yields (another way of saying interest rates) to increase.
For example, suppose that two years ago, you bought a $1,000 bond paying five percent interest ($50) each year. (This is called its "coupon rate.") That's a pretty good rate today, so lots of investors want to buy it from you. You sell your $1,000 bond for $1,200.
When Rates Fall
The buyer gets the same $50 a year in interest that you were getting. However, because he paid more for the bond, his interest rate is not five percent.
Your interest rate: $50 annual interest / $1,000 = 5.0%
Your buyer's interest rate: $50 annual interest / $1,200 = 4.2%
The buyer gets an interest rate, or yield, of only 4.2 percent. And that's why, when demand for bonds increases and bond prices go up, interest rates go down.
When Rates Rise
However, when the economy heats up, the potential for inflation makes bonds less appealing. With fewer people wanting to buy bonds, their prices decrease, and then interest rates go up.
Imagine that you have your $1,000 bond, but you can't sell it for $1,000, because unemployment has dropped and stock prices are soaring. You end up getting $700. The buyer gets the same $50 a year in interest, but the yield looks like this:
$50 annual interest / $700 = 7.1% The buyer's interest rate is now slightly more than seven percent.