Mortgage Rates Today, April 20, 2017, Plus Lock Recommendations
What's Driving Mortgage Rates Today?
Poor economic news is piling up this week, and mortgage rates are benefitting.
Freddie Mac reported the first sub-4% rate of the year in its weekly survey today. The average 30-year fixed rate — according to a 125-lender survey — hit 3.97%. This is the lowest reported rate since mid-November.
Thus far into 2017, the economy seemed to be on a real tear. The stock market was rallying and economic indicators were positive. This week, a report was released showing new home construction has stalled, at least momentarily.
Homebuilder confidence dropped, too.
Mix in global conflict, and it's a recipe for low rates — at least momentarily. It could be the perfect time to lock in a rate.
Verify your new rate (Jul 16th, 2020)
 Mortgage Rates Today
Mid-day, we have an update. Stocks are up, CNNMoney's Fear & Greed index is showing more investor confidence, and 10-Year yields have risen five basis points. if you didn't lock this morning, mortggage pricing may be worse this afternoon.
(As of 1:25 PM EDT)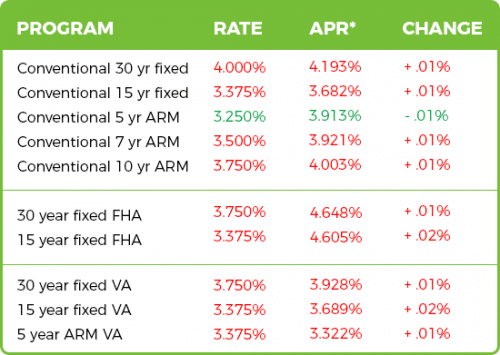 Tomorrow
The anticipated Existing Home Sales report will be released Friday. Sales have been surprisingly resilient despite rising rates, higher prices, and fierce competition among buyers.
This report will offer further insight into the housing market. After lackluster reports this month, the data will provide additional insight into the health of housing, and therefore the economy.
Since housing drives at least 15% of the economy, analysts look to housing-related reports as a harbinger of things to come.
With very strong data, mortgage rates could again rise.
Rate Lock Recommendation
Mortgage rates have just dropped. It could be a good time to lock in a rate if you're looking to do so in coming weeks. Otherwise, there is some room for improvement long-term.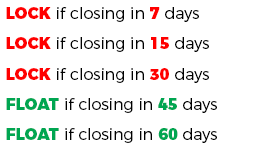 Verify your new rate (Jul 16th, 2020)
What Causes Rates To Rise And Fall?
Mortgage interest rates depend on a great deal on the expectations of investors. Good economic news tends to be bad for interest rates, because an active economy raises concerns about inflation. Inflation causes fixed-income investments like bonds to lose value, and that causes their yields (another way of saying interest rates) to increase.
For example, suppose that two years ago, you bought a $1,000 bond paying five percent interest ($50) each year. (This is called its "coupon rate.") That's a pretty good rate today, so lots of investors want to buy it from you. You sell your $1,000 bond for $1,200.
When Rates Fall
The buyer gets the same $50 a year in interest that you were getting. However, because he paid more for the bond, his interest rate is not five percent.
Your interest rate: $50 annual interest / $1,000 = 5.0%
Your buyer's interest rate: $50 annual interest / $1,200 = 4.2%
The buyer gets an interest rate, or yield, of only 4.2 percent. And that's why, when demand for bonds increases and bond prices go up, interest rates go down.
When Rates Rise
However, when the economy heats up, the potential for inflation makes bonds less appealing. With fewer people wanting to buy bonds, their prices decrease, and then interest rates go up.
Imagine that you have your $1,000 bond, but you can't sell it for $1,000, because unemployment has dropped and stock prices are soaring. You end up getting $700. The buyer gets the same $50 a year in interest, but the yield looks like this:
$50 annual interest / $700 = 7.1% The buyer's interest rate is now slightly more than seven percent.
Verify your new rate (Jul 16th, 2020)