Mortgage Rates Today, March 27, 2017, Plus Lock Recommendations
What's Driving Mortgage Rates Today?
There will be no economic reports that pertain to mortgage rates today. That's normal for Mondays. What this means is that rates are driven largely by events in the world and movements in stock markets.
Verify your new rate (Jul 2nd, 2020)
A Bumpy Ride
Financial sites are reporting that the co-called "Trump Bump" is in full retreat this morning — more of a "Trump Dump" as all three major indexes opened sharply down. However, this could change rapidly, depending on events in Capitol Hill and the resurrection (or not) of the new health care bill and other contentious issues.
And there is more good news for mortgage rates: oil, prices, another key investors watch for signs of inflation, are down, and gold prices, which rise in shakier economic times, are up.
What Goes Up, Must Come Down
Ten-year Treasury Notes, which many consider a barometer of mortgage price trends, are also down three basis points (3/100ths of one percent) to 2.37 percent.
All of these things are not-great for the economy but good news if you have an unlocked mortgage in the works.  Finally, CNNMoney's Fear & Greed Index, which measures investor sentiment at seven levels, has plunged from a "Greedy" 69 a month ago into "Extreme Fear" at 25.
What this means is that investors are more likely to move money from stocks into savfer vehicles like bonds and mortgage-backed securities.
That's great for mortgage rates this morning, because higher bond prices mean lower interest rates.
Verify your new rate (Jul 2nd, 2020)
This Week
The week has some fairly important data, especially Friday. That's when we get indicators for inflation and consumer sentiment.
Monday: Nothing
Tuesday: Case-Shiller home price index
Tuesday: Consumer confidence index, predicted to hit 113.5 (highly important)
Wednesday: Pending home sales, expected to drop 2.8 percent
Thursday: Weekly jobless claims, predicted to be 243,000
Friday: (highly important) February's Personal income (expected to increase .4 percent), personal spending (expected to rise by .2 percent), and the core inflation rate (expected to be .2 percent).
Friday: The Consumer Sentiment Index is predicted to rise to 97.6 from 96.3 for March.
When the actual figures vary significantly from those expected by analysts, there is potential for movement in interest rates.
In general, anything pointing to an improving economy or increased inflation leads to rate increases, while reports that indicate financial faltering push rates down.
Today's Mortgage Rates
** FHA APRs include government-mandated mortgage insurance premiums (MIP). 
These rates are averages, and your rate could be lower.
Request a personalized quote from a licensed, reputable lender here.
Rate Lock Recommendation
This is a good time to take advantage of the drop in pricing. I recommend locking for anyone closing in the next 30 days, and even longer if your lender will do it for no extra charge.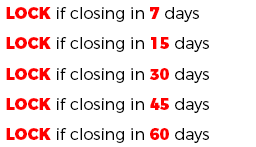 Note that this is what I would do if I had a mortgage in process today. Your own goals and tolerance for risk may differ. 
>>Ready to lock? Click here.<<
What Causes Rates To Rise And Fall?
Mortgage interest rates depend on a great deal on the expectations of investors. Good economic news tends to be bad for interest rates, because an active economy raises concerns about inflation. Inflation causes fixed-income investments like bonds to lose value, and that causes their yields (another way of saying interest rates) to increase.
For example, suppose that two years ago, you bought a $1,000 bond paying five percent interest ($50) each year. (This is called its "coupon rate.") That's a pretty good rate today, so lots of investors want to buy it from you. You sell your $1,000 bond for $1,200.
When Rates Fall
The buyer gets the same $50 a year in interest that you were getting. However, because he paid more for the bond, his interest rate is not five percent.
Your interest rate: $50 annual interest / $1,000 = 5.0%
Your buyer's interest rate: $50 annual interest / $1,200 = 4.2%
Your buyer gets an interest rate, or yield, of only 4.2 percent. And that's why, when demand for bonds increases and bond prices go up, interest rates go down.
When Rates Rise
However, when the economy heats up, the potential for inflation makes bonds less appealing. With fewer people wanting to buy bonds, their prices decrease, and then interest rates go up.
Imagine that you have your $1,000 bond, but you can't sell it for $1,000, because unemployment has dropped and stock prices are soaring. You end up getting $700. The buyer gets the same $50 a year in interest, but the yield looks like this:
$50 annual interest / $700 = 7.1% The buyer's interest rate is now slightly more than seven percent.
Verify your new rate (Jul 2nd, 2020)