Mortgage Rates Today, March 15, 2017, Plus Lock Recommendations
What's Driving Mortgage Rates Today?
Today's most important economic release was the Consumer Price Index, or CPI. This report measures the cost of living in the US. The index rose just .1 percent last month, the smallest gain since last summer. That's good for mortgage rates, because it does not point to increasing inflation.
This was backed up by the Retail Sales report, which showed weak sales, gaining just .1 percent.
Both reports came in exactly as analysts had predicted. So their results will probably not move the needle much.
All three stock indexes are up this morning, but only slightly. Â Things are pretty much on hold until the results of today's Fed meeting are announced.
Rates this morning are slightly down or unchanged across the board.
It's all about the Fed
Today, we get an idea of how much the Fed plans to raise rates over the rest of the year, and how often. If it decides to increase rates at a higher clip than previously announced, it would confirm with investors that the Fed is taking a more hand-on approach and ready to take rates up.
If the frequency and / or the size of the increases picks up sharply, it could easily push mortgage rates to their highest levels in more than three years.
** FHA APRs include government-mandated mortgage insurance premiums (MIP). 
These rates are averages, and your rate could be lower.
Request a personalized quote from a licensed, reputable lender here.
Tomorrow
Tomorrow, we'll get the weekly Jobless Claims report, and Housing Starts for February. Analysts expect that 1.27 million homes were started iin February, up from January's 1.246 million.
If the report comes in with even more starts, it could push mortgage rates higher today. If the report shows significantly lower numbers, rates could drop.
Analysts anticipate that 240,000 claims for unemployment benefits were filed last week, a slight decrease from the previous week's 243,000. Because it's only a weekly report, it has to differ a great deal from forecasts to make an impact on mortgage rates today.
Rate Lock Recommendation
If you can't afford to gamble on mortgage interest rates, now is not the time to be floating your mortgage rate.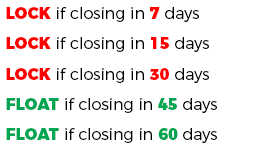 Note that this is what I would do if I had a mortgage in process today. Your own goals and tolerance for risk may differ. 
>>Ready to lock? Click here.<<
What Causes Rates To Rise And Fall?
Mortgage interest rates depend on a great deal on the expectations of investors. Good economic news tends to be bad for interest rates, because an active economy raises concerns about inflation. Inflation causes fixed-income investments like bonds to lose value, and that causes their yields (another way of saying interest rates) to increase.
For example, suppose that two years ago, you bought a $1,000 bond paying five percent interest ($50) each year. (This is called its "coupon rate.") That's a pretty good rate today, so lots of investors want to buy it from you. You sell your $1,000 bond for $1,200.
When Rates Fall
The buyer gets the same $50 a year in interest that you were getting. However, because he paid more for the bond, his interest rate is not five percent.
Your interest rate: $50 annual interest / $1,000 = 5.0%
Your buyer's interest rate: $50 annual interest / $1,200 = 4.2%
Your buyer gets an interest rate, or yield, of only 4.2 percent. And that's why, when demand for bonds increases and bond prices go up, interest rates go down.
When Rates Rise
However, when the economy heats up, the potential for inflation makes bonds less appealing. With fewer people wanting to buy bonds, their prices decrease, and then interest rates go up.
Imagine that you have your $1,000 bond, but you can't sell it for $1,000, because unemployment has dropped and stock prices are soaring. You end up getting $700. The buyer gets the same $50 a year in interest, but the yield looks like this:
$50 annual interest / $700 = 7.1% The buyer's interest rate is now slightly more than seven percent.
Click to see today's rates (Sep 25th, 2017)
The information contained on The Mortgage Reports website is for informational purposes only and is not an advertisement for products offered by Full Beaker. The views and opinions expressed herein are those of the author and do not reflect the policy or position of Full Beaker, its officers, parent, or affiliates.
Try the Mortgage Calculator