Mortgage Rates Today, March 10, 2017, Plus Lock Recommendations
What's Driving Mortgage Rates Today?
Bond prices weakened late yesterday and overnight, pushing interest rates up. So even if  the Labor Department's Monthly Employment Situation Report were good for mortgage rates today, there was already a wall to climb.
The report consists of two parts, a survey of households to get the unemployment rate, and a survey of businesses to see how many jobs they added last month. This report is arguably the most important economic release we get each month.
Drum roll, please.....
Total nonfarm payroll employment increased by 235,000 in February, which was 35,000 more jobs than analysts expected -- bad for mortgage rates. The unemployment rate was little changed at 4.7 percent. Stocks are up only slightly, but yields on 10-year Treasuries rose another five basis points (5/100ths of one percent).
CNNMoney's Fear & Greed Index moved from 60 to 67 (from Greedy to Greedier) this morning. That's moving in the wrong direction for mortgage rates. (When investors are feeling "greedy," they tend to increase activity, which pushes stock prices higher, fuels inflation concerns, and causes interest rates to creep up.)
** FHA APRs include government-mandated mortgage insurance premiums (MIP). 
These rates are averages, and your rate could be lower.
Request a personalized quote from a licensed, reputable lender here.
Monday
There are no economic releases scheduled for Monday, March 13th, Expect rates to take their cues from stock market activity, rumors about the Fed's next interest rate increase, and late-night Presidential tweets.
Rate Lock Recommendation
Rates have broken through their ceilings and established a new normal. While they may bump up and down at this new level, I don't see them dropping significantly in the near future, and they could very well increase further.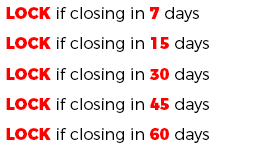 Note that this is what I would do if I had a mortgage in process today. Your own goals and tolerance for risk may differ. 
>>Ready to lock? Click here.<<
What Causes Rates To Rise And Fall?
Mortgage interest rates depend on a great deal on the expectations of investors. Good economic news tends to be bad for interest rates, because an active economy raises concerns about inflation. Inflation causes fixed-income investments like bonds to lose value, and that causes their yields (another way of saying interest rates) to increase.
For example, suppose that two years ago, you bought a $1,000 bond paying five percent interest ($50) each year. (This is called its "coupon rate.") That's a pretty good rate today, so lots of investors want to buy it from you. You sell your $1,000 bond for $1,200.
When Rates Fall
The buyer gets the same $50 a year in interest that you were getting. However, because he paid more for the bond, his interest rate is not five percent.
Your interest rate: $50 annual interest / $1,000 = 5.0%
Your buyer's interest rate: $50 annual interest / $1,200 = 4.2%
Your buyer gets an interest rate, or yield, of only 4.2 percent. And that's why, when demand for bonds increases and bond prices go up, interest rates go down.
When Rates Rise
However, when the economy heats up, the potential for inflation makes bonds less appealing. With fewer people wanting to buy bonds, their prices decrease, and then interest rates go up.
Imagine that you have your $1,000 bond, but you can't sell it for $1,000, because unemployment has dropped and stock prices are soaring. You end up getting $700. The buyer gets the same $50 a year in interest, but the yield looks like this:
$50 annual interest / $700 = 7.1% The buyer's interest rate is now slightly more than seven percent.
Click to see today's rates (Jul 24th, 2017)
The information contained on The Mortgage Reports website is for informational purposes only and is not an advertisement for products offered by Full Beaker. The views and opinions expressed herein are those of the author and do not reflect the policy or position of Full Beaker, its officers, parent, or affiliates.
Try the Mortgage Calculator