Mortgage Rates Today, March 9, 2017, Plus Lock Recommendations
What's Driving Mortgage Rates Today?
Today's only major release is the Weekly Jobless Claims report, and that's not super-important as economic releases go, because it only contains a weeks of data.
This morning's is even more of an afterthought, because it precedes tomorrow's much-more-important Monthly Employment report.
That said, at least this morning's data were favorable for mortgage rates. The Labor Department announced that initial claims for jobless benefits increased by 20,000 to a seasonally-adjusted 243,000.
This is higher than the 235,000 claims experts anticipated, and that's what makes it good for interest rates. Remember the general rule: what's bad for the economy is usually good for interest rates.
Claims for the prior week were unrevised at 223,000, the lowest level since March 1973.
Stocks are up very slightly, but yields on 10-year Treasuries are up another four basis points (4/100ths of one percent).
CNNMoney's Fear & Greed Index dropped from 66 to 60 this morning. Still in the "Greed" range, but moving in the right direction for mortgage rates. (When investors are feeling "greedy," they tend to increase activity, which pushes stock prices higher, fuels inflation concerns, and causes interest rates to creep up.
** FHA APRs include government-mandated mortgage insurance premiums (MIP). 
These rates are averages, and your rate could be lower.
Request a personalized quote from a licensed, reputable lender here.
Tomorrow
Tomorrow brings what's arguably the single biggest driver of mortgage rates in a given month -- the Monthly Employment Report. It seems as though a the excpted addition of 200,000 jobs has already been priced into mortgage rates today.
Interest rates shouldn't move much if the report comes in as expected. However, if the economy created more jobs than analysts expected, mortgage costs could inch higher. And if the jobs market comes in softer than anticipated, rates could fall back to last week's lower levels.
Rate Lock Recommendation
An expected drop in unemployment is already priced into today's mortgage rates. I don't expect them to go higher if the report falls in line with predictions. However, if it fails to live up to its billing, and unemployment does not drop, we could see lower rates. I'd be inclined to take a chance, but not everyone should gamble on lower rates tomorrow.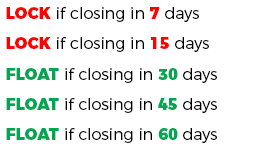 Note that this is what I would do if I had a mortgage in process today. Your own goals and tolerance for risk may differ. 
>>Ready to lock? Click here.<<
What Causes Rates To Rise And Fall?
Mortgage interest rates depend on a great deal on the expectations of investors. Good economic news tends to be bad for interest rates, because an active economy raises concerns about inflation. Inflation causes fixed-income investments like bonds to lose value, and that causes their yields (another way of saying interest rates) to increase.
For example, suppose that two years ago, you bought a $1,000 bond paying five percent interest ($50) each year. (This is called its "coupon rate.") That's a pretty good rate today, so lots of investors want to buy it from you. You sell your $1,000 bond for $1,200.
When Rates Fall
The buyer gets the same $50 a year in interest that you were getting. However, because he paid more for the bond, his interest rate is not five percent.
Your interest rate: $50 annual interest / $1,000 = 5.0%
Your buyer's interest rate: $50 annual interest / $1,200 = 4.2%
Your buyer gets an interest rate, or yield, of only 4.2 percent. And that's why, when demand for bonds increases and bond prices go up, interest rates go down.
When Rates Rise
However, when the economy heats up, the potential for inflation makes bonds less appealing. With fewer people wanting to buy bonds, their prices decrease, and then interest rates go up.
Imagine that you have your $1,000 bond, but you can't sell it for $1,000, because unemployment has dropped and stock prices are soaring. You end up getting $700. The buyer gets the same $50 a year in interest, but the yield looks like this:
$50 annual interest / $700 = 7.1% The buyer's interest rate is now slightly more than seven percent.
Click to see today's rates (Jul 24th, 2017)
The information contained on The Mortgage Reports website is for informational purposes only and is not an advertisement for products offered by Full Beaker. The views and opinions expressed herein are those of the author and do not reflect the policy or position of Full Beaker, its officers, parent, or affiliates.
Try the Mortgage Calculator