FOMC Minutes: Future Rate Hike Policy Is Fully In "Wait And See" Mode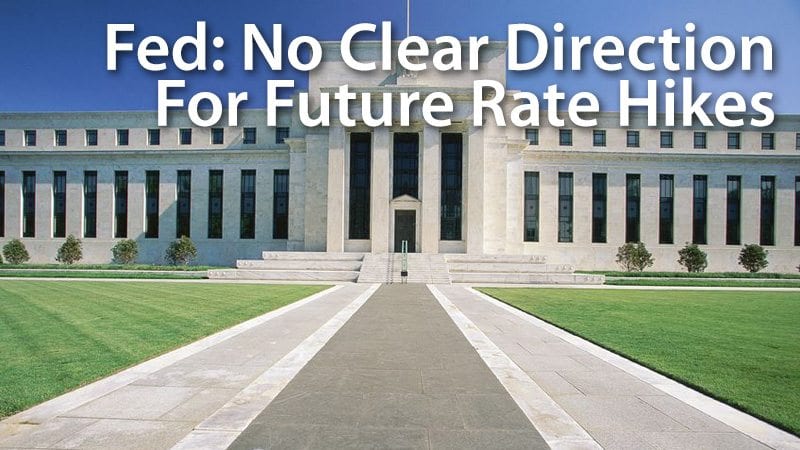 Federal Funds Rate Movement Fully Dependent On 2017 Data
The Federal Reserve does not control mortgage interest rates, but it can exert an influence over them. The group reminded markets that, in 2017, it will fully wield its influence if economic developments warrant it.
Wednesday, in its release of the minutes for its last Federal Open Market Committee (FOMC) meeting, the nation's central banker revealed that, while it projects three rate hikes in 2017, Wall Street and Main Street shouldn't take that as gospel.
All eyes are on inflation.
The labor market is improving to decade-best levels. Unemployment now sits at just 4.6% -- its lowest level since August 2007.
That's good news for the economy, potentially bad news for inflation.
Inflation still rests below the Federal Reserve's target of 2 percent annually. But that could change quickly if labor markets become too tight and employers must pay top dollar for workers.
Rising wages work their way through the economy, pushing up prices for goods and services.
With subdued inflation, the Fed could pull back from the projected three rate hikes in 2017.
If data suggests upward inflation, though, the Fed could raise its benchmark rate, leading to higher mortgage rates for the everyday consumer.
Click to see today's rates (Jul 24th, 2017)
Fed: It's Very Hard To Predict 2017 Rate Hikes
FOMC Minutes for the Fed's December 13-14 meeting were released at 2:00 PM ET on Wednesday.
The minutes revealed that a rate hike forecast is an educated guess, at best.
Uncertainty reigns at the moment. A new administration will be sworn in on January 20, 2017. Fed members admit that fiscal expansion -- higher spending and lower taxes -- are real possibilities under the government's new direction.
But the group isn't betting on it.
FOMC participants "expressed the need for caution" in evaluating market developments "in light of the uncertainty about how federal spending, tax, and regulatory policies might unfold and how global economic and financial conditions will evolve."
In other words, the Fed will be watching not only outcomes but proposed changes to governmental policy to determine the path or the Fed Funds Rate.
But future policy is not the only factor.
Incoming data will guide the Fed. It wants inflation to hold at around 2 percent. Higher inflation can damage the economy.
Falling inflation, or deflation, can hurt the economy even more, though. That scenario played out during the last recession, when home prices deflated as much as 50% in some areas of the U.S.
The problem is, though, that the Fed is nowhere near confident about predicting in which direction inflation will turn.
The minutes indicated that "participants emphasized the need to adjust the policy path as economic conditions evolved," and warned that "a number of risks that, if realized, might call for a different path of policy than they currently expected."
It is too early, says the group, to "call" the direction of inflation -- and therefore interest rate hikes -- with any accuracy.
This presents a challenge to the Fed: communicate effectively without misguiding.
The group will tread lightly, then, to make clear that its actions in 2017 would be heavily data-reliant. Monetary policy could change without notice. The following Fed minutes excerpt says it well (emphasis added):
Moreover, many participants emphasized that the greater uncertainty about these policies made it more challenging to communicate to the public about the likely path of the federal funds rate. Participants noted that, in the circumstances of heightened uncertainty...the Committee continue to underscore in its communications that monetary policy would continue to be set to promote attainment of the Committee's statutory objectives of maximum employment and price stability.
As a mortgage consumer, don't feel "bad" about not knowing where rates will go in 2017. The world's preeminent monetary body -- the Federal Reserve -- is just as in-the-dark as you are.
Click to see today's rates (Jul 24th, 2017)
What Are Today's Mortgage Rates?
The Federal Reserve doesn't make U.S. mortgage rates but it can influence them. Fed policy has helped to hold mortgage rates down, and buyers can take advantage.
Get today's live mortgage rates now. Your social security number is not required to get started, and all quotes come with access to your live mortgage credit scores.
Click to see today's rates (Jul 24th, 2017)
The information contained on The Mortgage Reports website is for informational purposes only and is not an advertisement for products offered by Full Beaker. The views and opinions expressed herein are those of the author and do not reflect the policy or position of Full Beaker, its officers, parent, or affiliates.
Try the Mortgage Calculator