Forget Resolutions. These Renters Are Creating Hard-And-Fast Goals To Buy In 2017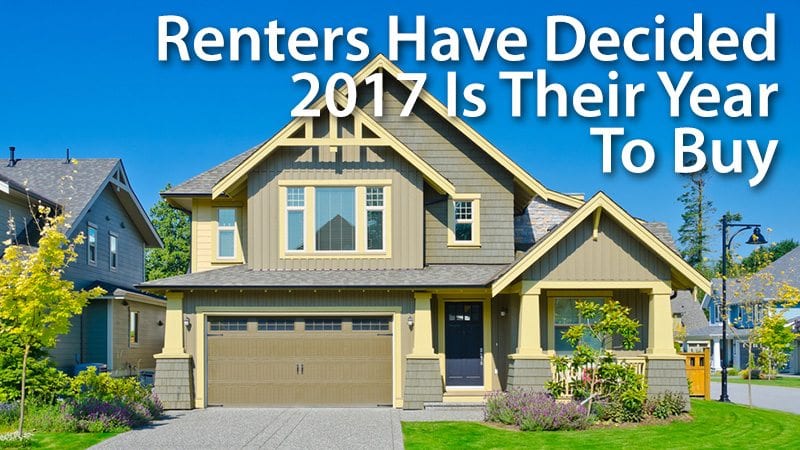 Renters Make Concrete Plans To Buy In 2017
Ten years from now, you'll be glad you bought a home.
Most homeowners are glad they bought -- even those who did so at the height of the "real estate bubble" a decade ago.
The reasons are plenty. Owners are no longer subject to ever-rising rents. They also have an asset that has likely increased in value by more than 30% since 2012.
And, according to the Federal Reserve, the typical homeowner's net worth is north of $195,000 compared to the typical renter's at $5,400.
For these reasons and others, renters are doing more than making a new year's resolution to buy a home in 2017. They are making concrete plans to do so. According to Fannie Mae, 60% of consumers would buy a home instead of rent one if they had to move.
If you were on the fence about buying in 2016, here's how to make the new year the one in which you become a homeowner.
Click to see today's rates (Jul 21st, 2017)
Why Most Renters Put Off Buying
Owning a home is not for everyone.
Recent college graduates and other individuals and families in a transient stage of life might choose to forego home buying.
That's wise. It's expensive to buy a home just to sell it soon afterward.
But there is another group of renters who have been settled for years. They watch their rent rise --sometimes multiple times per year. They are not "using" the mobility that renting affords.
For those renters, it's probably time to buy.
But inertia is the enemy of progress.
Each time they think about buying, they decide -- and they are right -- that it's much easier in the short term to stay put. The argument against home buying is that there are numerous, complicated steps with which they are not familiar.
Even if they get approved for the mortgage, the logic goes, there is a host of other things to figure out -- getting out of their current lease, moving all their belongings, a new commute, the fear of "getting it wrong" when buying their first home.
These are legitimate concerns -- ones not to be discounted or glossed over.
But thousands of renters overcome these worries each month. The key is to start somewhere. Progress feeds on itself. The excitement of becoming a homeowner builds with each step, making it easier to accomplish the next one.
That begs the question, though, about where to start. With home buying, that's an easy decision: obtain the document upon which your entire process is built: the pre-approval letter.
Click to see today's rates (Jul 21st, 2017)
A Pre-Approval: The Most Valuable Document For New Home Buyers
Most first-time home buyers don't buy a home with cash.
If you had cash, you could start your home search right away. You would know how much you can afford to the dollar.
But financing a home is different.
You don't inherently know how much you can spend on a home. Even a robust mortgage calculator can't tell you if a mortgage lender will approve you for a certain home price.
Your credit score, down payment, monthly income, and other factors determine your maximum purchase price.
Therefore, a mortgage pre-approval is the first -- and arguably the most important -- document you will receive during the home buying process.
This piece of paper serves many purposes:
It lets you know your realistic price range
It shows real estate agents that you are able to buy
It allows you to make an offer on a home
It speeds the mortgage process when you find a home
Be sure to request a full pre-approval from your lender, not just a pre-qualification.
A pre-approval is based on your actual mortgage documentation, such as pay stubs, W2s, tax returns, credit report, and bank statements. A pre-qualification, or a "pre-qual" is the lender's best estimate of your home price based on information you give them.
But a missing piece of information inadvertently not given -- such as a child support payment or a side business -- can change your approval dramatically.
A pre-approval is a full mortgage approval minus the property.
There are other benefits to a pre-approval, though.
Everything becomes very real when you get that piece of paper handed to you or via email. It's a key motivator that spurs many home buyers to begin their home search in earnest.
With a pre-approval in-hand, you start seeing yourself as a soon-to-be homeowner -- and former renter.
Click to see today's rates (Jul 21st, 2017)
You Have A Pre-Approval Letter. What Now?
You've submitted your documentation to a lender and received a pre-approval. Congratulations. You've now cleared the path for the rest of the process.
But what now?
This is where you can really start shopping for a home.
Don't go into it blindly, though. Before looking at actual homes, make a list of must-haves and nice-to-haves for your new home.
Buying a house is an emotional process. With a pre-approval, it's almost too easy to get caught up, and buy a home without making sure it fulfills all your requirements.
A home may seem "perfect" just days before you find an even better one.
Check the layout, the neighborhood, square footage, and number of bedrooms and bathrooms. Think about your needs now and five years from now, too. Finding the perfect home takes effort, but it's well worth it months and years later.
Look at dozens of homes online. Get a feel for prices in your area so you know a good value when you see one. But don't constrain your search to the internet.
View many homes in person. Build your list of must-haves and nice-to-haves. Does it need an open kitchen area for entertaining? What about a basement? Are the bathrooms outdated, and if so, do you enjoy home improvement projects?
Find the best possible home within your price range. Don't rush. The fact that you've gotten this far nearly guarantees that you will achieve your goal of homeownership in 2017.
What Are Today's Home Buying Mortgage Rates?
Despite what you've heard about rising rates of late, mortgage rates are still incredibly low. A 30-year fixed mortgage can be had in the low 4% range -- about half of the 8.25% historical average for the same loan.
Start your pre-approval, which comes with your mortgage rate quote and access to your live mortgage credit scores. There's never any obligation to continue with a pre-approval issuing lender. The important thing is that you know you are approved.
Get started on your 2017 home buying aspirations now.
Click to see today's rates (Jul 21st, 2017)
The information contained on The Mortgage Reports website is for informational purposes only and is not an advertisement for products offered by Full Beaker. The views and opinions expressed herein are those of the author and do not reflect the policy or position of Full Beaker, its officers, parent, or affiliates.
Try the Mortgage Calculator