TheMortgageReports.com Interview Series: The Cash Cow Couple, Financial Planning Experts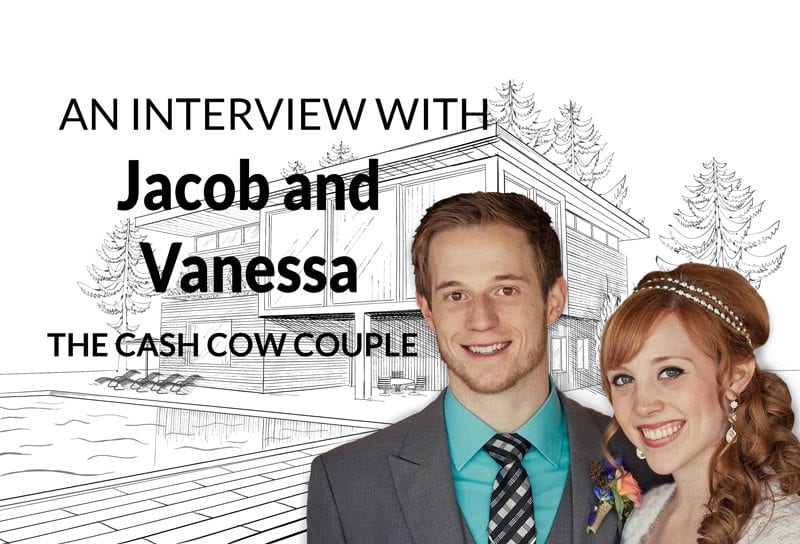 Meet Jacob and Vanessa, The Cash Cow Couple
When it comes to buying a home, everyone seeks help and advice. Whether it's your real estate agent, your lender, family and friends, or online resources, getting outside perspective on one of the largest investments you'll make is a necessary and wise approach.
Today, we are doing just that.
Jacob and Vanessa are the faces behind the Cash Cow Couple, a personal finance website teaching readers to build lasting wealth and secure financial freedom. They have taken some time from their busy schedules to lend another voice to a few home buying questions we often discuss at The Mortgage Reports.
Check out what they have to say about their start in managing their personal finances and offering that advice to others – including some tips and strategies for buying a home.
How did you become interested in financial planning? Have you always been this prudent with money?
Growing up, my family never had a lot of money. I remember personal finance being a stressful topic, so I began studying the topic. I wanted to find ways to improve my family's financial situation.
My interest in personal finance continued to grow, and I eventually began blogging while completing my PhD in financial planning. Most of my time is now spent reading and writing about various money-related topics.
Looking back, what financial decisions do you regret? What would you do differently to prepare for a healthier financial future?
Like most people, I've made many money mistakes. One example was my decision to attend an expensive liberal arts college after graduating high school.
I graduated valedictorian of my high school class, and had several academic scholarship offers. Instead of taking the full scholarship to my local state university, I decided to attend a small liberal arts college that was much more expensive. When visiting, I bought the whole sales pitch and was convinced that this college was "better" than my other choices.
I quickly learned otherwise, and transferred from the small college to the State University after just one semester. Even then, my initial decision was quite costly. I spent more than $5,000 in that initial semester.
As a financial planning expert, what strategies do you recommend when saving for a home?
There aren't a lot of unique strategies dedicated to saving for a home. Instead, there are typical guidelines that can help people get started.
If buying a home is your priority, make sacrifices in other areas that are less important. Cutting out unnecessary expenses can help you accumulate savings much faster.
If you plan to purchase a home within five years, keep the money safe. Putting your funds in a high yielding savings account, or another cash-equivalent is a good choice. Don't be tempted to chase yield with stocks or bonds, because there is a significant chance of loss in those investments.
The conventional wisdom says a 20% down payment is a prerequisite to buying a home – is that really true? What are the advantages and disadvantages ?
Twenty percent is a good goal. Most private lenders still require roughly 20% down if you want to avoid private mortgage insurance (PMI). PMI is a huge waste of money if you can find the necessary down payment. Avoiding PMI also improves your future cash flows, because your total monthly payment will remain lower.
The only drawback to putting twenty percent down, is a dip in savings. Most individuals have to work hard to accumulate that amount of savings, [only to] watch it disappear into the down payment.
What is one piece of advice you can give to first-time home buyers?
If you can't afford a home, don't worry about it. Home ownership has it's advantages and disadvantages, just like renting. If you have to choose between an expensive mortgage with PMI – because you don't have a sufficient down payment saved – or renting for a few additional years, consider renting. There are fewer hassles to with and you can focus on improving your financial situation.
---
The Cash Cow Couple teach more than 100,000 monthly readers how to get out of debt, build wealth, and reach financial freedom.
The information contained on The Mortgage Reports website is for informational purposes only and is not an advertisement for products offered by Full Beaker. The views and opinions expressed herein are those of the author and do not reflect the policy or position of Full Beaker, its officers, parent, or affiliates.
Try the Mortgage Calculator