HARP 2.0: Homeowners Often Save 35% On A Refinance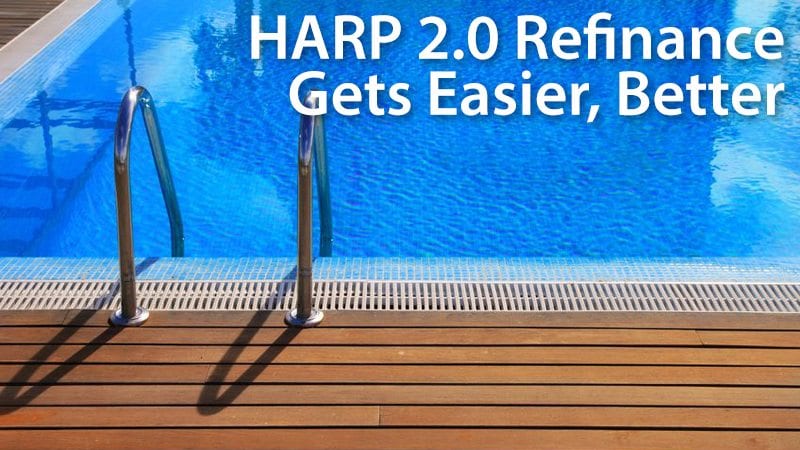 More Homeowners Qualify For HARP 2.0
In 2009, the government launched its Home Affordable Refinance Program (HARP).
At that time, mortgage rates were approximately 200 basis points (2.00%) higher than what they are today.
Despite those higher rates, the typical U.S. homeowner who used a HARP loan to refinance saved approximately $3,000 in mortgage payments per year.
At today's mortgage rates, savings via HARP are markedly higher. Today's typical HARP household saves more than one-third on payments each month, and more than $5,000 annually.
Even better,  it's getting easier to get a HARP mortgage approved.
Click to see your HARP eligibility (Jul 20th, 2017)
Fewer HARP Refinance "Overlays" For 2016
The Home Affordable Refinance Program is run through Fannie Mae and Freddie Mac, which are governed by the Federal Housing Finance Agency (FHFA).
The FHFA publishes and maintains an official rulebook for the program, which is sometimes called "The Obama Refi". The rulebook is known as the "HARP guidelines".
HARP guidelines list the minimum eligibility hurdles for U.S. homeowners wanting to use the Home Affordable Refinance Program.
However, despite the existence of an "official" standards list, mortgage lenders often impose their own additional standards, which are tougher than Fannie Mae's and Freddie Mac's published minimums.
The official term for an additional mortgage approval rule is "investor overlay". Many banks use them in some form or another.
Here's how investor overlays work.
Consider that Fannie Mae's official HARP mortgage guidelines state that a borrower is allowed to have one late mortgage payment in the last 12 months, as long as the late payment was not within the previous six months.
Many HARP lenders have gone one tougher, though. Their HARP loan policies prohibit borrowers from having any late payments in the last 12 months.
The government allows a late-pay, individual mortgage banks may not.
There are other common HARP overlays, too. Some of the more common ones are:
HARP guideline: No more than one late payment in the last 12 months
Investor overlay: No late payments at all in the last 12 months
HARP guideline:Â  No loan-to-value (LTV) limit
Investor overlay: LTV limits of 150% of the home's current value
HARP guideline: No appraisal needed with an appraisal waiver
Investor overlay: An appraisal is always needed
HARP guideline: No credit score minimum in most cases
Investor overlay: Minimum score of 640 to qualify
Investor overlays can affect a wide range of qualification standards including payment history, FICO score, and debt-to-income ratios; and, overlays will vary from bank-to-bank.
Just because Wells Fargo enforces a particular overlay, for example, that doesn't mean that Bank of America will enforce the same one. One bank's loan rejection is another bank's "perfect client".
This is why it's smart to get HARP mortgage quotes from more than one lender.
Click to see your HARP eligibility (Jul 20th, 2017)
HARP Refinance Qualifications Are Easier
Because of investor overlays, each year, thousands of HARP-eligible borrowers are turned down for no reason other than they applied at "the wrong bank".
If you've been turned down for the HARP program in the past, then, consider applying again. You may get a better outcome -- for several reasons, really.
The first reason to re-apply is that the housing market's recovery is goading banks into approving more loans. When home values rise, banks take smaller losses on foreclosed homes, which affords them the ability to take more risk.
The second reason to apply for HARP again is that bank are beginning to remove their investor overlays.
Loans for borrowers with less-than-perfect credit are getting approved; and homes with a higher loan-to-value are getting approved, too.
Lastly, mortgage rates are very low as compared to when the HARP refinance program launched in 2009.
You may not have realized big savings with a refinance via HARP the first time around. Today, you're going to see it.
There's no restriction against applying for HARP a second -- or even third – time. More than 3.2 million households have used the HARP refinance already.
Think about how much you could save.
What Are Today's HARP Mortgage Rates?
Many homeowners who refinance with HARP reduce their monthly payments by one-third, and save tens of thousands of dollars over the lifetime of their loan.
Get today's live mortgage rates now. Your social security number is not required to get started, and all quotes come with access to your live mortgage credit scores.
Click to see your HARP eligibility (Jul 20th, 2017)
The information contained on The Mortgage Reports website is for informational purposes only and is not an advertisement for products offered by Full Beaker. The views and opinions expressed herein are those of the author and do not reflect the policy or position of Full Beaker, its officers, parent, or affiliates.
Try the Mortgage Calculator