Survey: 14% Of Consumers Can't Tell You Their Credit Score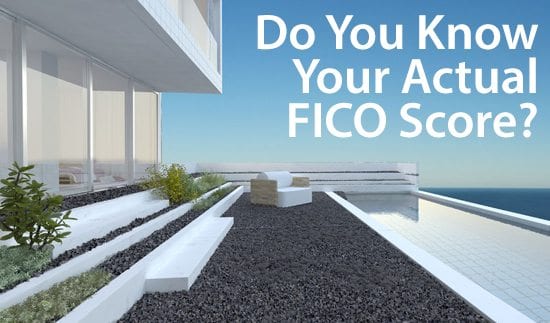 Do You Know Your Credit Score?
Credit scores -- they matter a lot.
Whether you're getting auto insurance, leasing a car, or buying a new home, the better your credit, the better your "deal".
High credit scores can save you good money.
Low credit scores, though, aren't all so terrible -- especially because even small changes in how you spend money can yield large to your scores within weeks.
Protect your credit rating and your credit rating will protect you. You'll spend less on long-term financing, such as with a mortgage, and you'll get better deals from banks.
Even better? It's easier than ever to keep up with the system. Getting access to your credit scores has never been so simple.
Click to see today's rates (Jul 25th, 2017)
What Is A Credit Score?
Your credit score is a numerical rating which predicts the likelihood of a consumer failing to repay its debt.
Credit scores are based on algorithms, of which there are dozens; and each algorithm uses slightly different group of inputs to reach its slightly different credit score output, which is often given a unique brand name.
There are literally dozens of credit scoring systems in operation today and, perhaps, you've seen ads for some of them on TV.
With respect to mortgages, though, there are only three credit scores that matter.
These three are:
The Equifax Beacon 5.0 credit score
The TransUnion FICO Risk Score 04 credit score
The Experian/Fair Isaac Risk Model v2 credit score
Other credit scores, which include the commercially-available VantageScore, are ignored by mortgage lenders completely; as are variations on these algorithms, such as the FICO 9 model.
Together, Equifax, TransUnion, and Experian are known as the "3 major credit bureaus" and it's these three systems upon which lenders rely completely.
Their scoring systems range from 350 at the low-end to 850 at the high-end. Mortgage lenders use the median of what's available from all three.
For example, if you credit scores are 680, 710, and 780, your lender will assign you a score of 710.
Or, if you're a first-time home buyer with limited credit history, you may only have two credit scores. In that case, your lender will use the lower of your two scores.
In general, your median credit score must be 580 or higher to get approved for a mortgage, but exceptions are sometimes made -- especially when a co-borrower is involved.
Also, there is no "bonus" for having a perfect score (which almost nobody actually has anyway).
740 is considered to be "Excellent Credit" and, with excellent credit, mortgage rates are often lowest. Lenders will offer small discounts for credit scores over 780, so be sure to ask whether you qualify.
Click to see today's rates (Jul 25th, 2017)
Mortgage Rates Linked To Credit Scores
Credit scores, which are generically known as "FICO scores", affect your mortgage rate and the number of loan products available to you as a home buyer.
For example, if you plan to buy a home using a low-downpayment loan, there are two popular options:
The Conventional 97, which requires 3 percent down
The FHA mortgage, which requires 3.5 percent down
Buyers wanting to put as little down as possible typically gravitate to the Conventional 97, which is available via most U.S. lenders as a government-backed loan.
However, the decision to actually use the Conventional 97 ends up being a question of "How good does my credit need to be?"
For buyers whose FICO scores are at least 760, the Conventional 97 emerges as a clear low-downpayment choice. And, for buyers whose FICO is below 700, using an FHA loan is likely best.
For everyone else, there's a chart to help you choose.
The point, then, is that your credit score can determine which mortgage loan is best for your needs -- in terms of what you can afford, and what rate you'll get from the bank.
The good news is the mortgage lenders are more willing to give good rates to buyers with less-than-percent credit.
According to Ellie Mae, a mortgage software firm which handles more than 3.5 million applications annually for U.S. lenders, the average FICO score of a closed loan has dropped to 722 -- ten points lower from earlier this year.
The average score for an approved FHA refinance is now 654.
Click to see today's rates (Jul 25th, 2017)
86% Of Consumers Know Their FICO Score?
Before applying for a mortgage loan, it helps to know your credit score. Knowing your credit score can help to inform your mortgage choices, and to understand your mortgage options.
In fact, this flowchart "Which Mortgage Should I Choose?" depends on you knowing your score. Knowing your score is the only way to be sure whether a conforming loan is more suitable than an FHA.
And, based on a survey of 1,000 readers of TheMortgageReports.com, a huge percentage of consumers believe they know their credit scores pretty well.
86% of consumers say they know their FICO within 40 points
14% of consumers say they don't know their FICO within 40 points
This means that the wide majority of U.S. consumers are well-prepared to start the mortgage approval process.
Or, are they?
Study after study has shown that credit reports are error-prone. Department stores forget to log a payment; medical bills mistakenly go to collection; credit card payments fail to process before their due date.
Each of these events -- which are common -- can lower a person's credit score by 100 points or more. They can also put a mortgage approval on delay until the error is straightened out.
The credit bureaus say that approximately 25% of all credit reports contain errors. If this is true, the readers we surveyed should probably show a little less confidence.
Their credit scores may be lower than what they believe.
This is why it's recommended that U.S. consumers review their credit reports at least once annually. There are a number of free services which provide everything but the score -- and that's going to suit you just fine.
Or, if you're in the process of buying a home, allow a mortgage lender check your credit on your behalf.
When a lender checks your credit, it won't harm your score terribly -- maybe 5 points -- and you'll get a great idea of the mortgage programs and mortgage rates for which you'll be eligible.
What Are Today's Mortgage Rates?
Today's mortgage rates are low and when you know your actual mortgage credit scores, you're more likely to land the best mortgage loan for your needs.
Get today's live mortgage rates now. Your social security number is not required to get started, and all quotes come with access to your live mortgage credit scores.
Click to see today's rates (Jul 25th, 2017)
The information contained on The Mortgage Reports website is for informational purposes only and is not an advertisement for products offered by Full Beaker. The views and opinions expressed herein are those of the author and do not reflect the policy or position of Full Beaker, its officers, parent, or affiliates.
Try the Mortgage Calculator