Mortgage Rate Predictions For Late-December 2013 : Can You Wait For Lower Mortgage Rates In 2014?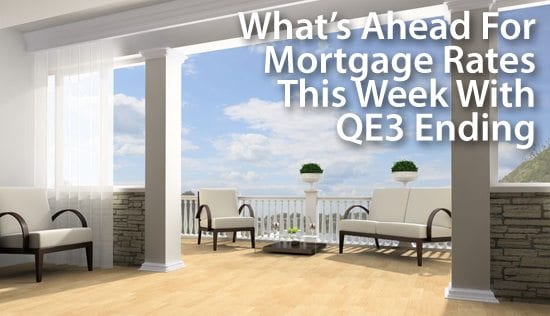 Mortgage rates worsened last week on better-than-expected economic data; and on news that the Federal Reserve will reduce the size its rate-suppression program, QE3. 
Conventional mortgage rates continued to trend worse for buyers, reaching a 3-month high Thursday before improving into the weekend. FHA and VA mortgage rates have followed a similar path.
During this week's holiday-shortened trading week, mortgage markets are expected to idle. However, anxious consumers may want to lock a mortgage rate as soon as possible. As the New Year approaches, analysts predict rates will move higher.
Click here to get today's live mortgage rates (Oct 23rd, 2017).
Mortgage Rates Climbed For 30-Year, 15-Year
According to Freddie Mac's weekly mortgage rate survey, the 30-year fixed rate mortgage rate rose 0.05 percentage points to an nationwide average of 4.47% last week. The rate was available to prime borrowers willing to pay 0.7 discount points at closing plus a full set of closing costs.
In 2013, Hawaii was the most expensive state in which to close a loan, followed by Alaska, South Carolina, and California. By contrast, Wisconsin was the cheapest state in which to close a loan, followed by Missouri, Kansas, and Michigan.
15-year mortgage rates rose last week, adding 0.08 percentage points to move to 3.51%, on average, nationwide. Lenders charged an average of 0.6 discount points to get access to the 3.51% rate.
With higher mortgage rates come higher monthly payments.
Home buyers in Minneapolis, Minnesota, for example, borrowing at the 2014 conforming loan limit of $417,000 can expect to pay $2,105 for a 30-year fixed at today's rates; and, $2,983 monthly for a comparable 15-year fixed.
Buyers using 5-year ARMs received rates of 2.96% with 0.4 points paid, on average.
Fed : "We're Going To Let Mortgage Rates Rise"
The big news last week was the Federal Reserve's announcement that it would would begin reducing the size of its monthly purchases of mortgage and Treasury bonds.
Currently, the central banker purchases $85 billion of such bonds monthly. $40 billion of those buys occur in the mortgage market, and the remaining $45 billion occurs in the Treasury market. The bond purchases create artificial demand which helps to boost prices which, in turn, helps to lower rates.
The technical name for this maneuver is quantitative easing (QE) and the Fed's current QE program is its third such installment. It's why the program is commonly known as QE3.
For U.S. home buyers and homeowners, QE3 has been a boon. The program ushered in the lowest mortgage rates in history, briefly pushing the average 15-year fixed rate mortgage rate into the 2s. Home affordability soared under QE3 and purchasing power reached record levels in late-2012 and early-2013.
QE3 is ending, however. 
Citing a strengthening U.S. economy, the Federal Reserve said last week that QE3 is no longer need at its full strength. The group will reduce its mortgage and Treasury bond purchases by $5 billion each beginning in January 2014 and, presumably, will continue to taper its purchases to zero through 2014 and 2015.
Mortgage rates fell because QE3 existed. Without QE3, mortgage rates are expected to rise.
Although rates have moved higher this year, in three months, they could reach even higher.
Click to see today's rates before the QE3 taper begins (Oct 23rd, 2017).
This Week's Mortgage Market Schedule
This week is holiday-shortened, and there's not much data set for release. However, that doesn't mean that mortgage rates won't change. When there are fewer buyers and sellers in the market, it can be hard to meet on price at times, which results in "bumpy" pricing.
Mortgage rates can be extra-volatile during weeks such as this.
The calendar of economic events is as follows :
Monday : Personal Income and Outlays; Consumer Sentiment
Tuesday : FHFA Home Price Index; New Home Sales
Wednesday : Markets Closed
Thursday : Jobless Claims
Friday : None
Note that there are no Federal Reserve members scheduled to speak publicly; nor are there any scheduled auctions of Treasury debt. In the absence of external influences, markets are likely to move on trends and momentum and, lately, movement of that sort has led rates up.
Also, Congress is on recess this week so none of the HARP 3.0-like bills currently in committee will pass into law. However, new FHFA Director Mel Watt could make changes to the HARP program at his discretion at any time.
Get An Instant Mortgage Rate Quote
Mortgage rates are higher as compared to one year ago, but they remain near historical lows. The conventional 30-year fixed trades under 4.5%, for example, and 5-year ARMs trade below 3.0%. Jumbo mortgage rates are even lower.
For today's home buyers and refinance households, it's a terrific time to lock a mortgage rate. Get a live rate quote and see how low your payment can be. Rates are available online with no cost and no obligation to proceed.
Click here to get an accurate mortgage rate quote (Oct 23rd, 2017). 
The information contained on The Mortgage Reports website is for informational purposes only and is not an advertisement for products offered by Full Beaker. The views and opinions expressed herein are those of the author and do not reflect the policy or position of Full Beaker, its officers, parent, or affiliates.
Try the Mortgage Calculator